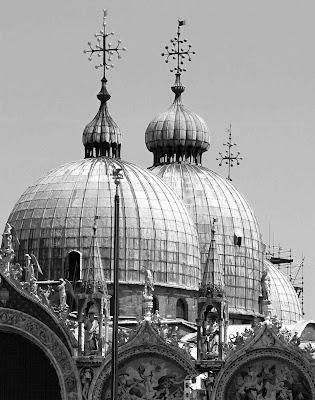 Sometimes, when I'm in Venice, I hate it. Then I get home, and I wonder why on earth I wanted to go at all. It's expensive. The food is less than average. In summer it smells, winter it floods. It is a tourist trap of the highest proportions. Nobody really lives there anymore. It is a ghost town eating travellers souls, selling them breakable trinkets and carefully designed antique squalor, Italian french fries, american coffee, contrived opera and $100 rides in $10 boats.
Then I forget about it for a while. The pain in my wallet eases. I get ripped off in a different destination. I spend too long staring at concrete and mirrored glass, and I flip through a gallery or two of photos. Then I want to go back.
By God, the place is beautiful - there really is nowhere else on earth like it. I don't care how many places call themselves "little Venice" - they're dreaming. But Venice's singular beauty is it's greatest destroyer. As is likely in all areas that become adored, of high demand, then of high price, the broad spectrum of residents dwindles until the culture is sucked away and delivered to more affordable areas. What is left? Tourism and Lindsay Lohan.

Piazza San Marco has become a waiting room for the surrounding attractions. Queues choke the space like a boa constrictor, making it impossible to sit in the sun affront Caffe Florian and enjoy the blinding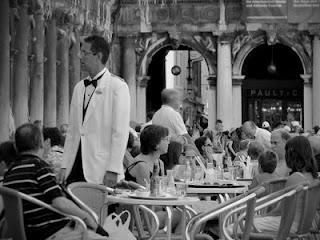 white parade of columns whilst sipping on ten euro espresso. Inevitably one ends up with an American in one's lap. (Nothing against Americans, but if I'm going to have someone on my lap, I'd rather it be a tall dark Venetian). I've seen the inside of the square's main attractions on previous visits, which is fortunate. I don't have to wait for hours in the sun and view them again - I just don't think I could face it.
Petty crims sell terrible knock-off handbags in front of the Doge's palace and the gondola station, tainting the scene like the preverbial fly in the ointment, and yet, it still makes for a beautiful photo. It's now illegal to feed the pigeons, it's said. They are destroying national monuments with all their sitting around and pooping. But I can see the mess left by the tourists, and this mess of tourists themselves (of which I am one). Another case of man defeats nature, and now one less thing for the kids to do while you are people watching.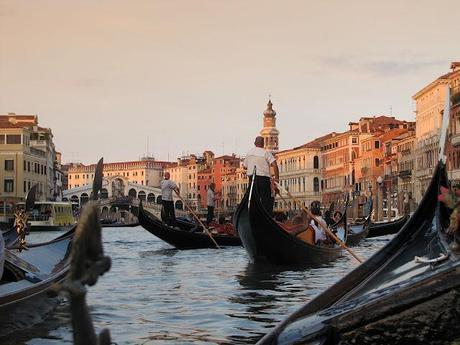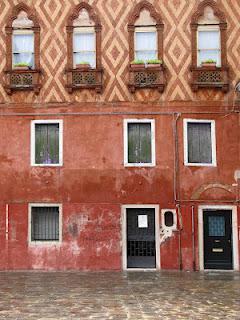 Exiting Piazza San Marco is even more difficult than remaining within it. The alleys are like quicksand - the more you move, the deeper you sink. It's best to simply relax and be carried with the flow of the crowd - although don't expect to have your wallet when you reach safety. A small price - I'm sure many don't ever get out at all.
Dining close to the Piazza can also be fraught with danger. I was however lucky enough to be thrust one day into Trattoria do Forni. A plush and wholeheartedly Venetian restaurant once a monastic bakery, and now filled with burly looking wealthy tourists and nostalgic whispers from the hearty guestbook, both famous and infamous. It has a definite gangster feel about it, clandestine, dark and cool, secret and special - non-literally miles away, and yet just a stones throw from the chaos of the Piazza.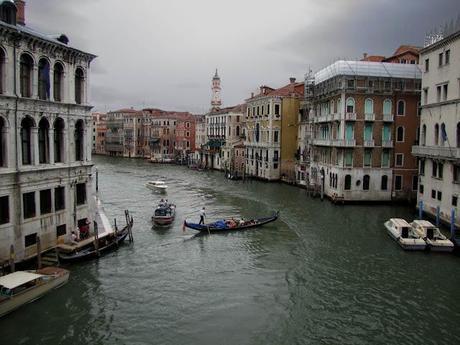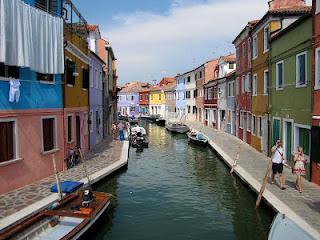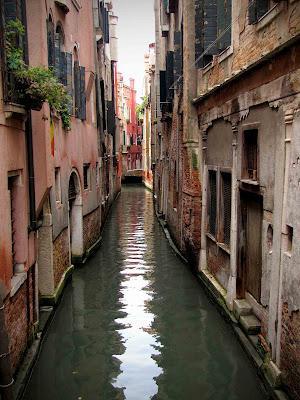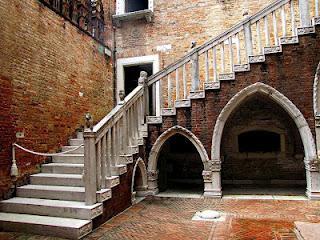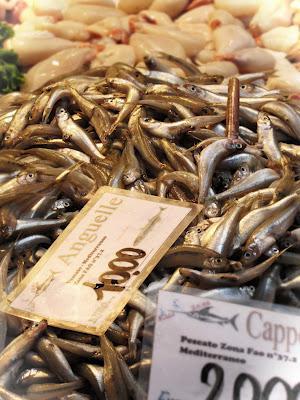 There are a few other decent options for stomach fulfillment, but often much further afield. You should ask the bar tender at Harry's Bar while you are sipping a very expensive bellini - he will probably give you some more up-to-date recommendations, but look out for Hosteria da Franz. It used to be on a sleepy wide canal bordering the Giardini della Biennale, but success has seen them close their doors to open further in towards San Marco. Let's hope it doesn't lose it's back-lane style and its reputation for some of the most authentic home-cooked dishes in town. If you manage to get into the new one, look for the bigoli in salsa - rustic coarse spaghetti, and the sarde in saor - sweet and sour marinated sardines, served here with pine nuts. They are also famous for a mamma's recipe tiramisu. 
But my favorite little place was one I stumbled into quite by accident. Trattoria da Bepi. (Please don't make the mistake and go to Osteria da Bepi - that's the opposite of this little gem) No canal views, no outdoor tables, no bells and whistles, but wonderful honest food, family run, and completely set aside from the tourist trail. I've eaten there more than three or four times over the years, and it never disappoints, although the black and white bistro gatto has disappeared. They make a superb baccalà Mantecato - a creamed cod dish with crispy bread, but just talk to Loris - he'll set you straight on the rest of the menu. I love Rick Steves' story of a night here, and it appears he had just as much  fun with the carefully selected wines and grappa as I did.
Another escape from the throng can be found on Giudecca. Most never find their way over the water to these mismatched islands of new money and old ruin. But there are two treats - first, before the sun goes down, wander through the old flour mills and granary that are now the Hilton Molino Stucky hotel, and find your way to the rooftop, where you can order an overpriced Aperol Spritz, but suck up the best view in Venice for free.When your eyes are full and your stomach is grumbling, stroll down to Ai Cacciatore, for good local seafood and a local crowd (but avoid if it's busy - it collapses under pressure), waterside without the flotsam of populace and the lackluster "tourist menus" that you will find on the offshoots of the Grand Canal. (Or go to Cip's club if you're feeling flush)
There is always the market - a heaving melee of seafood, chillies, toy poodles, fetid puddles, pooping pidgeons and photographers. It's a destination for any food traveler to seek out, and kills two sightseeing birds with the one stone, as you can weave through the clutter of the Rialto Bridge on your way there. Unfortunately you probably won't have a kitchen, (unless you join a culinary day tour) but you can assess the seasonal offering, making in-restaurant choices more informed, you can grab some fresh fruit to stave off the travellers scurvy and sample some wicked hot chocolate at a standing room only bar like Ai 10 Savi or Cantina do Mori whilst learning how to speak like a Venetian with the generously proportioned market men.
It's odd. Each time I have visited Venice, my favorite district eludes me until it's nearly time to go. Like all obsessed travellers, I suppose I must delve into the unknown before revisiting the hackneyed past. Cannaregio is Venice as it is supposed to be. Quiet, romantic lanes, tunnels leading to surprise inner courtyards, impromptu market stalls, canaries in windows, grannies knitting in rickety Thonet chairs in the streets. The bakeries in this area are cheaper and being less tainted by untraditional tourist demands, provide a more concise array of sweeties peculiar to the area. The further you walk towards Ghetto Embracio, the better it gets.
Cannaregio also holds my favorite palace - the Ca d'Oro. No queues, no pretension, but exquisitely preserved, and with a floor that is the tesselated tile equivalent of the Sistine Chapel. Upstairs is a gallery of treasures and a balcony that overlooks the Grand Canal where you can provide a royal wave to the plebians below and believe if just for a moment that you belong there.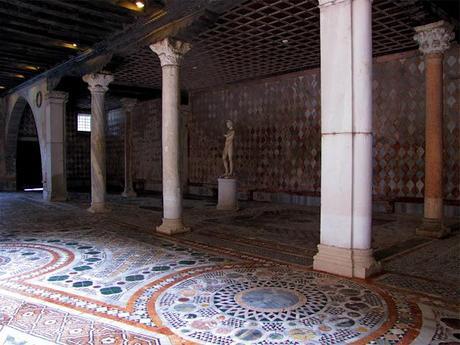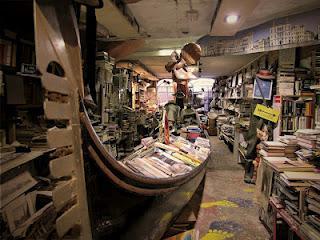 While loitering in Cannaregio, literary gremlins should seek out the Libraria Acqua Alta (map here). It's a decrepit den of prose and dusty old junk, with a good collection of aged prints and maps, a sweet section on erotica, a family of cats, a back door guarded by a plastic fish that steps directly onto the canal, and a full sized gondola holding a shipload of venetian novels and history. There is a sign on the door that says "bed and breakfast" - only for the brave, I would suggest.
All historic cities have a living heart which makes them unique. I've discussed already the personalities of Paris and Vienna. The former an aloof place, requiring patience and work to appreciate, but the potential to reward you as a lover once conquored. The latter, possibly the same, but like many great beauties gives the impression there's not much going on inside. Venice is the opposite - it's a brash wench that sprinkles you with fairy dust, screws you over and spits you out, and yet for some reason you keep returning for more.
Next time, I'm going to stay in Dosaduro, and explore the scholars' quadrant. I'm going to bypass St Mark's square, and instead, visit the Museo Correr and it's cafeteria with a lofty view of proceedings. I'll finally get to San Giorgio Maggiore. I'll dine at Bistrot de Venise and Alla Vedova. I'll visit the veggie garden behind the Church of Santissimo Redentore. I'll go in Autumn, and take my wellies.
-------------------------------------