Today's Pressing Question: Does being an illustrator have any perks? Besides fame and fortune, I mean… : )
Well, yes. I can think of one: Every so often you get to sneak an inside joke into a drawing. I have a good example, but I need to give you some information first.
I do a cartoon for Fiddler Magazine. It's a quarterly. Being a niche publication, their budget is very small. I receive a token payment and two copies of every issue. I like the editor, I like the magazine. It's a labor of love for me. Do I play the fiddle myself? No.
The first time they asked me for a cartoon, I was busy. They needed something right away. It occurred to me that I had hundreds of old cartoons that I did on speculation back in the 1980s and 90s. Most had never been published. I dragged some out of storage, and rewrote some of the captions. They were a big hit, and I've done the same thing ever since: write a new caption for an old cartoon.
For example: here's an old original. Three flamingo lawn ornaments. I thought it would
be funny if one had a broken leg.

Here's the rewrite. I had to change some facial expressions as well. I also reduced the size of my signature and made it more discreet. Nothing like a big showy distracting signature to mark you as an insecure amateur!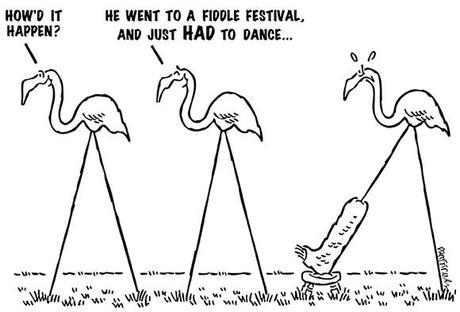 Here's an old one involving virtual reality. Yes, I used to draw some pretty big noses. Check out the ancient computer monitor. I used to have one like that back in the mid-90s.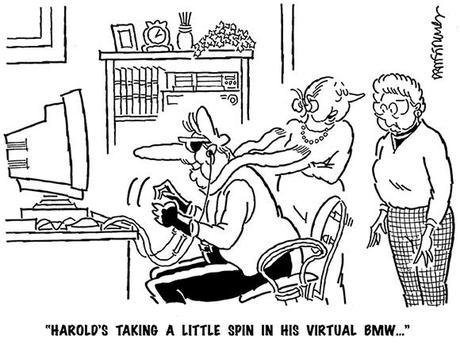 And the rewrite, with smaller noses and signature: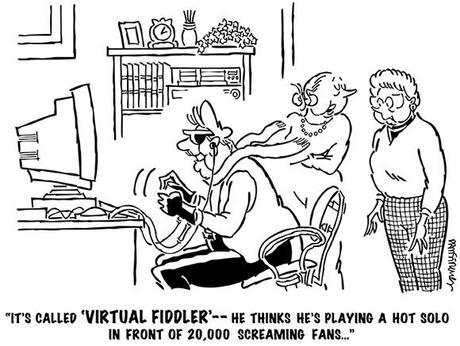 This one still makes me laugh. It should have sold! Good old supermarket tabloids, with their trashy celebrity gossip and ridiculous headlines. The cartoon dates back to 1996. "Fergie" is a reference to Sarah, Duchess of York, and "Roseanne" is comedienne Roseanne Barr.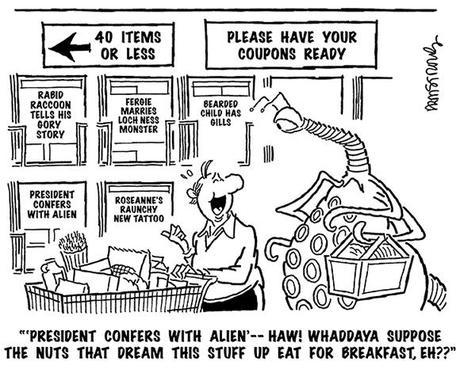 And here's the rewrite, with updated celebrity names. The presence of the alien in the checkout line has to be explained somehow. Giving him his own tabloid headline neatly solves that problem.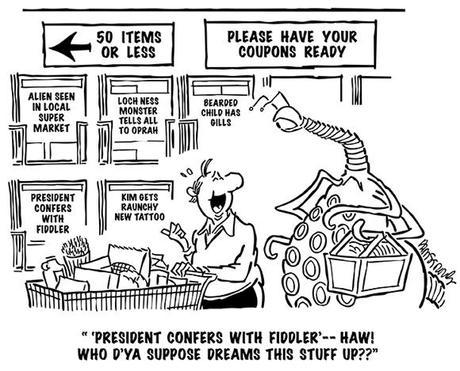 OK, we're getting close to the inside joke. Here's another old original: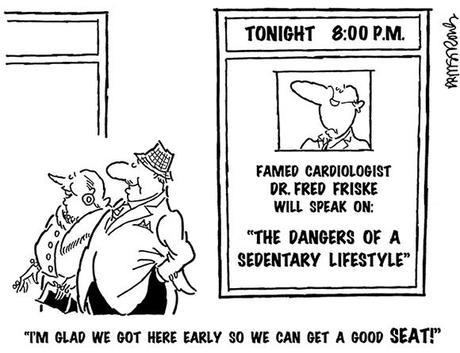 Here's the rewrite. The couple is now headed into a fiddlefest (fiddle festival or concert), and the poster lists the names of the featured performers. Can you spot the inside joke?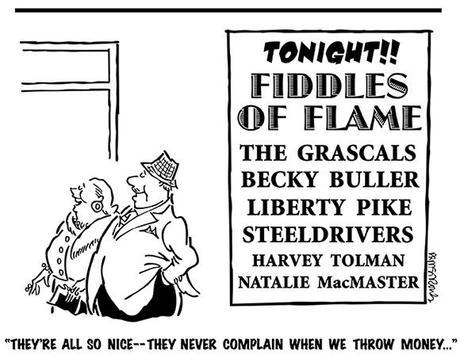 No? Don't feel bad. The joke is so far inside, there are only two people in the world who would get it: me and Harvey Tolman.
All of the performers listed are real people. The Grascals are a bluegrass band. Becky Buller is a bluegrass fiddler and songwriter. Liberty Pike and the Steeldrivers are bands which combine bluegrass with country and other musical genres. The three bands all have fiddlers. Natalie MacMaster is one of the most famous Cape Breton style fiddlers in the world.
Harvey Tolman is my electrician. He lives about four miles from me. He is also an excellent fiddler, and has been honored at the state level for his contribution to New Hampshire's folk heritage. Like Ms. MacMaster, Harvey plays Cape Breton style fiddle. Putting his name above hers on the sign was part of the joke. Since he's a good fiddler,
my little joke was also a tribute.
Did I really sneak the joke in without the editor's knowledge? No. I told her about it when I submitted the cartoon, and she just published it in the latest issue. I'd love to see the magazine do a story about Harvey someday. Speaking of which, here's the man himself: