If you're new to English Wedding, you may want to subscribe to my RSS feed. Thanks for visiting!
Who? What? Why? I hear you say… and is that a little voice at the back saying "ooh can I have a go?" Well let me answer the obvious questions one at a time.
Who are English Wedding's Blogger Brides?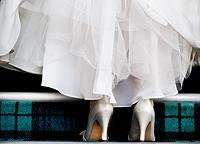 They're UK brides* with their own blogs – girls planning their own weddings who are writing about the experience. Because let's be honest, I know about the wedding industry, I love the creative stuff and I adore gorgeous photography – but when it comes to catering budgets and managing the inlaws, I haven't the foggiest. These girls are learning all of the above as they go along – they're planning weddings and sharing their experiences. Cool.
*or grooms, maybe?
If there are any blogging grooms out there I'd love to hear from you too!
What are Blogger Brides doing on English Wedding?
The blogosphere, as clever folks call it, is a sharing, caring little community. It's lovely in here! In blogland, links are wonderful – mentioning other blogs is a delight for everyone involved. Just like the English Wedding Showcase for suppliers, I'm giving out passwords so brides who blog can join in and write their own posts to publish on the blog.
Why would I do that then?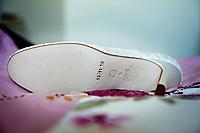 Easy! It works for everyone: we're creating a unique little wedding blog community where brides share their advice and get a platform to promote their blogs, and we get to read all about the rollercoaster ride that is planning a wedding.
There are some brilliant writers out there, ladies like Loulabelle from Met My Match who write captivating and often funny tales about their wedding plans. I love discovering a new blogging bride, and I want to share that whole experience with you too.
It also adds another dimension to English Wedding – and means I can devote a little more time to writing the blog posts I'm best at: real weddings by brilliant photographers and wedding industry discussions 'R' us

And I'll know the blog is in safe hands with the Blogger Brides!
"oooh can I have a go?"
If you're a bride (or groom) with a blog about your wedding, and you'd like a bit of exposure, or if you're thinking of starting a blog about your wedding planning and want to try it first – then yes, I'd love to hear from you. Email me: [email protected]
I'm looking for people to join Loulabelle and get this thing going – if that could be you, then please get in touch!
Like the sound of Blogger Brides? Come and meet them here: Blogger Brides
Thanks to Chris Hanley Photography for the pics