I have some very exciting news for you, I have been chosen as a Koo-di & Pur Flo Ambassador! I am so excited about this as they are two brands I really love and think I can represent well.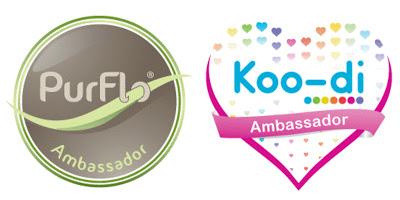 Koo-di offers an extensive range of fantastic products. From affordable, colourful and fun toys to products designed to make parenting that little bit easier, Koo-di has it all. Their clever range of bath accessories, complete with fun polka dot design and safety features was awarded the Progressive Pre-School Award which is amazing and I can't wait to show you more.



Pur Flo is know by the 'Good night, Sleep tight sleep system' and has been designed to create the safest, most comfortable sleeping experience for your baby. From their Mattresses, to SleepSacs to Bumpers, they are specialist products in helping prevent SIDS, bacteria and allergens.



I am so grateful and proud that I am going to be part of these 2 amazing brands. Our first Koo-di products are on their way as we speak, how exciting! I hope you enjoy finding out more about these companies and their Award winning products over the next few months.


 To be next month's advertiser 

click here

 for more info.

GET 10% OFF AT WHAT2BUY4KIDS WITH PROMO CODE 

KER0912