Today's post, on the theme of solace, is an extract from Drawings in Sand. Stella is by the sea, a place that always soothes her - a place that always soothes me!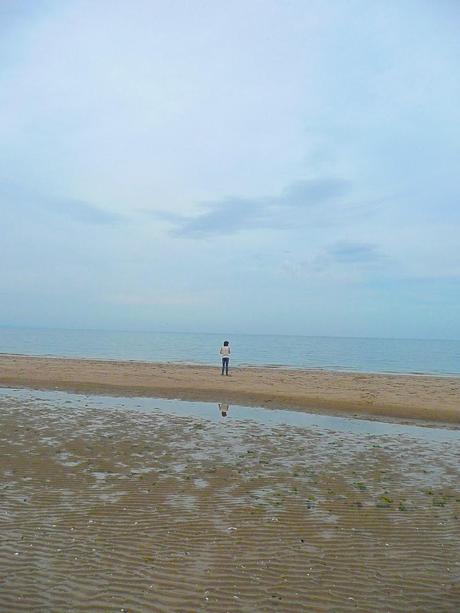 She walked through streets of old fishers' cottages and out to the seafront. A haar hung a few miles offshore. It could roll in before evening, bringing raw damp air. Now, it was warm, almost hot, with her cardigan on.
She crossed the road and walked down steps. She walked a few paces across the thin sand below the wall and climbed back up the next set of steps. The sand was orange, not the driven white sand you read about in romance novels. Not fantasy sand. It must be something to do with the local stones, though how you got orange sand from gray granite she had no idea.
She walked past cafes and arcades, past the leisure center to the quieter part of the beach. Further up wind-surfers were zipping up wetsuits, pushing boards into the waves. Here, the sand was punctuated only by breakwaters, and beyond was the green-blue sea, the hazy sky. She watched as a fishing-boat chugged out from the harbour, past the Girdleness lighthouse and away. A smudge appeared on the horizon, grew bigger, and became an oil supply boat.
She sat on a bench, and felt again that stillness she'd felt at Edith's. She always felt it at the beach, seeing the vastness of the sea and sky.
She took her drawing pad and pastels out of her bag and scanned the beach.
A man and a child were coming southwards. The man walked backwards, half skipping. The child ran beside him, jumping to grab at something he held. They were too far away to hear, but she felt sure they were laughing. The child ran towards the sea, splashed into it. The man scooped the child up, high above his head, ran through the waves.
The tide was way out. It reminded her of an Impressionist painting, Monet maybe, or Mary Cassatt's little children on the beach: the sand rippling towards the sea, the hazy sun and misty horizon, the man and child dipping in and out of the waves. Stella chose yellow ochre paper and took out a blue pastel.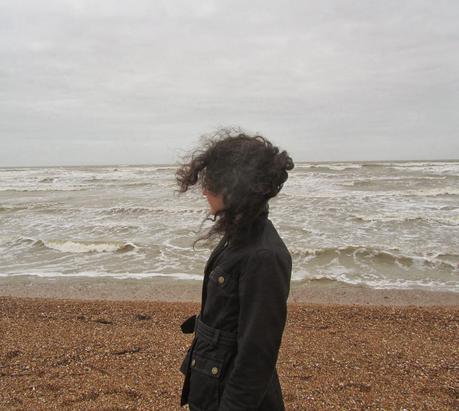 This post is taking part in the Creative Buzz Hop. To read more posts, click the badge below.