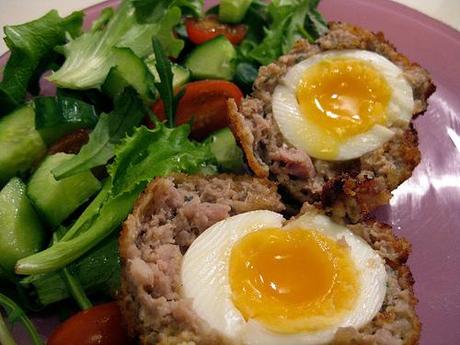 Today's party idea is a fantastic post from a very special person in the world of What You Sow. Illustrator Debbie Hill is the talent behind the What You Sow logo, a beautiful image which I receive compliments on almost every day.  
Debbie's was one of the first blogs I ever read and after getting to know her last year I'm happy to say that we have become firm friends. You can read her lovely adventures in nature, cooking, crafting and drawing over here. 
Last year Debbie and her mom challenged each other to make scotch eggs so I'm reposting this post in full so you can see how they got on. Scotch eggs are very much making a comeback so they make a great addition to your party menu. And did you know that Quorn make a very tasty veggie scotch egg if you have vegetarian guests coming. 
Have a look at the other party ideas on our pinboard and here's Debbie to tell you how to make Scotch eggs. 
For this month's cook-off challenge I picked scotch eggs. I remember making a scotch egg once before, in year 7 at school, but I'm pretty sure there would have been no hot oil involved that time.
My mom opted out of the deep-fat frying and found a recipe for oven baked scotch eggs, but I thought I'd go for the challenge and based mine on the following recipe from Hugh. (I bought a fire blanket in preparation though for fear that I could have burnt my flat down!)

5 large eggs 500g organic pork sausage meat A few sage leaves, finely chopped A good pinch of ground mace A pinch of cayenne pepper Salt and freshly ground pepper Groundnut oil, for frying 3 tbsp plain flour 100g day-old white breadcrumbs Make sure the eggs are at room temperature. Bring a large pan of water to the boil, lower in four eggs and simmer for seven minutes. Transfer the pan to the sink and run the cold tap into the pan to stop the cooking. When the eggs are cool enough to handle, peel them. Add to the sausage meat the sage, mace and cayenne, along with plenty of salt and pepper, and mix well with your hands. Divide into eight equal pieces and shape each piece into a flat patty. Take two patties and use to encase one egg, moulding the meat smoothly around the egg and making sure it's sealed all over. Repeat with the others. Pour groundnut oil into a deep-fat fryer or deep, heavy-based pan to a depth of at least 7cm and bring up to 170C (or until a cube of white bread, when dropped in, turns light golden brown in about one minute). Spread the flour on a plate. Beat the remaining egg in a shallow dish. Spread the breadcrumbs on another plate. When the oil is up to temperature, dust each sausagemeat-encased egg in a little flour, then dip it in beaten egg and roll it in breadcrumbs. Lower into the hot oil and fry for eight to 10 minutes, turning from time to time, until deep golden brown all over. Drain on kitchen paper and serve hot, for once. Or cold, later. 

I bought a bit less sausage meat than recommended so used medium eggs instead of large, and if I was making them again I would use less/no sage, but that's just personal preference.
For the breadcrumbs I used a mixture of some white bread and some of the sourdough bread I had left over from my bread-making class.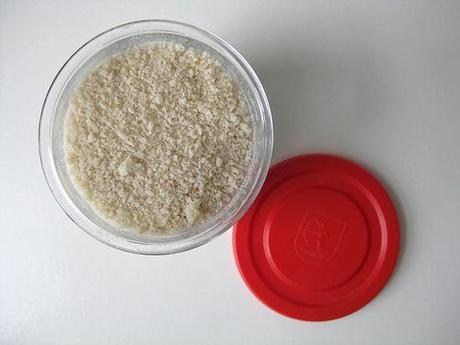 I thought I'd try sprucing up a couple of the eggs so I added some caramelised red onion relish between the egg and the sausage meat. Good for the taste buds, but not so good for the construction as it meant that the sausage meat was harder to seal around the egg.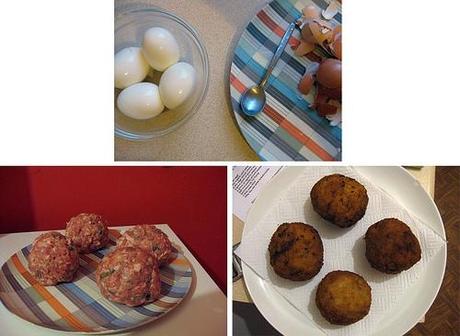 The cooking process went very smoothly though (no oil fires), and they didn't take very long at all.  I decided to eat one egg hot from the pan and was pleasantly surprised to find the egg yolk was still warm and runny - a result I thought it would be tricky to achieve!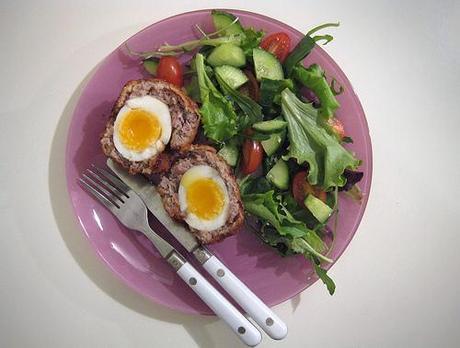 Unfortunately, a warm soft yolk also leads to a cold soft yolk though, which didn't go down so well when I cut an egg up for my parents to taste test yesterday. Oh dear.
If you are after hard-boiled scotch eggs to eat cold later I would add a few minutes of initial boiling time to Hugh's recipe.
I'd say the results were, on the whole, mostly successful though. My dad gave me a 6/10 score (with points deducted for the runny yolk and too much sage). He only gave my mom 1/10 this month. Judging by this photo I'm not surprised though: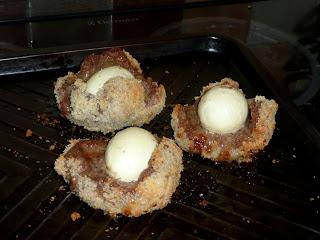 It turns out oven-baked scotch eggs are not the way to go!
Next month, Battenberg cake!