By

Adeyemi Adisa

- May, 2nd 2014
Post Highlights
*Early social networking websites in a competitive market
*Social networking websites that couldn't match Facebook
*MySpace popularity as a social networking website
*How Hi5 used to dominate social networking sites
---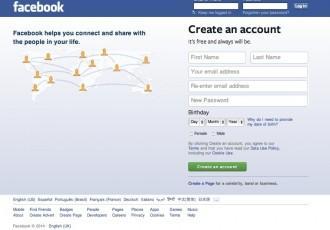 S
ocial media and social networking websites have been around before Mark Zuckerberg's Facebook came into the scene.
But today, the fact is that not many people remember those social networking websites that used to be the talks of the day then.
Facebook as a social networking platform has changed the ways people meet, connect and interact. With over 1.28 billion monthly active users as at March 2014, Facebook is the most popular social networking site.
Social Networking websites that couldn't match Facebook
When Mark Zuckerberg launched Facebook in 2004, he initially limited its membership to Harvard students, before it was later expanded to other colleges.
This strategy differentiated Facebook from other popular social networking websites of the time and it didn't have major impact on the number of their actual users.
But what brought an abrupt end to some of these 'extinct' social networking websites was the smart move Facebook made to gradually add support for high-school students, and eventually to anyone aged 13 and over.
Below are popular social networking websites that we used to know before Facebook's popularity:
#1).
MySpace
When it comes to social networking websites, the old MySpace was arguably the most popular in the early days of social network. The website was so popular that I am sure it wouldn't be an overstatement if I say that the old MySpace was the number one destination for more than 70% of young people globally that have access to the Internet then.
Established in 2003 by Intermix, a Los Angeles-based company, MySpace was so popular then that it was adding an astonishing 70,000 new users every day at some points. As an online social network, MySpace offered a new kind of shared experience, ­connecting millions of users via interests in music, film and popular culture.
MySpace was the biggest social networking website then with millions of teenagers across the world adoring the website by spending hours every day connecting with each other online and fine-tuning ­personal profile pages that reflected their tastes and personalities.
Today, MySpace is a shadow of what it used to be; it has been redesigned a few times and added other features. Despite the new design, user adoption continued to decrease.
---
#2).
Bebo
Bebo is another early social networking website that used to be very popular, especially, among young people. Founded in 2005 by husband and wife – Michael & Xochi Birch, Bebo targeted teens and teenagers and it was highly successful then as it grew to become the 3rd largest social network in the world.
At its height in 2008, Bebo had 40 million users and saw over 1 billion page views a week. AOL, interested in the booming social network craze, bought the site from Birch and his wife Xochi for $850 million.
But since its acquisition, Bebo faded away over the years as it couldn't favourably compete with Facebook.
Over the last seven years, Bebo went from a Facebook competitor to having a following that mirrored Myspace's. In its place will rise a completely new, built-from-scratch Bebo that will only be available on mobile.
---
#3).
Hi5
Surely, you guys will remember Hi5; it used to be very popular in the early days of social networking. Founded in 2003, Hi5 is a social networking site based in San Francisco, California. By 2004, comScore reported that Hi5 had become the third most popular social networking site in terms of monthly unique visitors.
Hi5 used to be the number one place to socialise – almost every member of my family was on it. But when Mark Zuckerberg introduced Facebook, Hi5′s popularity as a social networking website started dwindling and this resulted to the demise of the old Hi5.
Today, Hi5 has many features common to social networking sites, such as friend networks, photo sharing, user groups, and status updates, but since the site's redesign in 2009, it has added a number of features oriented toward gaming and entertainment. The site now features over 200 games in a variety of genres.
---
#4).
Netlog
Netlog, which was founded in 2003, is a Belgian social networking website specifically targeted at the global youth demographic and it used to be one of the popular social networking websites some years back.
On Netlog, members can create their own web page, extend their social network, publish their music playlists, share videos and post blogs. By 2007, the site had attracted 28 million members. It now claims to have over 94 million registered users across 40 languages.
To further help consolidate its value, Netlog merged with Twoo.com, a free social discovery platform launched in 2011.
---
#5).
My Year Book
As a teenager that grew up in the early years of social network, it's hard not to remember MyYearBook that was created in 2005 by two high school students, Dave and Catherine Cook, and Dave's older brother Geoff.
The idea, which came while Catherine Cook was browsing her high school yearbook to find that many of the pictures were just not that good and she thought she could do it better, grew and became one of the top 10 most visited websites in the United States at a point.
Today, myYearbook.com has been rebranded MeetMe, but before it was rebranded, the website has over 32 million members, and was growing by almost 20,000 people each day.
---
#6).
Orkut
Orkut is another social networking website that used to be really popular. Owned and operated by Google, the service is designed to help users meet new and old friends and maintain existing relationships.
Orkut has been added to Google services and users are concerned that the social networking website will be merged with Google+ eventually.