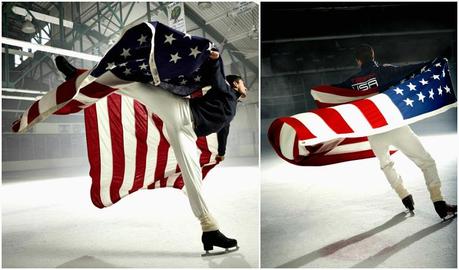 The Sochi Winter Olympics kick off today with an Opening Ceremony which promises a huge spectacle involving over 3000 performers, a fleet of ships and Peter The Great. So, essentially a showboating Russian history lesson. Some of the events kicked off yesterday already but today is the official lighting of the torch and the 2014 Games really get underway. I have always liked Winter Olympics better than the Summer Olympics, maybe its my Scandinavian roots, or maybe it's because I think the Winter Olympics events are more exciting. During the Sochi Winter Olympics I'm really looking forward to Snowboarding, Ice Skating, Ice Hockey and Ski Jumping.
(Figure skater Evan Lysacek flying the flag for Sochi Winter Olympics in the top photo.)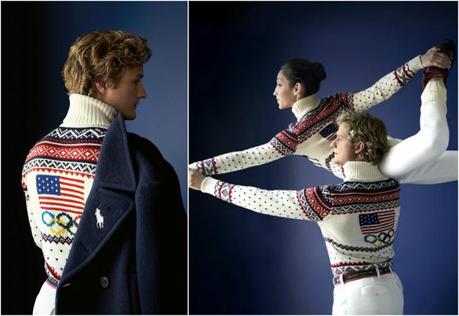 (Ice Dancers Meryl Davies and Charlie White lift for the Team USA.)
I know Sochi Winter Olympics are not about fashion but once again one of my favorite fashion designers Ralph Lauren has designed the Team USA Olympic uniforms. And aren't they just the most stylish, elegant and so appropriately patriotic items of official kit that you have ever seen? I know the very colourful patchwork cardigans with stars and stripes with the Olympic logo might not be for everyone's taste, but I find it all very fresh and modern. Evan Lysacek, the impossibly handsome US Figure Skater expressed his opinion about the importance of stylish uniforms in Daily Mail: 'As an athlete, the clothing means even more than you'd think. The training, the sacrifices, the lifestyle, which is not glamorous and can be gruelling and trying at times, all seem to come together in the moment when you realize you are part of the Olympic team,' he said. 'The moment you put on those first pieces of the American team clothes, you feel like it's real."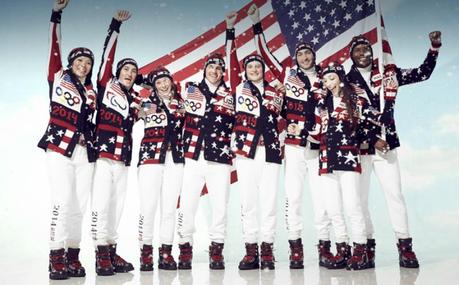 (Team USA members modelling their matching cardigans and woolly hats they'll be wearing at Sochi Winter Olympics)
Compared to these elegant and quite sophisticated Team USA uniforms, the Team GB Sochi Winter Olympics kit pales in comparison. The Team GB kit seems to consist of a few track suits and some thermal trainers. For the first time ever, Ralph Lauren has sourced completely American manufacturers for  every item in the games kit. And best of all, you can actually buy the clothes (I am seriously considering that cardigan!!) via the Ralph Lauren Shop. You have even the option of customizing each piece with your name on them. Way to feel a part of the team!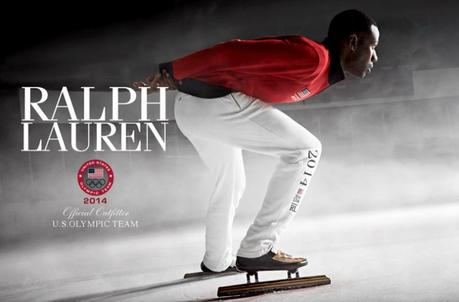 (Speed Skater Shani Davies glides to the finishing line.)
"It is a privilege to be a part of dressing Team USA during Sochi Winter Olympics," says David Lauren, Ralph Lauren's Executive Vice President of Advertising, Marketing and Corporate Communications. "It's a proud moment for us to watch these premier athletes as they walk out representing our nation on a global stage in front of billions of people worldwide." 
THE MODELS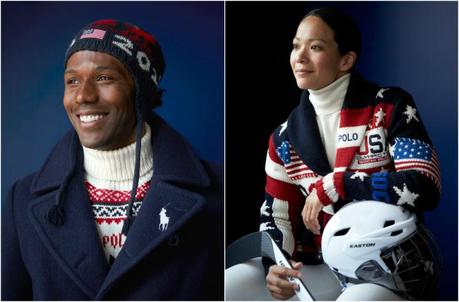 Ready for Sochi Winter Olympics: Shani Davis, Speed Skating and Julie Chu, Ice Hockey modelling Ralph Lauren Team USA knitwear.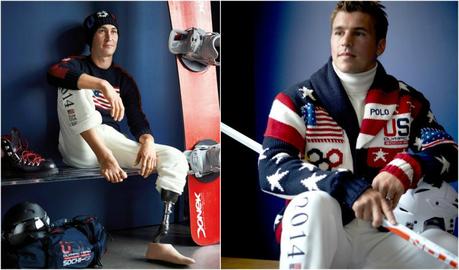 Mike Shea, Snowboarding (Paraolympics) and Zack Parise, Ice Hockey in their Ralph Lauren Team USA portraits.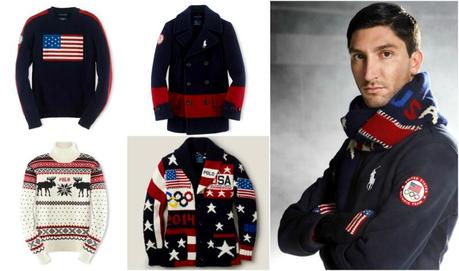 My favorite items from the Team USA Sochi Winter Olympics collection along with my favorite Figure Skater Evan Lysacek.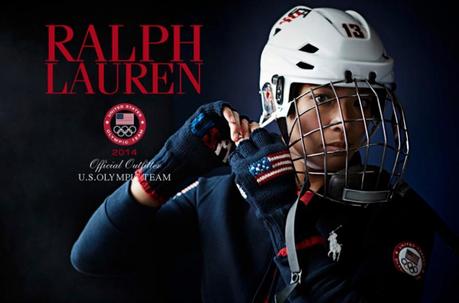 Julie Chu, Ice Hockey Team USA.
All Images: Ralph Lauren
The post Sochi Winter Olympics: Ralph Lauren for Team USA appeared first on