Meet Donna With Valhalla Soap Company 
What made me start my business?
Well, I had an over-abundance of goat milk and a curiosity about soap making. I was visiting with a friend one day and discussing the need for a use for all the goat`s milk I had. She suggested that I start making goat's milk soap. After several months of pestering my local small town librarian for inter-library loans for any and all books in the Northwest on the subject of soap making, I took the plunge. I was so fascinated by the process that I never looked back. That was almost 20 years ago.
I get asked a lot about what our company philosophy is. Well, basically it's pretty simple. We believe that everyone should be able to afford to take care of their skin. It is the largest organ that you and your body own. Meaning that is absorbs more of everything than any other organ in your body. If you think hard enough about that, it's a pretty scary thought. When we are healthy in Body, we are healthy in Mind and Spirit. So, we want to provide a good quality (affordable), hard (long lasting, money is tight for everyone), moisturizing (dual purpose face & body), food for the skin and pleasing to the eye, bar of soap. If our soap makes someone smile when they climb into the tub or shower, if it gives them a peaceful moment of pause, then we feel that we've accomplished our goal.
We celebrated 15 years in business this month. And we are still somewhat in shock over it all. Where did the time go? We've come a long way over the years. Had many failures but many more successes. And boy have we learned A LOT!!!
One of the things we learned is that it's worth it to pay a little extra for quality fragrance oils. That's one of the reasons we buy a very good portion of our fragrance oils from Natures Garden. Another reason is that we use the CPOP method of soap making. This method can sometime be a bit abusive towards citrus or flighty fragrances. Yet Natures Garden fragrance oils are highly concentrated and they hold up fantastically in our soaps! The third and best reason is that Natures Garden's fragrance oils are affordable! Of all their products, we order their fragrance oils more than anything else. We love their fragrance oils! It would be hard to say which is our favorite. Bite Me fragrance oil is our overall consistent best seller. With Baby Bee Buttermilk type coming as the third best seller. Of the two, I'd have to say that I prefer the Baby Bee Buttermilk. I like that it's sort of an Almond & Honey without the cherry that is usually present in these types.
Valhalla Soap Company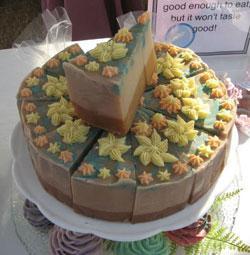 http://www.valhallasoap.com
http://www.facebook.com/valhallasoapco
http://www.twitter.com/valhallasoapco
http://www.youtube.com/user/valhallasoapco
Interview given by Kimberly Sanchez of Natures Art Soap