Our next recipe is a wine lotion recipe.  Like many of our customers, I too, love the wonderful aroma of red wine.  This homemade lotion recipe is scented with my favorite of Natures Garden's wine scents, Shiraz Fragrance Oil.  This lotion contains many skin loving oils and butters like grape seed and jojoba.  So grab a glass of wine and get ready to prepare a couple bottles of wine scented lotion.
Wine Lotion Recipe Ingredients Found at Natures Garden
Cocoa Butter Golden Natural
Grape Seed Oil
Jojoba Oil
Sodium Lactate
Silky Emulsifying Wax
Shiraz Fragrance Oil
Da Bomb Soap Dye Red
Da Bomb Soap Dye Blue
Vitamin E Oil
Vegetable Glycerin
8 ounce Clear Boston Round Bottles
White Lotion Pumps 24/410
Thermometer
Resveratrol Extract Powder

Wine Lotion Recipe Other Equipment and Ingredients You Will Need
Mixing Bowls (2)
Scale
Spatula
Distilled Water
Pots (For Double Boiler)
Stove
Ziplock Bag
Scissors
Wine Lotion Recipe Prepare Your Work Area
Before we begin, clean and sanitize your work area and utensils.  You will also need to do the same with the packaging supplies.  We will be using two clear 8 ounce Boston round bottle and two 24/410 white lotion pumps when we create this lotion recipe.
Wine Lotion Recipe Weigh Out Your Ingredients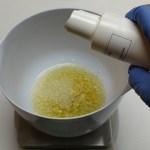 First, in a pot, weigh out 425 grams of water.  You will need to heat the water to 180 degrees.  Hold it at this temperature for 20 minutes.  This will destroy any bacteria.
In a second pot, weigh out 48 grams grape seed oil, 24 grams silky emulsifying wax, 10 grams cocoa butter, 10 grams jojoba oil, and 6 grams vitamin e oil.  Then, melt these ingredients using a double boiler.  Make sure you stir the oil occasionally as they are melting.  While you are waiting, move to the next step.  We will come back to both of these pots when they are ready.
Wine Lotion Recipe Preparing the Other Ingredients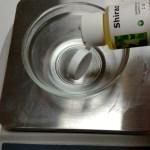 It is best to weigh the other ingredients out ahead of time.  This way you are prepared ahead of time.  This will allow you to move quickly as you are making the lotion.  Temperatures are extremely important to achieve a proper emulsion when creating lotion.  So, using a scale, weigh out the remaining ingredients.  You will need four small bowls as each of the following will go in a separate bowl.  First, weigh 8 grams of sodium lactate.  Then, in the second bowl, add 3 grams of resveratrol along with 12 vegetable glycerin.  Mix these two together well.  In the third bowl, prepare your fragrance oil.  Weigh out 12 grams of Shiraz Fragrance Oil.  In the last bowl, weigh out 10 grams of your optiphen preservative.  Set these aside, we will come back to them.
Wine Lotion Recipe Putting it all Together
Next, we will be combining our water with our oils.  Before we begin we want to be sure to point out a couple of things in regards to your temperatures.  At this point, your temperatures are very important.  You want both the oils and water to be around 140 degrees Fahrenheit.  If your ingredients are not at the proper temperature you may experience separation.  In addition, the temperature is important when adding your preservative.  You want to add your preservative around 120 degrees if you add your preservative at too cool of a temperature your mixture will separate from the finished lotion.  If your temperature is too hot it will burn the preservative off.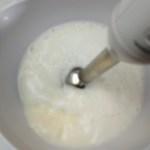 Now, we will begin combining our oils and water.  Once both the oils and water have come to the proper temperature, we will need to move quickly.  So, once your water has been heated, remove it from the heat.  You want to let both your oils and water temperatures to drop to 140 degrees Fahrenheit.  Then, add 8 grams of sodium lactate to your water.  Make sure you stir in the sodium lactate completely.  Now, add your oils to your water.  Then, use your stick blender to mix them.  Mix until you notice the mixture turn white in color as it emulsifies.  Again, remember to pay close attention to your temperatures.  You do not want the temperature to drop below 120 degrees Fahrenheit.
Wine Lotion Recipe Adding the Other Ingredients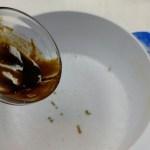 Next, let's add our preservative.  Remember, this needs to be added below 140 degrees Fahrenheit, but at a temperature no cooler than 120 degrees.  When the mixture drops to around 120 degrees add the 10 grams of optiphen preservative.  Additionally, this is when the colorant should be added.  So, at this time add 7 drops of red soap colorant and 3 drops blue fd&c dye.  You will also add the 12 grams Shiraz Fragrance Oil you weighed out earlier.  Mix your ingredients together using your stick blender.  Now you will need the resveratrol extract powder mixture you prepared.  Earlier, we dispersed the resveratrol powder extract in vegetable glycerin so that it can be added to your lotion without clumping.  Finally, at this time, add the resveratrol mixture you prepared earlier.  Once again use your stick blender to evenly and fully mix all of the potion's ingredients.  Once everything is mixed, allow the lotion to set up.  You will notice the lotion thicken more as it cools.  Once it has set up, you are ready to package it.
Wine Lotion Recipe Packaging the Lotion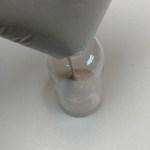 Lastly, we will be placing our lotion into the 8 ounce lotion bottles.  I have found it easiest to do this using a zip lock bag.  So, place the lotion in a ziplock bag.  Then, cut the corner.  We will be using the bag sort of like you would a decorating bag.  Once you have cut the corner, you can place the opening over the opening of the bottle.  Squeeze the bag gently to add the lotion to the first bottle.  Then, fill the second bottle.  Finally, place a white lotion pump on each bottle.  Your wine scented lotion is now complete!
What is your favorite Nature's Garden wine scent?  Let us know and show us what you've created!  Post a picture on our Facebook page or on Instagram @ngscents!