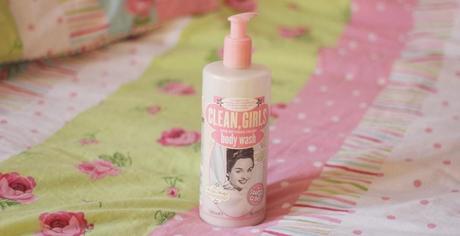 If you're a regular reader of my blog then you'll probably know that I just adore the Soap & Glory Clean On Me Shower Gel (a quick rave review here) as it's so moisturising and smells absolutely gorgeous, but eventually my third bottle was empty and I thought it was time to try something new. I wasn't very adventurous as I went straight to another Soap & Glory shower gel which I picked up in a 3 for 2 offer in Boots when I was stocking up on the lovely Peaches & Clean cleanser. Clean, Girls is a moisturising body wash which comes in a large pump bottle just like Clean On Me, and of course it features Soap & Glory's pretty packaging which is always a huge plus to me as it's so nice to look at. Now on to the product..
I'm not going to lie, Clean Girls just doesn't do it for me like Clean On Me does. Although it is still a lovely body wash that leaves your skin feeling soft and moisturised when you step out of the shower or bath, it's the scent that makes me wish I'd given this particular body wash a miss. After checking out the ingredients that go towards the scent I think it's down to the hints of vanilla and magnolia as I'm not their biggest fan, although I'm sure plenty of you would love the scent. Damn you nose, you made me say bad things about my beloved Soap & Glory.
So far I've used about half of the bottle and am on a mission to have it finished before I repurchase Clean On Me as I really don't fancy having a bathroom full of shower gel. If you're looking for a moisturising body wash then I would recommend Clean, Girls and I just wish my nose would let me love this product more. You can find the body wash in Boots for £6 which is a good deal when you consider just how much product is in that big bottle!