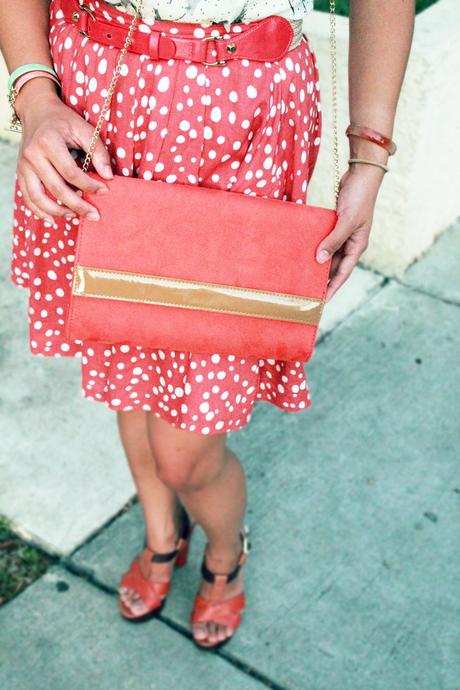 Now that Labor Day has come and gone, it is time for change and to get excited for Fall trends. I for one can't wait – Fall is definitely my favorite season style-wise. I can't wait to play with layers, add a bit of edge to my outfits, and put to use my wonderful scarves collection! But since SoCal weather is a bit confused right now, and the heat isn't easing up on us, I'll take advantage of it with my polka dot skirt. Last time this skirt appeared on the blog, I paired it with white lace and a string of pearls for that immediate classic look. Here I am mixing patterns with my bird print blouse.
When mixing patterns I use patterns of varying sizes to create some visual depth. Here I played it safe by going with one brightly colored piece and kept the other neutral (though if you're bold enough to try contrasting colors, all the more power to you).  It also helps to balance out the look with a solid color piece, like the orange clutch and monochromatic sandals I have here. It gives the eye a break and also puts focus on the skirt and blouse.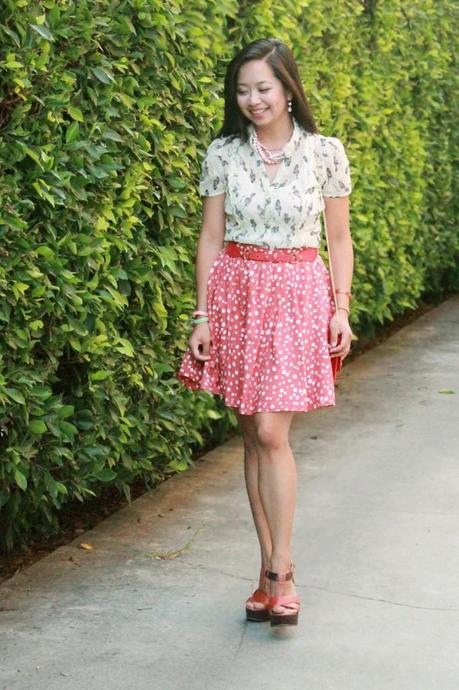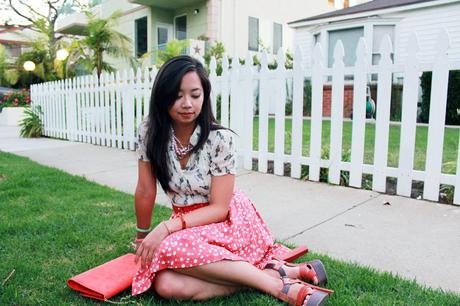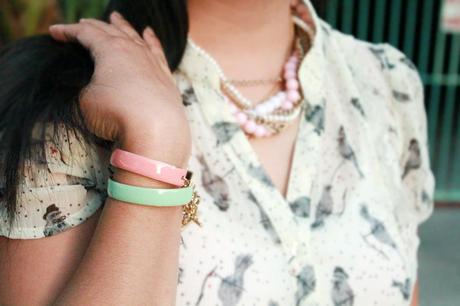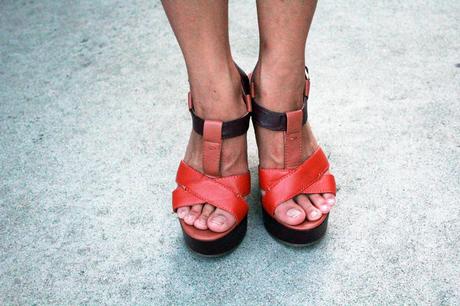 Polka dot  skirt – Forever 21| Sheer blouse – gifted | Sandals – Kohl's (gifted) | Necklace – Forever 21) | Earrings – gifted | Bracelets – H&M | Belt – New York & Co. | Clutch – H&M 
I also really love these platform sandals my mom gifted me for my birthday. Since it has a platform, it gives more support and doesn't become painful as quickly as other 4-inch heels. Which I appreciate.
So this summer has been quite a fun and exciting one for me, and I'm sorry to see it go. Now the days are getting shorter and the weather will (hopefully) cool down, and everyone's schedule is more regular and structured. I'm excited for change, though.