I love most things about Germany, but there are also a couple of things I really can't get my head around. Like on Sunday, EVERYTHING is closed. God help me if I had no food and was dying of starvation, and had no petrol in my car and could barely make it back to the hotel without breaking down... God didn't help me, no bakeries or petrol stations miraculously opened. To make things worse, tomorrow is a bank holiday, so everything is STILL closed. I had to tell the hotel I would be having breakfast in their restaurant so I could steal a roll for lunch, but shhhh!!! ;)
So despite eating so much cup-a-soup I think I might turn into one, my day was brightened hugely when I opened the door to the new room I will be living in for the rest of my time in Germany. It is HUGE!!! It is on the bottom floor of the hotel, which is actually half-underground so it is extremely cool which is perfect in this heat. It has a separate living room, bedroom and entrance room, and I have a double bed!!! Can't believe how lucky I am, maybe it pays to be friends with the hotel manager hahaha ;)
The boys were both good today. The main thing I am trying to focus on is connecting them from driving with my seat and leg towards the bit, and giving when I drive so they can go into the contact. This is instead of pulling them into the contact whilst driving at the same time and giving them no where to go. Sounds obvious and simple, but actually quite hard to do properly as the horse has to be completely in front of your leg and you can't be hanging on at all.
As happy as I am to be here, I can't help but miss being in England at this time of year. Not only is summer always great with friends, but some great British things are happening like the Queen's Jubilee and
the Olympics
. I am missing them both! Although most of my friends are doing exams at the moment, July and August will be absolutely buzzing in Britain. Oh well, I just have to think if I'd rather be in Germany getting the best training possible to get further in my career, or go and drink cider in the park.... Hmm tough one - not!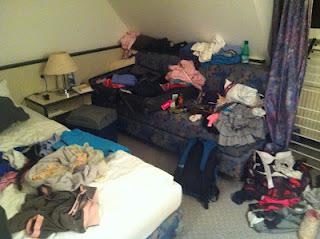 So this was my first room... As you can see I had trouble fitting into it :P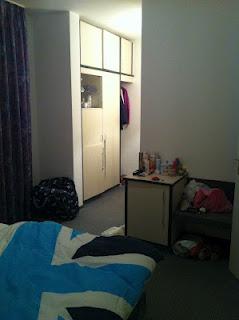 New room!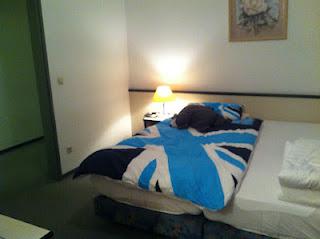 Still flying the flag :D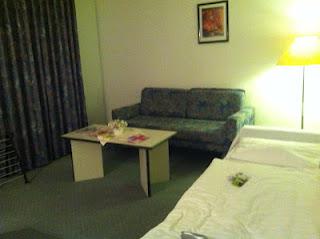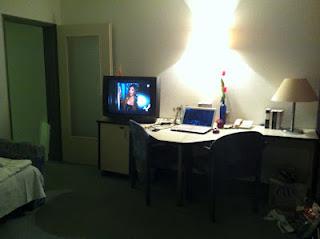 Nice little living room :)