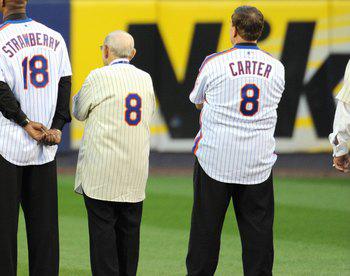 I was saddened to hear that the great Hall of Fame catcher Gary Carter lost his battle with brain cancer today. It had been a tough for fight for him and he was just 57.
I'll never forget the night the Mets made the trade for Carter in December 1984. It came out of nowhere, and you knew the Mets were serious about winning when they pulled it off.
My favorite Carter moment was the home run he hit in the 10th inning of Opening Day at Shea in 1985, his first game in a Mets uniform. It won the game, and he was hailed a new Mets hero.
Gary Carter was a great player and good man, with a smile for everyone. My deepest sympathies to his family and friends. Now let's hope the Mets management has the good sense (something that's been in short supply recently) to retire Carter's number 8. In his memory, I present this YouTube clip of Gary doing a Newsday commercial back in 1986. (He was clearly a better ballplayer than actor.)

Rest in peace, Kid.