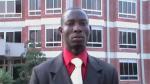 Jean Baptiste Icyitonderwa: one of the four who are still detained by the police and whose head has been seriously injured by the beating according to sources in Kigali. With his colleague Emmanuel Ntakirutimana, they are in a very critical condition.
On Tuesday September 17th, 2013 we reported about the 40 Rwandan students who were highhandedly taken into custody by the police in Kigali. Luckily some 20 were released the same day, but for the rest of the group people were still unaware of where they were detained.
Boniface Twagirimana, who spoke on Radio Ijwi Rya Rubanda on Wednesday evening, reported from Kigali that four detainees, namely Jean Baptiste Icyitonderwa, Martin Ntavuka, Emmanuel Ntakirutimana, and Samuel Hitimana, were also still in detention. The police consider them as the leaders of the group who took their grievances by writing to the prime minister.
Since Tuesday, it has not been possible to get them anything to eat or sleep on. This particular small group of the so called leaders has been seriously tortured. Emmanuel Ntakirutimana is unable to sit down. Jean Baptiste Icyitonderwa has been seriously beaten up on his head and injured by the police. He is in a critical situation. So far the police authorities are not allowing them to be taken to hospital though they are between life and death.
It was learned from a detainee leaving the detention building that the prison

Don't Be Blind This Time. It is time for Rwandans to wake up seriously; for those countries too continuing to support the dictatorial regime of Paul Kagame.
was so crowded inside that new arrivals were handcuffed at windows. People should imagine the cold or rain or sun while someone is being tied to a window without any possibility of movement, come night or day.
When the radio presenter of Ijwi Rya Rubanda asked Boniface Twagirimana if detainees had been tortured as they usually are by the police, he replied that he could not be categorical for that since he had not been a direct eyewitness, but he confirmed that by depriving them of getting any meal or some sort of relative comfort, that was no different from torture.
One student from the 40 who was by chance released on Tuesday reported that the policemen who were beating them at the station were telling detainees this: "You stupid people!! We liberated this country with guns; you think you could have it back with only talking while you are still alive?"
When Antoinette Mukamusoni the lawyer called upon to help the group at the police station asked to see her 4 detained clients, she was only told that she could see 2 of them. The police could not bring the others considered their critical health following the beating. It lied to the lawyer that they had already been seen by somebody else.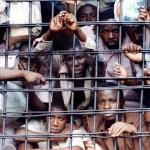 So full that detainees have today to be handcuffed on windows. US, UK and other Kagame's foreign partners should be ashamed of supporting a such abject regime.
On Tuesday when the police intervened it was reported also that there had been a foreign journalist from Afrique 24 television who had captured on camera the police brutality towards the students at the cars' station at Kacyiru. The police had taken all his equipment and destroyed all evidence that could incriminate them, and then they let the journalist go with his material.
In perspective, what this story is keeping reminding Rwandans is that the dictatorship of President Paul Kagame will not end without more and more sacrifices. As those policemen beating the detained students were telling them, does that end have to come through guns? Over to you the reader for the answer.