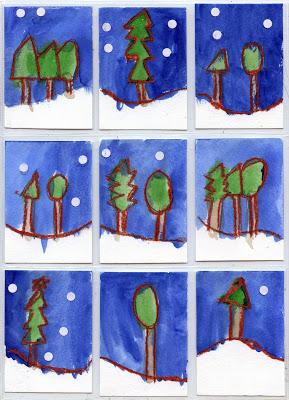 Some hole-punch paper circles can make some pretty "snowflakes" on a painted landscape. I like the bright white circles that really stand out against the colored sky.
1. Draw a series of trees and ground line across three sets of three ATC cards (2.5" x 3.5")
2. Trace all the lines with a crayon.
3. Paint the cards with watercolor paints. Let dry.
4. Make some hole punch circles from white paper and glue randomly on the cards to look like snow.
5. Place all nine cards into a plastic trading card sleeve and collect in a binder.