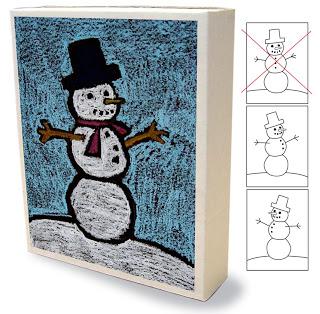 This is a little twist (literally) on the usual snowman drawing. It asks students to think about circles can become spheres and have a 3-dimensional shape to them.


1. I started by giving studets a large black paper (12" x 17") and a cardboard circle template (5" diam.) They used the template for drawing the bottom circle, and then had to draw the middle and top circle themselves, in pencil.
2. Next, they were to choose to draw their snowman as turned to either the right or the left, just not head-on as they probably have done in the past.
3. After the pencil drawing was done, the lines were to be traced heavily with a black pastel. Finally, the snowman and background are colored in.
4. I wanted to find an easy way to display the artwork, and found that some leftover white packing boxes were the perfect solution. I taped them shut and spray mounted the art to the smooth side. Voila! A poor man's self-standing canvas!