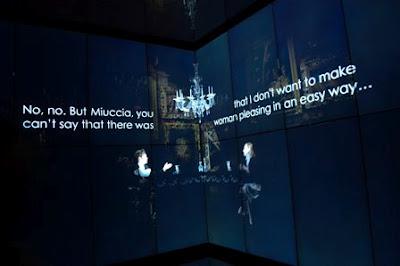 Tomorrow morning the highly anticipated exhibition "Schiaparelli and Prada: Impossible Conversations" opens to the public at the Costume Institute at the Metropolitan Museum of Art (on view through August 19, 2012). Having seen it the other day I must say that, while it does not compare to last spring's spectacular Alexander McQueen exhibition, this show is for real fashion lovers. 
 Curators Andrew Bolton and Harold Koda have been working on this exhibition for quiet some time now and said that, after all of the male-centric shows, they wanted to celebrate women designers.  
The exhibition opens with a film depicting a conversation between Miuccia Prada and Elsa Schiaparelli (1890-1973) (known as "Schiap" and played by Judy Davis) directed by Baz Luhrmann. This film, or rather various "impossible" conversations are streamed through-out the galleries. This "impossible conversation" was inspired by Miguel Covarrubias's satirical "Impossible Interviews" for Vanity Fair in the 1930s and Schiap's "answers" come from her autobiography "Shocking Life."
The exhibition is divided into seven sections: Waist Up/ Waist Down, Ugly Chic, Hard Chic, Naif Chic, The Classic Body, The Exotic Body, and The Surreal Body. Some of Schiap's most iconic designs are on view, including the dresses, coats, and hats she made with her Surrealist friends Jacques Cocteau and Salvador Dali. In total the exhibition features 100 of her designs and 40 accessories. Many will be familiar with Prada's ensembles as they come from recent collections, some are from this past fall/winter collection.
I am not sure how many have realized how similar the two designers are, in fact the similarities are uncanny and the comparisons in the exhibition never feel forced. As usual Bolton and Koda should be applauded for a job well done. Although as Bolton pointed out, and as visitors will hear for themselves, Prada's and Schiap's ideas on fashion are very different even if the end result isn't.  
The exhibition was possible with the acquisition of the Brooklyn Museum of Art's costume collection, which has enriched every exhibition at the Costume Institute since 2009. Some of Schiap's clothes also come from the Philadelphia Museum of Art which staged its own wonderful Schiap show in 2003. In addition to the film, the galleries are full of photographs of Shiap's work so one never feels as if something is missing or that there is an imbalance between the work presented. 
Tom Ford, who participated in a wonderful talk at the 92nd Street Y on Tuesday evening, said that, in reference to the exhibition and Prada, every good designer must know their history and pick-up what came before yet also channel the spirit of their (current) times. He also quoted Coco Chanel, Schiap's nemesis, and said that "creativity is the art of concealing your sources" implying that he too had a hard time separating the designers clothes and that Prada, is therefore, a genius designer. 
In the end, the show is smart, thoughtful, and beautiful. Just like the two women, and the clothes, that are presented.