Hello Ladies,
I hope you all had a wonderful week!! Mine was good!! 
I just wanted to share with you a little sneak peak of what I got today in the mail. I am not home so my hubby sent a pic for me to see. 
I was sent the 2012 MASH Image plate set available here. This Awesome new set of 25 Image plates that just got released last week are $12.99 plus shipping to your area. This seems to be a sale price as the first set from Mash is selling for $17.99 reg price. I haven't confirmed with them if or when this may change in the future. I have to say that I am so excited to have this opportunity to do a review on this new set of wonderful plates.
Dan from Mash sent these for me last week and they got here really quick. 
i will be home on Wed.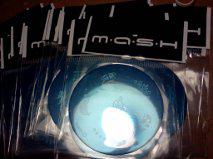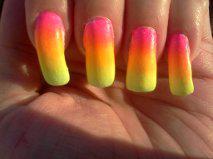 I only brought a few
of my nail items. I have a medium size case that comes with me anytime I stay away from home. even if it is only for the day. LOL. I can't stand being away from my babies....
I was finally able to do a gradient mani using the sponge technique that shows how to line up the chosen polishes and pat until happy.
I was so excited that it worked and it looks so nice that I had to take one more cell phone pic to share; By Thurs. I will have a new camera and will have gorgeous new pics . 
Thank you for stopping by!
Take Care Of YOU!!
Nicky