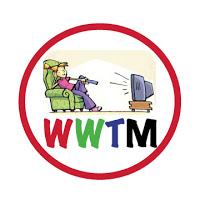 THE ANSWER TO THURSDAY'S TRIVIA QUESTION: HR Puffinstuff, Jimmy & Witchipoo were yesterday's blast from the past! FIRST FIVES: Mike O'Dea, Crystal Kyler, Mitch Klein, Vanessa Benfield & Alex Nagler HONORABLE MENTION: 
THE NUMBERS 
Wednesdays Broadcast Top 5
Modern Family-ABC 3.3/9.4
Black-ish-ABC2.5/6.9
Criminal Minds-CBS 10.7
Survivor-CBS 2.3/9.3
It's The Great Pumpkin Charlie Brown-ABC 2.1/6.2
Wednesday's Cable Top 5
American Horror Story-FX 2.3/4.5
MLB NL Championship Series-FS1 1.3/5.0
Big Bang Theory-TBS 1.0/2.6
South Park-Comedy Central 1.0/1.7
Halloweentown-Disney .9/3.1
Wednesday's Twitter Top 5 Primetime Ratings 
American Horror Story-FX 379,000 Tweets
Arrow-CW 44,000 Tweets
Law & Order: SVU-NBC 35,000 Tweets
South Park-Comedy Central 22,000 Tweets
Modern Family-ABC 9,000 Tweets
Late Night Ratings for the Week of 10/6/14-10/10/14
Fallon-1.0/3.6
Kimmel-.6/2.5
Daily Show-.6/1.4
Letterman-.5/2.7
Colbert-.5/1.1
Seth Meyers-.4/1.5
Nightline .3/1.4
Ferguson-.3/1.3
Conan-.3/.6
Carson Daly-.2/.8

Early Morning Ratings for the Week of 10/6/14-10/10/14
GMA 1.1/1.4
Today 1.1/1.4
CBS This Morning .5/.6
THE SHOWS 
Vampire Diaries
I know this isn't going to go over well, but, it's how I'm feeling right now about this show. BORED and CONFUSED. I'm not sure I get the deal with Damon and Bonnie and where they are and what that guy Kai is doing there and why he wanted to kill them and how Bonnie got her magic back and how Damon's car got there. I hate all these different Elena's. At this point, I've forgotten who the real Elena even is. Enzo…could care less. I want a reset. Lets get back to Mystic Falls, lets get some parents around, lets give Matt SOMEONE who isn't a supernatural to love, lets get guys with shirts off taking showers, and for once and for all lets have Caroline hook up with Stefan already. I did enjoy the lake party. Jeremy and Elena looked damn good in their bathing suits, but that's all that made me happy this week. I know Julie Plec has a plan, but I'm a bit impatient. 
Scandal
I cannot believe they went there. Eiffel Tower? OMG Shonda Rhimes, REALLY? I don't even know what to say about that except, Google it if you're on your home computer and don't know what it is. Whatever you do, don't Google it from your work computer!!! Okay, 
movin on. I'm amazed at how Michael can look cute and ugly all at the same time. I'm glad Cyrus was pulled outta bed and away from him. All hell's going to break loose with that situation soon enough. Cyrus needed to get a helicopter and get Karen home to the White House stat! Must be nice to be able to pull that off from your cell phone. Is there an App for that?  Loved when Cyrus tore Abby down. I'm not liking White House Abby at all. Also loved every second between Olivia and Fitz. There's so much electricity between them that you actually feel it when you're watching and then it was over just like that. Plug pulled. Olivia just HAD to tell him about Jake and that was IT. Fitz was on fire big time. Son's dead, daughter's doing the Eiffel Tower and Olivia left him with Jake. There is hope though…Smelly Mellie may be jumping in a shower soon and getting back on track. She was great with Karen. This Jake/Rowan thing is intense. I know a lot of you don't want Olivia with Jake, myself included, but I also don't want him to die. Olivia's Dad is pure evil though, so it's not looking good and what about poor Tom Larsen. He had a great gig going and gone…just like that. Those super long eyelashes aren't going to help him in the big house. 
Okay, you know the drill…2 songs last night, name um! 
Parenthood
I almost…almost, got away with a tearless episode of Parenthood until Kristina went to visit Zeke. Joel, Julia and Syd didn't get me. Hank and Sarah didn't get me, Crosby, Oliver and Jasmine didn't get me, Max and Dillon didn't get me and Ruby sure as hell didn't get me teary. Once Kristina sat down on that couch with Zeke…done! Hard to see the people you love age and get scared isn't it? Hard to push them to do what's best for them when they don't want to be pushed and when they don't want to hear it. Kristina knew EXACTLY what to say, exactly what to do because she'd been there and that killed me. I've stopped counting how many episodes are left. I'm in denial and I'm staying there till the credits roll on the last episode. 
THE OTHER STUFF -So, I totally get people paying for HBO content if they aren't HBO subscribers. I'm sure they're are a ton of people out there who are sick of not knowing what the Red Wedding was all about and who Khaleesi is. The question is will they pay $5.99 a month for CBS show? Do they care what happened to Will Gardner enough to shell out 6 bucks a month? I don't know.  It seems like everyone's paying for some additional content provider these days. Netflix, Hulu, Amazon Prime and now HBO.  If you aren't into sports, I suppose that if you add up all these options plus all the Watch Apps, you could probably get everything you need or want for less than your current cable bill cost. In 2015 when CBS launches their new subscription service you'll be able to get: 
All current season episodes for 15 primetime shows. Episodes will be available the day after they air live

The ability to live stream the local CBS stations in 15 markets with more coming

Full past seasons of 7 major current series including The Good Wife and Survivor (what about BIG BROTHER???)

5000 episodes of CBS Classics including Star Trek, Cheers, Magyver, Twin Peaks and CSI Miami

Exclusive access to Grammy Awards, Country Music Awards and Victoria's Secret Fashion Show

Big Brother Live Feeds

All of this will be ad free
Soooo you in or out? 
 -First Will Gardner and now Kalinda? Are they trying to kill me? The writers of The Good Wife have risen to the challenge, they really have. Shocking us all last season with Josh Charles's departure was quite the feat and making us not miss him as much as we thought we would even more impressive. Now we hear that Archie Panjabi, aka Kalinda, will also be leaving the show to pursue her own show on FOX. Pilots are risky, but I get it and wish her the best.  The good news is that we were given warning, we have time to prepare. The bad news, who's Cary going to sleep with? Remember that uncomfortably long hug with Alicia when he got out of the slammer? Hmmmm. No right? Or is it a maybe?  
-I'm already psyched about this show coming to TruTV called Medicine Man. First of all the executive producer is from 24 and Felicity two of my faves. Second, it's a reality show about a family dynasty at the Medicine Man Marijuana Dispensary in Colorado. WEED! No word on when this show starts, but I'm already IN big time. 
-If you're into music, the Dave Grohl, HBO show starts tonight. I'm excited! 
Friday's Trivia Question
: Last Saturday Morning Tribute Show. It's been a fun two weeks. Our kids have no idea what they're missing! Name these two superheros: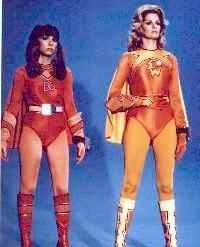 WWTM-Kristy Like me on Facebook at Watching Way Too Much
Follow me on Twitter at [email protected]
http://watchingwaytoomuch.com
[email protected]