Smashburger is America's fastest growing, fast casual "better burger" restaurant with over 240
restaurants in 30 states and four countries. The company started in 2007 and by offering fresh, premium "smashed to order" burgers, chicken sandwiches, salads, signature side items and hand-spun Haagen-Dazs shakes, Smashburger has modernized the way people think about burgers.
   The first Boston area location opened recently in Natick, and I went in the other day to check them out for lunch. As they're known for, the menu featured some items with a local New England flare including the New Englander burger topped with cranberry sauce, grilled onions and cranberry stilton. There is also a light menu with calorie counts listed, and all selections are under 600 calories. I was tempted to get the original Smash Burger (regular size) since it's on the lighter menu, but the truffle mushroom and swiss burger sounded too good to pass up!
   I was not disappointed! The regular size was a generous portion of angus beef topped with truffle mayo, sauteed portabella mushrooms, and swiss cheese. I don't generally like mayo, but will make an exception for anything with truffle! This had great flavor and I was glad they used just a touch; it's all they needed!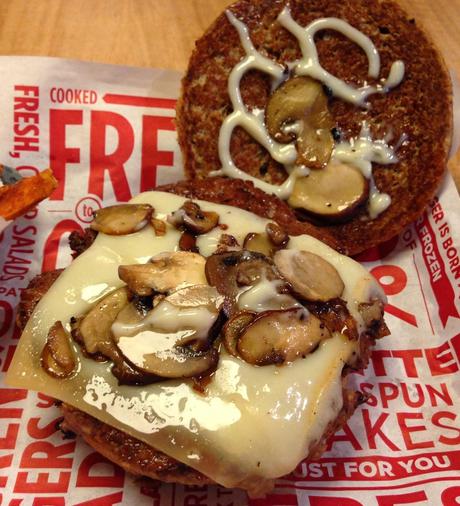 There are also several types of fries including sweet potato and the Smash fries tossed in olive oil, rosemary, and garlic. I enjoyed the sweet potato fries, but next time I definitely want to check out the Smash fries!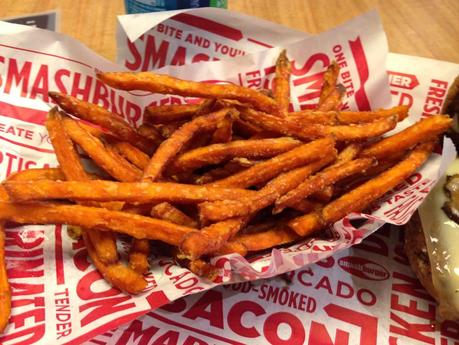 Smash Burger is a great addition to the Boston area dining scene; it's fast and casual but offers a much greater selection then similar restaurants of its kind. I would definitely go back.