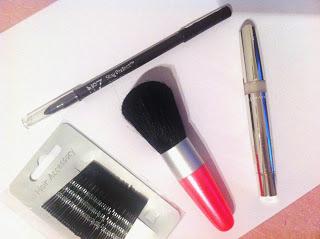 Hello lovely people!
Today I picked up these beauty pieces in my local shopping center. I picked up the No 7 Stay Perfect eye pencil in Black. I picked this up after seeing my friend Caitlin using it and her eye liner always looks lovely. I used a No 7 voucher, which got me this product for £3.50! The product is double ended with a smudging device on one side and the eye pencil on the other. I think this is perfect for applying eye liner to achieve a smoky eye look. 
I also grabbed some kirby grips from a make-up stall as I have recently dyed my hair to a deeper color so black ones were a must have. For 75p I could have got more elsewhere but I picked these up when I was leaving the shops. The silver product on the right hand side, is a Maybelline lip gloss which I believe is discontinued also from the make-up stall. I picked this up for the bargain price of £1. This lip gloss is in the shade Magic Moon, it has a doe-foot applicator. This shade is a clear liquid with a slight shimmer through it, dispensed via the retractable bottom. I have already tried this lip-gloss as soon as I purchased it and I love it! It's similar to the Barry M lip gloss I received in the Boots lucky dip. Last but not least I bought a blusher brush from the brand Royal. I bought this brush on impulse as I have no blush brushes and because I don't wear a lot of blush I thought I might as well pick up a budget brush. The brush is dense packed and really soft, I have yet to test it out using my blusher but I will let you know how it goes when I do!
Hope you enjoyed this mini haul!
Thanks for reading ♥

x