Cuban Ropa Vieja is tender beef that's slow cooked in a savory broth with wine, tomato sauce and Latin spices, then shredded to look like rags, hence the name. This recipe can be made in a slow cooker or instant pot (instructions below)!
I'm a HUGE slow cooking fan, and this recipe for Cuban Ropa Vieja was one of the first recipes I made when I got my first slow cooker. Cuban food is one of my favorite types of cuisine. It's similar in many ways to Puerto Rican food, but there is also a uniqueness that I just love. Ropa vieja also happens to be on my husband's favorite recipes, so I set my sights on making this a weeknight friendly dish. Since this dish has to summer for hours to become tender, I knew I wanted to use a slow cooker to make the process as easy as possible.
What Is Ropa Vieja?
Ropa vieja is Spanish for "old clothes". The name for this dish comes from the shredded beef, which looks like colorful strands of tattered clothing. This classic Cuban dish is traditionally braised for hours on the stove top, until the meat is tender enough to shred. Ropa vieja is one of Cuba's most popular and beloved dishes. It's so popular in fact that it's one of the country's designated national dishes. This dish cooks for several hours. That makes it the kind of dish that needs a bit of planning if you're making it on a whim.
What Is The Best Cut of Meat To Use For Ropa Vieja
Traditionally Ropa Vieja is made with flank steak. I also have made it with skirt steak, and chuck roast, and both cuts work well, but they are higher in fat, so you may have to skim some fat off the top of the recipe once it's cooked. Believe it or not, you can also make a version of ropa vieja with chicken!
How To Make Ropa Vieja In The Slow Cooker
My slow cooker Cuban ropa vieja captures all the deliciousness of this traditional dish, and makes it weeknight friendly! You need about 10-15 minutes to prep the slow cooker, and then you just set it and go about your day. To start, season and brown the beef on all sides, then add the rest of the ingredients (recipe below) into the slow cooker. You can even do all this prep the night before and just pop the ceramic insert into the fridge (covered). In the morning, pop the insert into the slow cooker, turn it on, and you're done! Come home to a fully cooked roast that's ready for shredding and serving in 15 minutes or less.
How To Make Ropa Vieja In An Instant Pot
You absolutely can make this recipe in an instant pot. I like using the saute function first, to get the sofrito going, and then to brown the meat before setting it to cook on manual. Cook the ropa vieja for 35 minutes on manual/high pressure setting, then let it release naturally for 15-20 minutes. Shred the beef, and toss it back into the sauce. The great thing about Cuban ropa vieja is it tastes even more amazing after sitting in the fridge overnight. I love making a big batch and then dividing it into freezer bags, because the dish reheats beautifully. I also love using leftovers to make ropa vieja sliders, or Colombian empanadas.
More Slow Cooker & Instant Pot Recipes from Delish D'Lites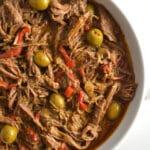 Slow Cooker Ropa Vieja (Cuban Shredded Beef Stew)