Slow Cooker (Crock Pot) Red Beans and Rice with Sausage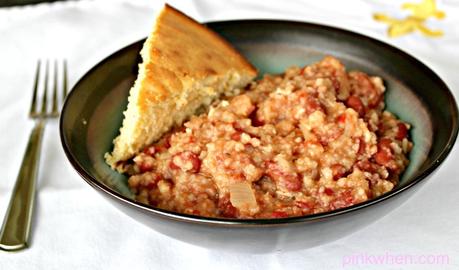 Slow Cooker Red Beans & Rice with Sausage

Many of you who have been following me since I started this little blogging adventure know that I like to cook, and like to use my slow cooker.  Creating things is probably what best describes what I do.  In and out of the kitchen, I am always trying to create something that everyone will enjoy.  This Red Beans and Rice recipe is no different. 
 As a Southern girl, I also like to have a little spice in my life.  While this is not HOT by any means, it does have that perfect little Southern kick. 
With school starting, after school programs, football, and more, your time in the kitchen to make a really good home cooked meal can become limited.  I am always trying to think of things that will make my life easier, and keep the family eating while also loving what's served. Today I am going to share with you one of the best recipes that is full of flavor with just the right amount of spice. My slow cooker red beans and rice with sausage recipe.   It's a favorite at our house, and while it's still Summer, I am sharing it now for the cold months to come.  Put it in a folder and save for later, or try it now if you can't wait!  It's sure to warm you up on the inside and make you come back for seconds!
(Note, if you want a more liquid recipe, do not add in the rice.  Make the rice separate when you have returned home for dinner.  If you like the thicker recipe, add the rice in and you are all done with dinner!)
Ingredients:
18oz.Sausage (thinly sliced)
2 (15oz) cans of Red Beans
1/2 red onion, chopped
2 1/2 cups of water
1 Tbsp butter
1 (15oz) can of diced tomatoes
1 cup rice
1 tsp cayenne pepper (If you don't like spicy, make this 1/4Tsp)
1 tsp ancho chili powder
1 tsp white pepper
3 Bay leaves
Place all of your ingredients into the slow cooker and stir to mix everything well.  Allow to cook all day on low for 6 hours (if with rice), or longer if needed without rice.  Serve with cornbread and enjoy! (I like to take a whole piece and mix it up really well, YUM!)
If you like slow cooker recipes, stay tuned for a few more in the coming weeks, or check out some of the others I have under the Recipes section.  Enjoy!
Are you following me everywhere?  You can add me on all of the social media sites below!