This slow cooker pernil is tender, moist, juicy, aromatic, and shreds like pulled pork with no effort, just a slow cooker!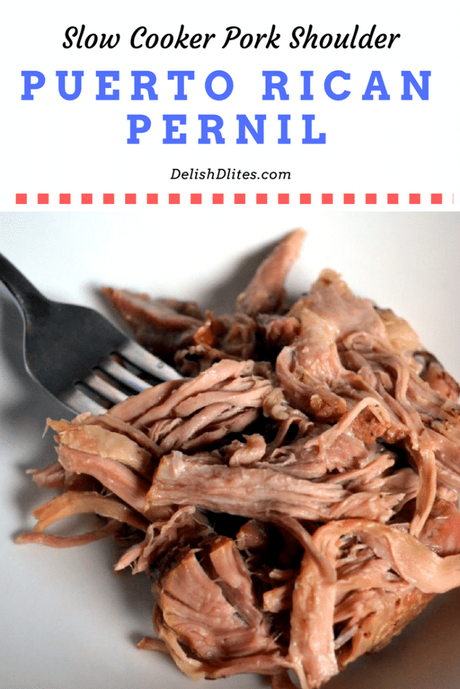 There is nothing more quintessentially Puerto Rican than a deliciously tender, slow roasted pork shoulder, known as pernil. Pernil is the centerpiece of most of our holiday meals, and any other big celebration that calls for feeding a big crowd. This large, bone-in roast is slathered in a pungent blend of garlic, oregano, salt, pepper and olive oil, and is usually baked low and slow in the oven, with the slab of fatty pig skin sitting on top, so it slowly bastes the meat and gets crunchy. In order to make this a weeknight friendly and stress free dish, I decided to buck tradition and make it in the slow cooker. My family was skeptical at first, but it turns out that a slow cooker is the key to a guaranteed tender and moist roast. You can't achieve the crunchy skin thing, but really no one minds, I think we're doing ourselves a favor by sparing our arteries anyway. Pernil that's roasted in the oven can become dry and tough without proper attention, but the moist environment of the slow cooker makes that virtually impossible. This pernil is tender, moist, juicy, aromatic, and shreds like pulled pork with no effort, just a slow cooker! A delish dish that's foolproof and weeknight friendly? WOO! Let's do this.

You'll need a 6 quart Crockpot for this recipe.
A 7 - 8 lb bone-in pork picnic shoulder, skin removed
14-16 garlic cloves (about 2 cloves per pound of pork)
1 & 1/2 tbsp kosher salt
1/2 tbsp freshly ground black pepper
1 tbsp dried oregano
¼ cup extra virgin olive oil

Take a boning knife and remove the pig skin from the roast (or have your butcher remove the skin for you). I totally forgot to take a picture of the roast before I removed the skin, but it's pretty straight forward. Once it's removed, poke your roast with the knife so it's got a bunch of slits for your garlic paste to seep into. You can also remove the bone at this time if you wish, it will allow for faster cooking. I usually leave the bone in, it'll slip right out when it's done.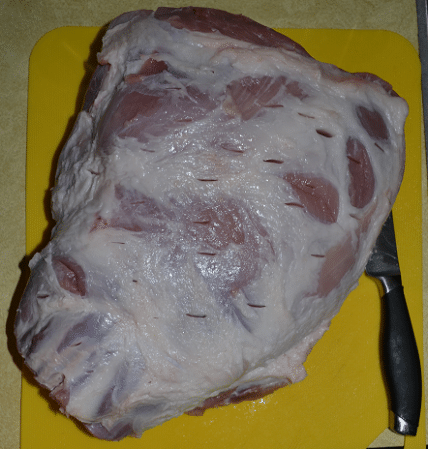 Get your paste ingredients together. I use a mortar and pestle to break up the garlic, but you can use a food processor, or simply finely chop the garlic and mash it with the back of your knife with some salt until it create a paste.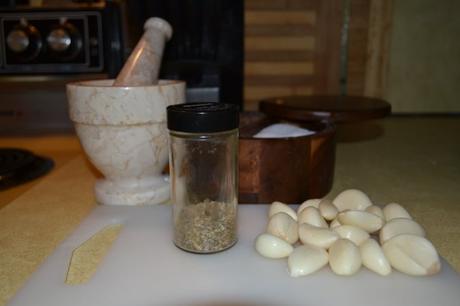 Sprinkle a pinch of kosher salt into the mortar and pestle, to help break up the garlic.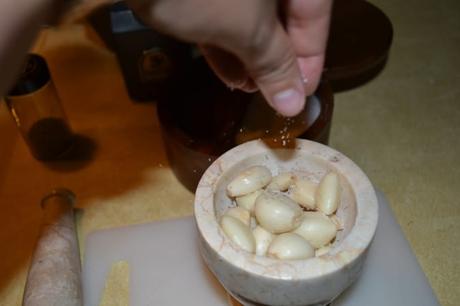 Mash up the garlic cloves until you have a chunky paste, then transfer into a small bowl. Sprinkle in the salt. Yes, it looks like a lot, but it's a big roast, you'll need it!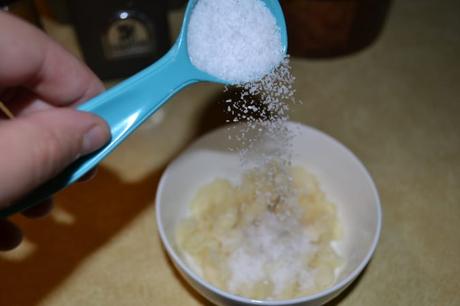 Add in the ground black pepper. This will give a nice depth of flavor to the pork, but won't make it spicy.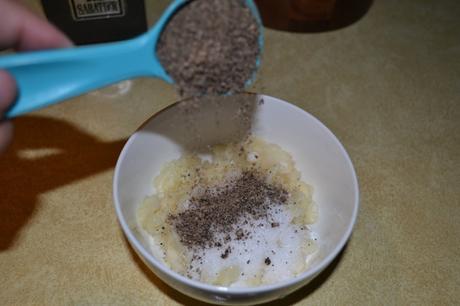 Finally, add in the dried oregano. This will give it the roast an herbacious flavor that is a must!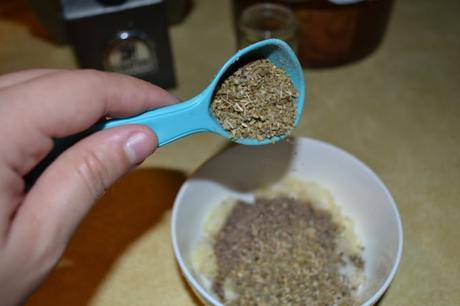 Next, in order to make a paste that you can spread onto the pork, add 1/4 cup of extra virgin olive oil.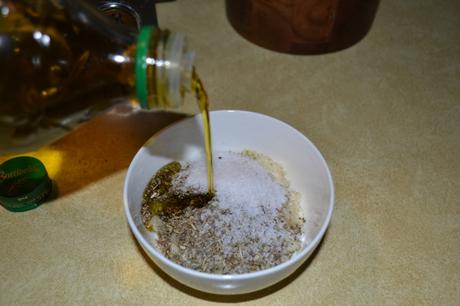 Mix up the paste, it should look like this! If it's too dry, add a bit more oil. Now to the fun part...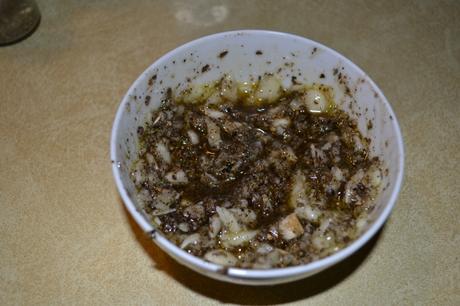 Now, take half of the mixture and slather in onto one side of the pork, making sure to tuck some into those slits you created earlier. Massage that meat!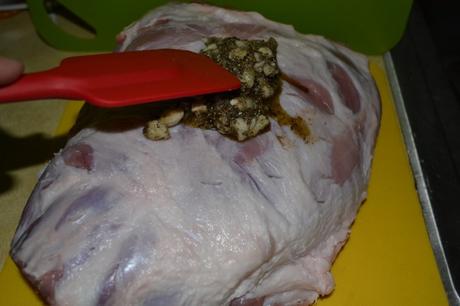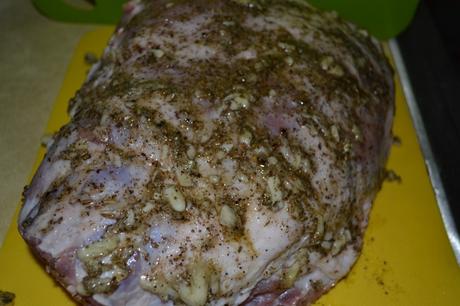 Once you've got the first side completely coated, turn the roast over and slather with the remaining marinade. Don't forget the sides!
Now that your roast is robed in this luxurious coat of deliciousness, it's time to let it marinate. Overnight is ideal, but even an hour will do the trick if you're in a rush. To make this during the week, prep the roast the night before. Set the roast fat side down inside your crockpot's ceramic insert, cover with plastic wrap, and refrigerate.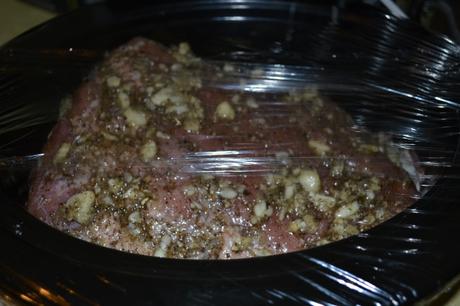 In the morning, set the ceramic insert into your slow cooker, and set it to cook on low for 9-10 hours or high for 6-7 hours, until the meat falls apart. When you pull the pernil out of the slow cooker, it'll look something like this. A big, beautiful mess of tender meat, just waiting to be shredded.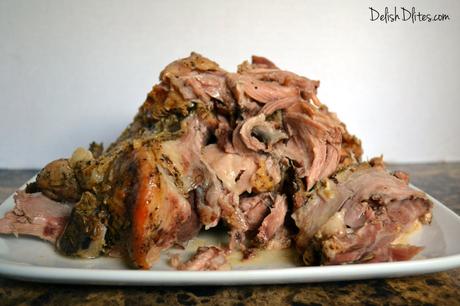 Remove the bones, and any cartilage and/or fatty bits. Shred the meat with two forks.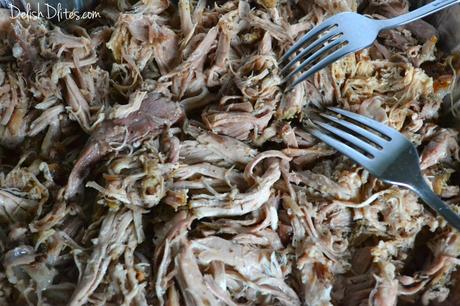 This will be an amazing dinner your family will thank you for. And leftovers are great for freezing (if they last that long), or for tacos and amazing Cuban sandwiches.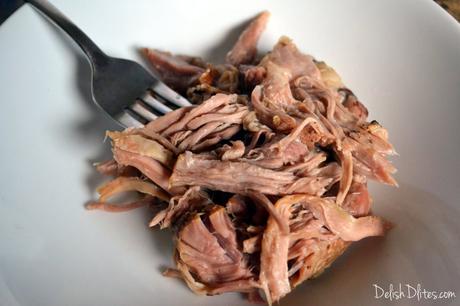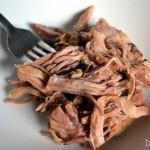 Slow Cooker Pernil (Puerto Rican Roasted Pork Shoulder)