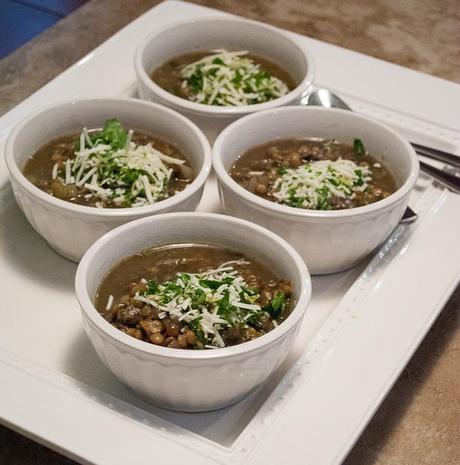 Like much of the country, as evidenced by Monday's list of family favorites, I've been on a soup and stew kick.
I thought I'd end this week's recipe sharing with my latest creation –  a heart-warming lentil soup you can make in your slow cooker while you're trudging through your weekend chores.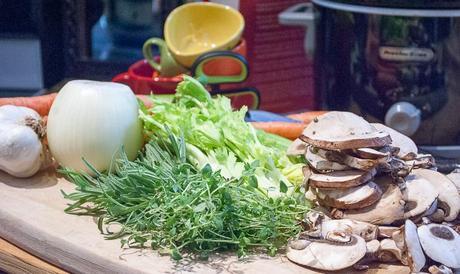 If you don't have a slow cooker (sometimes called a crock-pot), it's a small investment to make considering the use you'll get out of it. I have an extra large slow cooker I've owned since I was in my twenties, and it's still going strong.
With just the two of us now, a smaller one was in order, and it cost me less than $30. You can buy them on Amazon, or even at your local grocery store. They often have them on sale.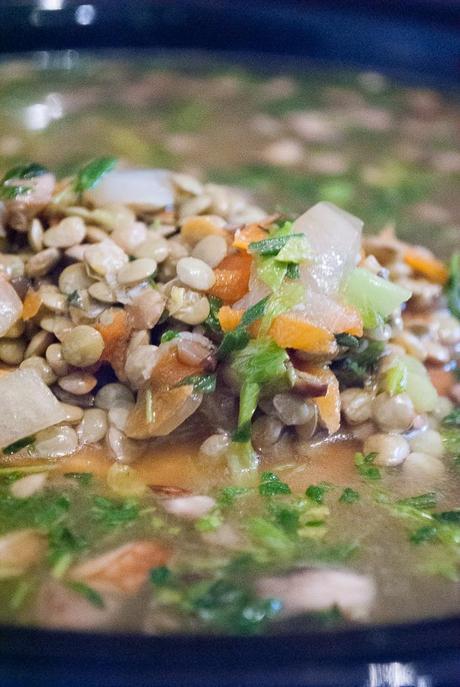 Now that I've convinced you to buy a slow cooker, let's get back to my soup.
Lentil soups can sometimes look and taste muddy, so I brighten up the bowl with a Parmesan gremolata. The mixture of lemon, herbs and shredded cheese adds appeal to an otherwise typical lentil soup.

Now my fiber packed, healthy lentil soup doesn't look muddy anymore, does it?
I want to leave you with one tip. When you cook lentils, don't cook them until they turn to mush like you would a split pea soup. They should be tender, but hold their shape.
Enjoy, and have a terrific weekend!
~Kristi
Print

Lentil Soup with Mushrooms and Parmesan Gremolata
Serving Size: 10 - 1 cup servings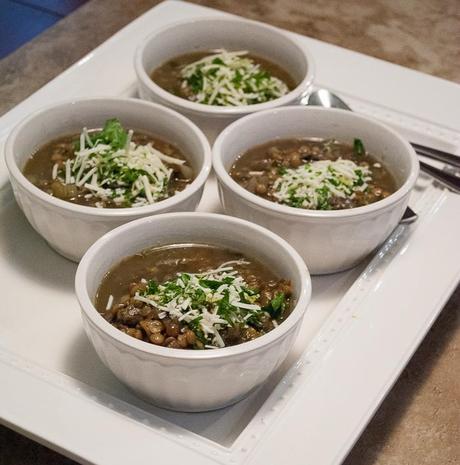 Shake It Up! You can add all kinds of shredded vegetables to this soup. Beets would add nutrition and color, zucchini, or yellow squash. Root vegetables like turnips would be terrific too.
Ingredients
1 large yellow onion, chopped
1 cup celery, finely chopped, tender leaves included
2 tablespoons olive oil
8 ounces mushrooms, chopped
1 cup carrots, shredded
2 clove garlic, minced
1 tablespoon fresh rosemary, minced, heaping tablespoon
2 tablespoons fresh thyme, leaves, roughly chopped
1 pound green lentils, rinsed and drained
32 ounces low sodium vegetable broth
4 - 6 cups water
½ cup parmesan cheese, shredded
1 large lemon, zested, using zest only
¼ cup fresh parsley, finely chopped
1 clove garlic, crushed
salt and pepper to taste
Instructions
Preheat a large non-stick pan over medium high heat. Add oil. When oil is hot at onions and celery. Cook for 5 minutes stirring often to keep from burning.
Reduce heat to medium and add mushrooms, carrots, garlic, rosemary, and thyme. Cook for another 10 minutes, stirring often.
Place vegetable mixture into a slow cooker and add lentils, vegetable broth and 4 cups water. (I have a small slow cooker, so it held just this much liquid and vegetables.)
Turn slow cooker on high and cook, stirring every so often for 4 hours. Test lentils for tenderness. If they aren't tender, continue cooking until they are tender, but not mushy.
Season with salt and pepper to your taste.
Combine lemon zest, parsley, 1 clove crushed garlic and Parmesan cheese in a small bowl to serve on top of soup.
Notes
Calories 224kcal, Weight Watchers Points 5 Saturated fatty acids: 1.17g Monounsaturated fatty acids: 2.42g Polyunsaturated fatty acids: 0.61g Total fat: 4.20g Calories from fat: 37 Cholesterol: 2mg Carbohydrate, by difference: 32.72g Total dietary fiber: 14.98g Protein: 14.39g Total lipid (fat): 4.44g Water: 162.42g Ash: 2.98g Total sugars: 3.57g Calcium: 91mg Iron: 3.81mg Magnesium: 64mg Phosphorus: 266mg Potassium: 610mg Sodium: 452mg
2.6http://motherrimmy.com/slow-cooker-lentil-soup-recipe-with-mushrooms-parmesan-gremolata/Mother Rimmy�s Cooking Light Done Right by Kristin A. Rimkus is licensed under a Creative Commons Attribution-Noncommercial-No Derivative Works 3.0 United States License.
Sign up for my weekly newsletter and get Ten Tips to Skinny Up Your Meals ebook free!

Create your free online surveys with SurveyMonkey , the world's leading questionnaire tool.
"If you decide to make a purchase through my link, Amazon will pay me a commission for it. This doesn't cost you anything additional. These commissions help to keep the rest of my content free, so thank you!"