These are the perfect side on a cold day! While they are cooking, the house smells amazing.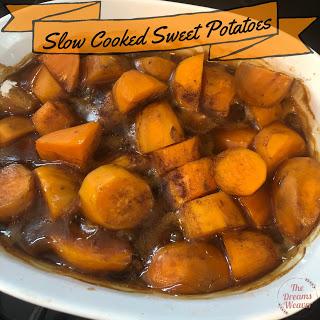 What you will need: 
6 to 7 sweet potatoes, peeled and cut into chunks 
1 ½ tbsp cornstarch or flour 
4 tbsp canola oil or butter 
1 cup packed brown sugar
1 tsp pumpkin pie spice
1 tsp vanilla extract
¼ cup orange juice
¼ cup water
Pinch of kosher salt
Directions:
Preheat the oven to 350° if preparing in the oven.
Toss the sweet potatoes with the cornstarch in a bowl to coat well. Add the mixture to a ceramic baking dish, or slow cooker and dot with the butter or oil.
Sprinkle over the brown sugar and pumpkin pie spice. Pour in the vanilla, orange juice and water. Season with salt. If cooking in the oven, cover the ceramic dish with foil tightly and cook in the oven for about 1-1.5 hours. If slow cooking, place the lid on the slow cooker and cook on low, stirring once or twice, until the potatoes are tender, about 3 hours.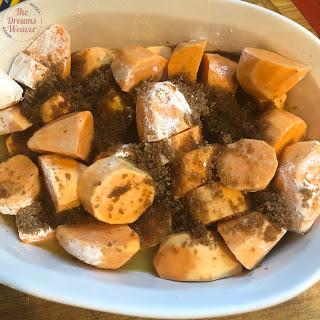 Toss the potatoes once more and transfer to a serving dish.
Enjoy!