Whenever I buy pork, two words always spring to mind: Slow Cooker.
I've already posted (quite frankly, delicious) recipes for Slow Cooked Pork Chorizo & Sweet Potato Casserole and Slow Cooked Pork in Cider with Butternut Squash; I just love how meltingly tender the pork gets when cooked for a long time.
Since I've become teetotal, a bottle of Ginger Beer has been lurking away in the fridge. I decided to try it with the pork, with excellent results!

Here's what I used: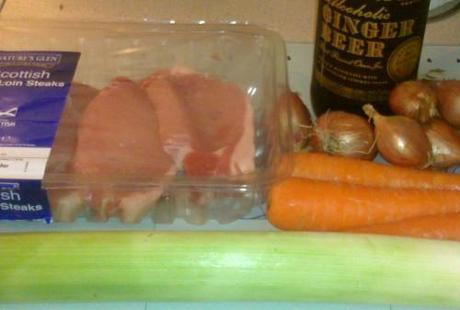 Ingredients (Serves 3-4)
480g pork loin steaks, fat removed and diced
3 carrots, sliced
8 shallots, halved
500ml ginger beer (I used this one)
2 beef stock cubes, dissolved in 200ml boiled water
First, I prepared my veg and added it to the slow cooker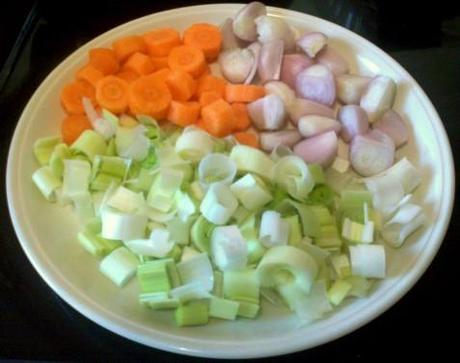 I browned my pork and added to the slow cooker, then brought the ginger beer to a boil in the same pan (to help get rid of the alcohol). I added this and my stock to the slow cooker, seasoned generously, then gave it all a stir…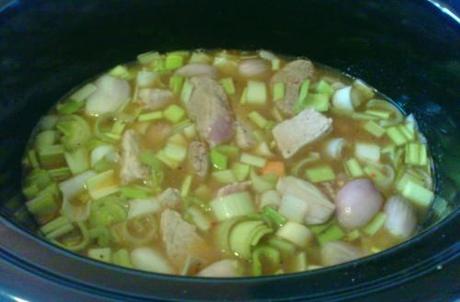 I put it on the "low" setting and forgot about it for 8 hours!

It was perfect with some creamy mash and fresh broccoli!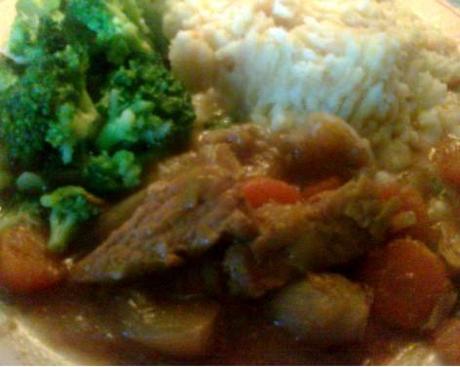 (Apologies for the crappy pic – I'd already started eating it when I remembered!)
The pork was so tender and juicy, and the sauce was gorgeous. I thought it would be really "ginger beer"-ish, but it was actually quite subtle; only the tiniest of kicks!
I'm sure non-alcoholic ginger beer would work just as well, if you have any concerns about making it for kids, etc.
Of course, it tasted even better the next day for lunch!
Now I need to figure out what to do with all my leftover Southern Comfort and Vodka! :p