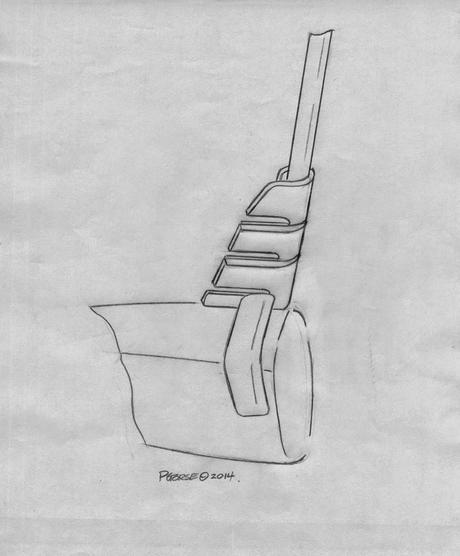 What are Golf Refugees working on? Apart from our spiral golf ball we are currently developing a 'composite aero pack' for a driver club head. Our reasoning;
You've just bought a new driver and it has the latest adjustability and features to slide little weights around. But what happens to your old driver? Is it just left in the garage to gather dust? Golf Refugees believe you could transform the aerodynamic performance of your old driver by simply fixing our 'aero pack'. Think of it as adding performance parts to your car. Please refer to our rough sketch.
The GR aero pack consists of a 'slotted swept aerofoil hosel', which surrounds the bottom part of the golf shaft where it meets the crown of the club head. Aero details include stabilising vanes situated at each slot. There is also an additional spoiler which attaches to the bottom of the aerofoil and projects across the front of the club head and down onto the toe side, just aft of the club face.
Aero pack can be made from aluminium, 3D printed thermoplastic or carbon fiber.
You never know with the aero pack attached to your old driver it may out perform the new driver.
Please let us know your thoughts about the idea of add-on performance parts for golf clubs.
ooooooooooooooooooooooooooooooooooooooooooooooooooo