It's an annual tradition for me and the 13 year old to venture out into the wilderness to collect sloe berries for the Christmas gin. We'd been told of a new location where apparently the hedgerow was bursting at the seams with them.
The first time we went, we made absolutely sure that we were picking sloes, and not some 'berry of death' (might make an interesting conversation piece, but we wouldn't be invited back again). Sloes are a bit like miniature plums, but slightly smaller than a marble. They're purple, with a cloudy skin, and a small stone inside. Some say not to pick them until October/November, but we've found that by then they have either been eaten by the birds or picked already. Get the ones higher up – they will be riper as they have had more sun.
So there we were, in the idyllic Leicestershire countryside with the canal running through, and you could almost imagine someone in a field somewhere drinking 'lashings of ginger beer'. It soon became apparent that our  informant was indeed correct: there were LOADS of sloes around!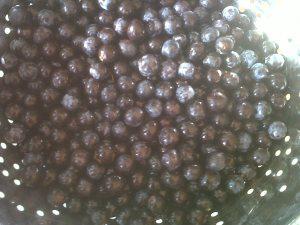 Our bountiful harvest of sloes
But peace was to be shattered. In a neighbouring farm, we thought someone was teaching someone else how to drive a tractor. We heard, "turn the wheel," then a slightly more panicked, "turn the wheel," then a truly ear-shattering, "TURN THE F****KING WHEEL!" Bemused at who could be making such a racket, we dashed up the lane to have a look.
Turned out that the shouter was actually in the digger scoop of a tractor, trying to do some work on a barn roof. Someone else was trying to get him there without much success….