Apparently when I say mule, you  I start envisioning an animal with in between horse and donkey like features. I know you just had a mental glimpse of a mule...got ya !!!!
Let me remind ya, that this a fashion and lifestyle blog and by no means I wish to turn this into a Zoology aka animal adventure blog.
So lets channel our thoughts to what we do best here on the blog- talk fashion/style. 
Well, mule is a french word and implies to a shoe-style that is backless and is often closed-toed. It was popular in the 50's and 60's, but lost it's charm thereafter. This style resurfaced in the 90's and has maintained it's dominance since this comeback.
The spring of 2014 is set to witness this style in a wide variety of options, befitting every size and budget. 
I have shortlisted a few of my faves and have made my pick. I have made up my mind on which one to get from the list under.
Now it's your turn to make your choice.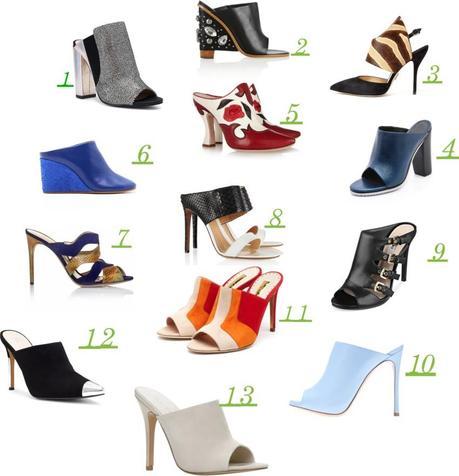 1

 // 

2

 // 

3

 // 

4

 // 

5

 // 

6

  // 

7

 // 

8

 // 

9

 // 

10

 // 

11

 // 

12

 // 

13
Hope you like what I have in store for you !!
Thanks for swinging by
XO
SAUMYA