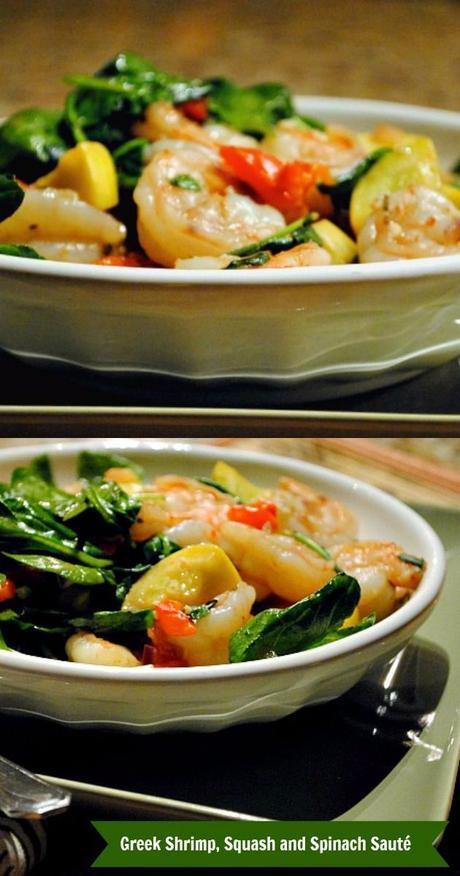 I'm finding extra lean cooking a fun challenge, to say the least!
As a Weight Watchers graduate, I'm all about cooking healthy meals. And needless to say, after 15 years of sticking to it, I'm confident in my healthy cooking skills. But age has caught up to me (52 and counting), and I find that cooking even leaner is a necessary skill - and it's not such a bad thing either . . .
Looking for a little low-calorie help from my fellow food friends, I discovered this very tasty Greek salad dressing from Greek Food that served perfectly as a marinade for my low fat - high protein shrimp.
We sautéed our lovely little shrimps with thick slices of yellow squash and handfuls of vibrant green spinach, then tossed it with another drizzle of Greek dressing before plating it for the table.
Truth be told, I'm one of those crazy people who only eats shrimp coated in some kind of tasty crust and dipped in a creamy sauce - needless to say, I'm not a fan. This shrimp recipe was so fresh and flavorful thanks to that herby Greek dressing, that my plate was empty. Not one shrimp left.
Check back on Friday for my next extra lean cooking adventure. Now that I'm getting the hang of things, I have a roasted portabella and fried egg recipe to share with you.
Happy, healthy cooking. 🙂
Ingredients
Instructions
Notes
If you're looking for more healthy and low-calorie Weight Watchers recipes, check out my Recipe page. You'll find hundreds of recipes that include nutrition information and Weight Watchers points.
And don't forget to visit my Facebook page, follow me on Twitter, or check out my Pinterest boards. I love to hear from you, and share my recipe finds from around the web.
Please see disclaimer for further details. Nutrition information is compiled with MacGourmet. If you find discrepancies, please let me know. It's important to me that I provide you with accurate information.