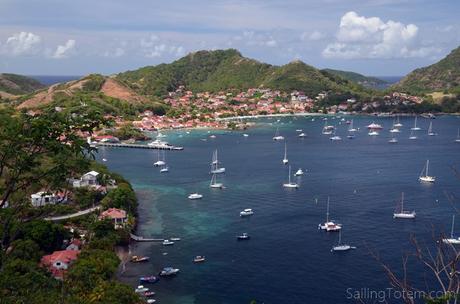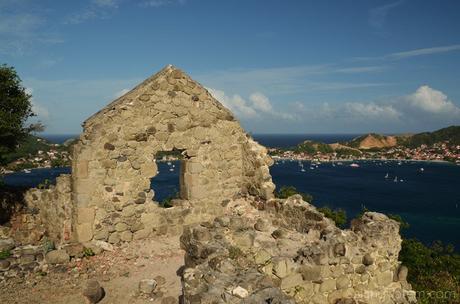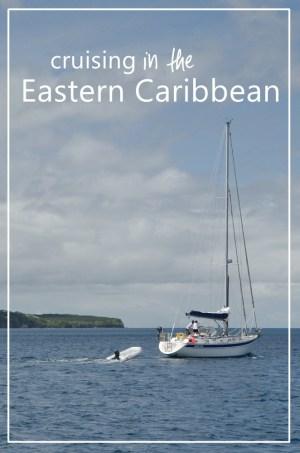 Slow travel is one of the benefits of cruising. Lingering weeks or months in a place let us better understand the cultures we encounter along the way. Getting to know people opens the door to experiences beyond the guidebook highlights or tripadvisor lists. To pass by nine different countries or colonies (right, actually "overseas territories") in the space of barely a month is anathema to the Totem mindset, but that's exactly what's happening during our skip through the Eastern Caribbean.
There's a silver lining to this brief hit: it's been valuable information-gathering to inform later routing, since we plan to return at the end of this year and now have a much better sense of orientation. The confusing jumble these islands felt like from a distance is fading: which are the French/Dutch Antilles? Do they overlap with the Windward or Leeward Islands, or are these all distinct island groups? And which of them (or, all?) are considered the Eastern Caribbean, anyway? It reminded me of how unintelligible the island groups of the Pacific felt from afar. NukuKiriToFijNia.
The differences are startling, despite the proximity of these islands—our transits are daysails. Land is never out of sight, and we can usually see at least two countries/territories at a time.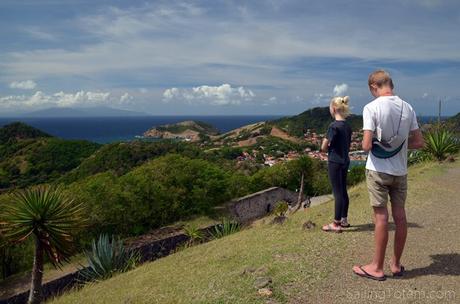 From the parched, low-lying limestone curve of Barbados we sailed to the green hills of Martinique. After months of relative solitude, it was wild to come into the south bay and see hundreds of cruising boats. Some we've shared anchorages with for years, like Solstice and Morning Glory; others we've only known through the interwebs and thoroughly enjoyed connected with in person, like Zero to Cruising and Delphinus.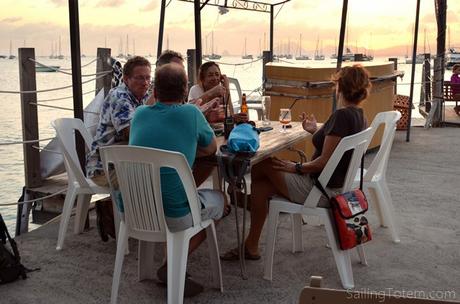 Martinique hammered home how lovely it is to provision in French islands. Little boulangeries were everywhere. French supermarkets were packed with fair-priced imports. Our lunches practically made themselves with fresh baguettes, delicious cheeses, saucisson.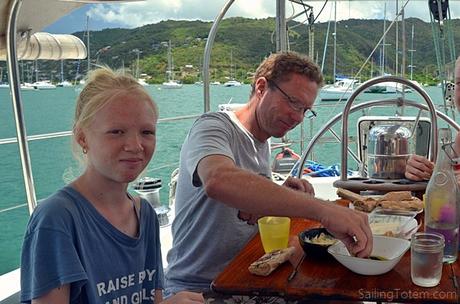 Niall, our junior Francophile, wants "a French breakfast" and to see historic sites on the island for his birthday. So we muddle through our poor Francais to rent a car for a day, and revel in the chance to get to know this island a little better during our short stay.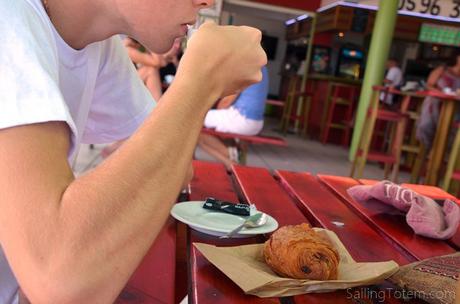 The next stop north, Dominica, couldn't be much more different than Martinique. In contrast to Martinique's bustling urban areas, it's sparsely settled. Little industry here; it's relatively undeveloped. No busy commuters…it's rustic and mellow. Very mellow! Watching guys on the beach practice the spiritual use of cannabis makes me realize I should brush up on Rastafarianism.
Clouds catching on the rugged, emerald green volcanoes spill rain into the anchorage a couple of times a day.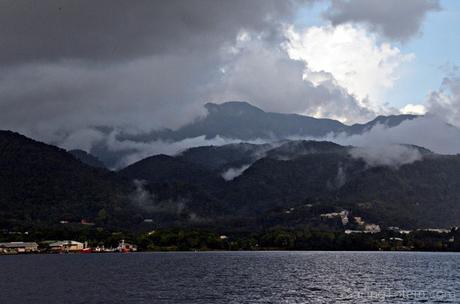 We're back in English-speaking territory, but the Creole spoken here is indecipherable—heavily French influenced in vocabulary, with Carib and African roots. And no, not the same as the Creole spoken a couple of islands ago on Barbados, which leans on English instead of French—they're mutually unintelligible.
The lush landscape must be great for farming. A lot of the produce for sale in Martinique and Barbados was imported, but here the market overflows with local fruit and vegetables. The yacht service crews that visit Totem daily often come bearing fruit to barter or sell. I stock up, knowing we'll be back to imported-mostly islands again next.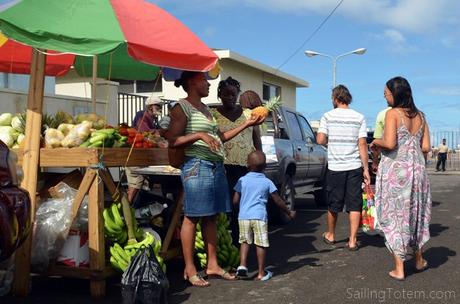 Spending a morning on a guided tour up the Indian River was the perfect way to soak up Dominica's raw natural beauty; Albert, our guide from PAYS, has the deep knowledge of someone steeped in the land delivered with the cadence and strength of a preacher.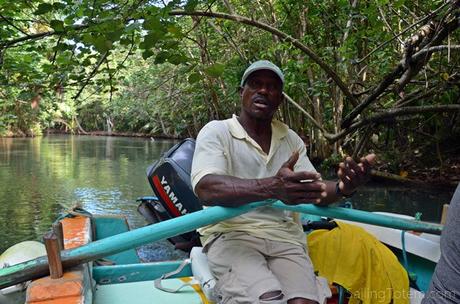 We're teamed up with friends (because that's always more fun!) but I love how Albert periodically quizzes them, to make sure they're listening to him instead of just each other!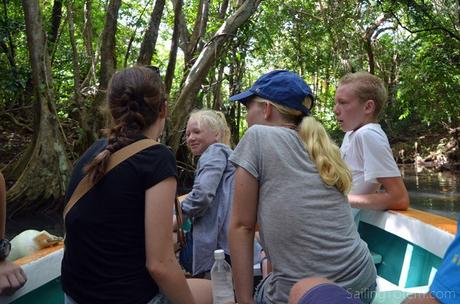 Another short hop means different landscape, another language, shifts in culture and food. In Guadeloupe's Iles des Saintes, we finish clearance in the busy little village on Terre de Haut…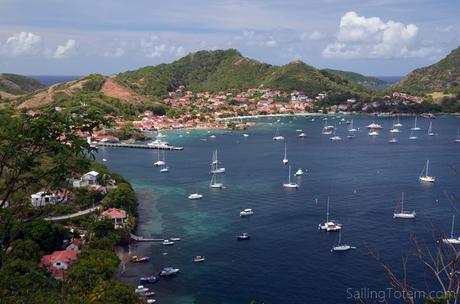 …and tuck around the bend to another islet and a quiet anchorage to spend a few days. I always love an island where I can hike to a nice view of Totem…but keep fresh baguettes within dinghy distance. (I love that Totem is in both of these pictures!)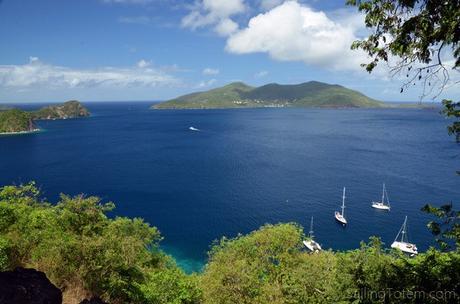 This island does it one better: not just the cool view to Totem, but it's populated…with goats, instead of people. The kids spend  two days of coaxing them closer by pulling green leaves for them to eat.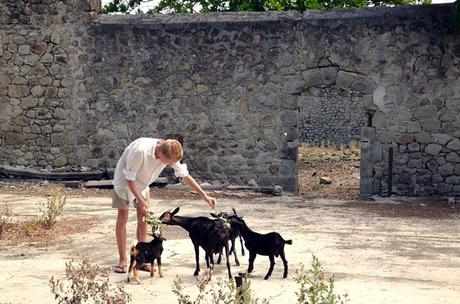 then, THIS happens.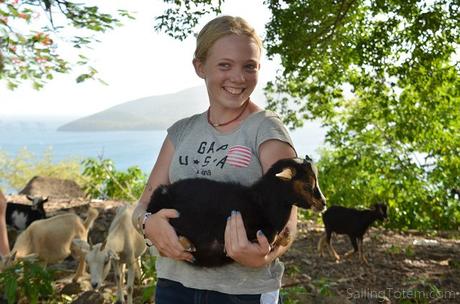 And if that's not enough to love the spot, pushing it over the top is the happy accident to encounter not one, but three other cruising boats with teen/tween kids! We're fast new friends, cruiser style, with Sail Pending, TrioTravels and sv Stop Work Order. (Thanks to Kristie from Sail Pending for this appropriately fuzzy photo of us…and thanks to Brad from Saltair/TrioTravels for the ti punch!) A few days together pass all too quickly.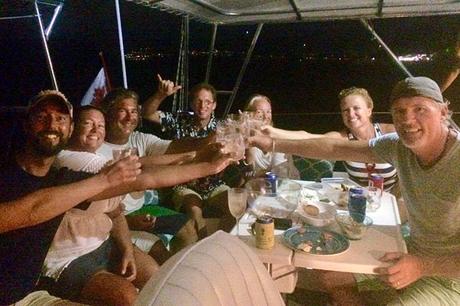 Totem is in St Martin now, after a hop, skip, jump via Montserrat, Statia, and in the shadow of several other islands. There's the little matter of an alternator to sort out, and then we'll be northbound for Bermuda, then west to Connecticut in a matter of weeks. It may be the antithesis of slow travel for now, but we'll make up for it on the return.