The last few Skipper Highlight Reel posts have been about doll cases, so I thought I'd break it up a bit with this installment and talk about two of Skipper's lesser known best friends. We'll start with Living Fluff. Making her debut in 1971, Fluff was the first new Skipper friend since Skooter and Ricky were discontinued in 1967.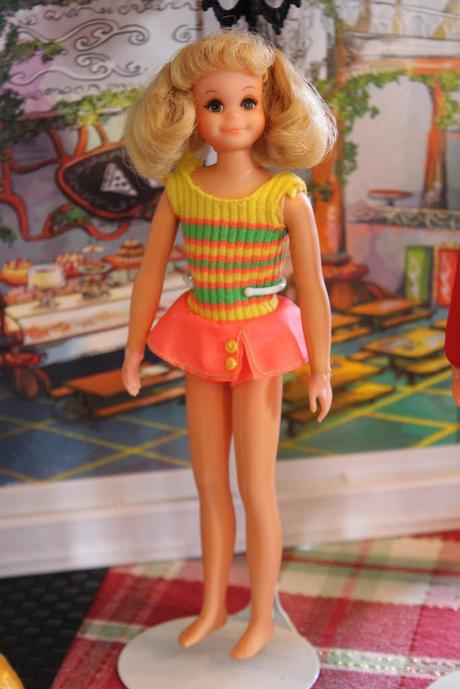 Fluff's blonde hair is styled in two pigtails with curly bangs/fringe. She has a Living Skipper body, which when compared to previous bodies is more articulated. The 'Living' body is prone to melting, especially around the shoulders and hips. My Fluff, for example, has some pretty annoying melt marks around both shoulders and hips. Thankfully, they don't hurt the arm movement. Fluff's colorful swimsuit doesn't help much, leaving little room for her shoulder and hip joints to breathe.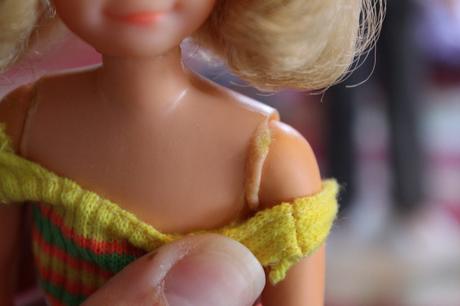 One of my favorite things about Fluff is her adorable face with 'real' eyelashes. I love Fluff's long thin smile and round brown eyes. For reasons unknown to me, Fluff was only on the market for one year. She was available as a single doll and in a Sears exclusive Sunshine Special gift set. The exclusive included Fluff (in her traditional yellow swimsuit) and two hip outfits.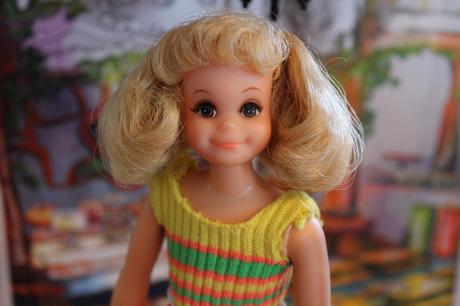 As 1972 rolled around, Fluff made a quick exit and was replaced with Pose 'n Play Tiff. Tiff, described as Skipper's 'tom boy' friend, was the best pal of Pose 'n Play Skipper. She shares the same body and face mold as Fluff, not to mention the depressingly short release window.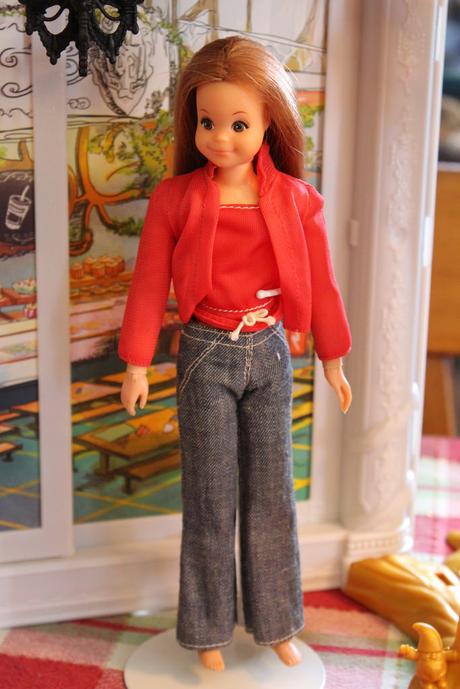 Unlike Fluff, Tiff has painted lashes and straight brown hair. Playing on the tom boy theme, Tiff (in her original outfit, not the one pictured above) wears a white tank top and jeans with decals that read 'Stop', 'Help' and 'Go'. Her accessory of choice? A skateboard.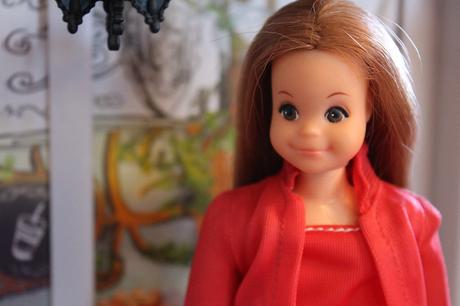 By 1973, Tiff disappeared. Nowadays, she's one of the rarer Skipper dolls to find, especially with her original outfit and/or mint in box. Both Fluff and Tiff may not have lasted long in the line when compared with friends Skooter and Courtney, but they definitely made an impact with their adorable face mold and interesting looks!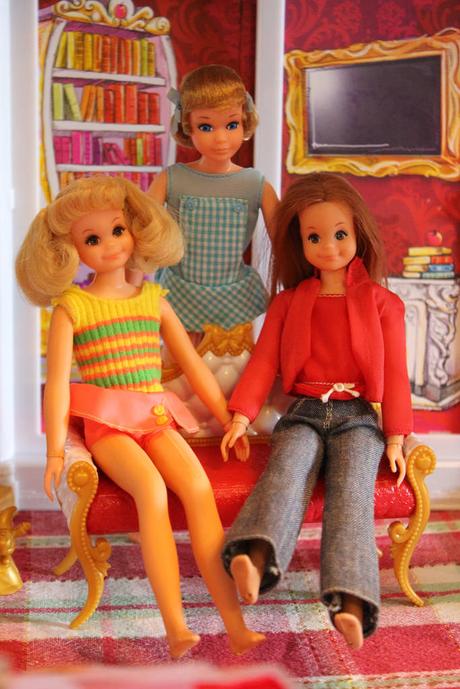 Do you remember Fluff or Tiff? Do you have one in your collection? Share your thoughts on these two in the comment area!
August 16, 2016. Tags: mattel, series, skipper. Introductions & Reviews, Uncategorized.