I'm into one skillet meals lately, and this version with smokey turkey sausage turned into the heartiest quick meal yet.
I'm one of those people that can't resist a bargain, and for reasons unknown, turkey sausage is often on sale at our local grocery store.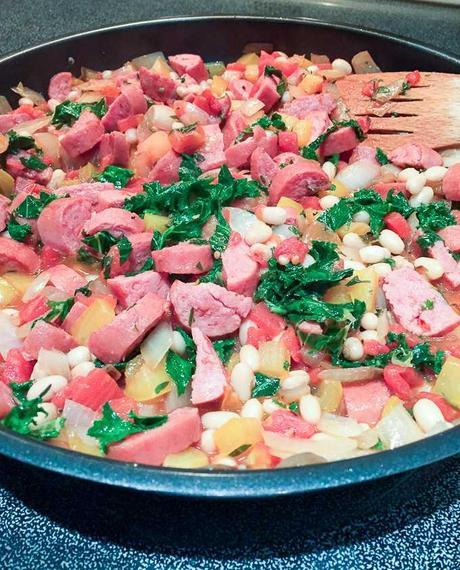 I buy the leanest turkey sausage (or kielbasa) I can find, then slice it into pieces so it can caramelize with the onions in the pan. Then I toss in creamy white beans, yellow peppers, and kale for my ooomph of veggies.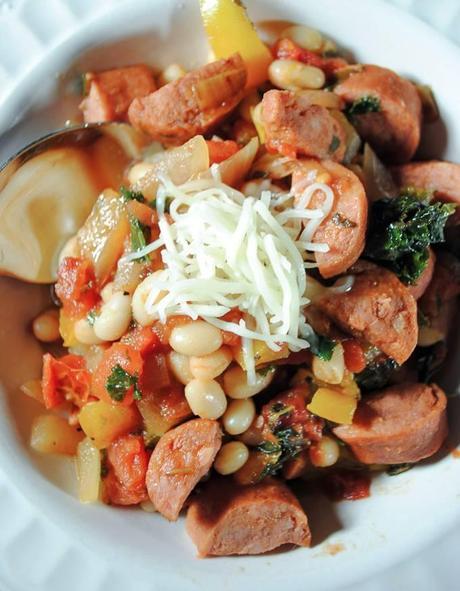 It really doesn't get easier than combining a handful of ingredients into one skillet when you're pressed for time, or just don't feel like cooking. And a lean sausage with its already savory spiciness, is perfect because it does much of the seasoning for you.
Switching gears for a moment, I wanted to share that I've become a recent convert to Craftsy, where I've discovered online cooking and photography classes.
I've become such a fan, that I've decided to become an affiliate partner. (You can click on the advertisement to the right for more information.) Currently I'm watching Love Your Vegetables with Anna Bullet from Cooking Light – not a big surprise, right?
I've attended my share of cooking classes, and even volunteered for kitchen duty in exchange for free classes. Craftsy is completely affordable compared to our local cooking classes, and I can fit classes into my schedule.
All this is to say that if you want to expand your cooking skills, be sure to check it out. They also offer an abundance of mini classes for free. You can't beat that!
~Kristi

Turkey Sausage with Peppers, Beans and Kale - a One Pan Meal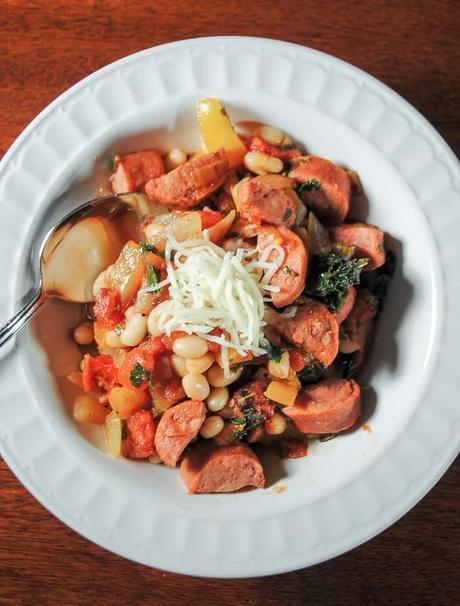 Save
Print
Prep time 10 mins Cook time 20 mins Total time 30 mins   A one pan meal with turkey sausage, peppers, beans and kale in a savory sauce. Author:
Kristi RImkus
Recipe type:
Turkey
Serves:
4
Ingredients
½ tablespoon olive oil
1 medium white onion, chopped
1 large yellow bell pepper, chopped
10 ounces smoked turkey sausage (or kielbasa), halved and sliced
¼ cup fresh thyme, chopped
2 clove garlic, minced
15 ounces canned tomatoes, diced
15 ounces white beans, rinsed and drained
2 cups kale, chopped
½ cup low sodium chicken broth
4 tablespoons low fat mozzarella cheese, shredded
Instructions
Preheat a large non-stick skillet over medium high heat. Add olive oil and allow to heat.
Add onions and peppers and cook stirring often for 5 minutes until soft.
Add sausage, garlic and thyme and cook stirring often for another 8 - 10 minutes so sausage starts to brown a bit.
Add remaining ingredients and cook through for another 5 - 6 minutes until kale is wilted.
Serve topped with cheese.
Notes Food energy: 321kcal
Weight Watchers Points Plus 7
Saturated fatty acids: 1.87g
Monounsaturated fatty acids: 2.41g
Polyunsaturated fatty acids: 0.94g
Total fat: 5.22g
Calories from fat: 47
Cholesterol: 18mg
Carbohydrate, by difference: 49.74g
Total dietary fiber: 14.62g
Protein: 20.27g
Total lipid (fat): 6.04g
Water: 357.30g
Ash: 4.84g
Total sugars: 5.33g
Calcium: 231mg
Iron: 6.53mg
Magnesium: 116mg
Phosphorus: 334mg
Potassium: 1181mg
Sodium: 850mg Wordpress Recipe Plugin by
EasyRecipe
3.2.2925
email
Please like & share: