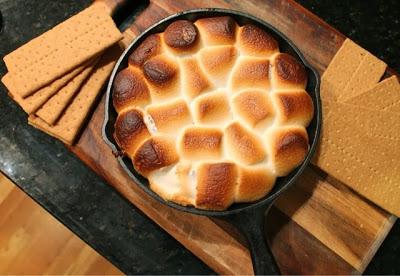 Not ready for summer to end? Like s'mores but not the hassle of setting up a fire,getting sticks and roasting marshmallows.then I have the easiest and most delicious dessert for you.  Has this happened to you before.... 
You and your honey are laying on the couch after dinner wishing for something sweet. I thought about making s'mores brownies but honestly it was 8pm and I was too lazy. I played dessert roulette on Pinterest and voila!
Skillet S'mores
. As far as my husband was concerned I was the best wife ever. Score!this is perfect for football games, quick snack for the kids or a dessert for when company comes over unexpectedly. The fact that you literally pour in chocolate chips, pour in marshmallows and bake had me sold. So go ahead... Keep summer alive in your house!!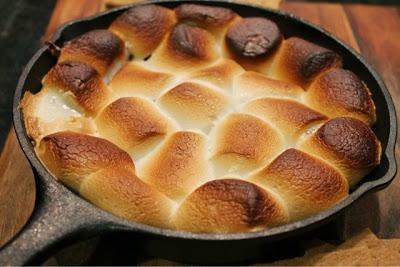 Skillet S'mores
 Serves 2 

Ingredients:
1 cup semi sweet chocolate chips2 handfuls of marshmallows ( mini or regular)1 sleeve of graham crackers for dipping
Directions:
1. Preheat oven to 450F.2. In a cast iron skillet ( I used a small one) add chocolate chips first then marshmallows on top. Cover with foil. 3. Bake for 5 minutes then uncover for marshmallows to toast for 2-3 more minutes. 4. Serve with gram crackers!!