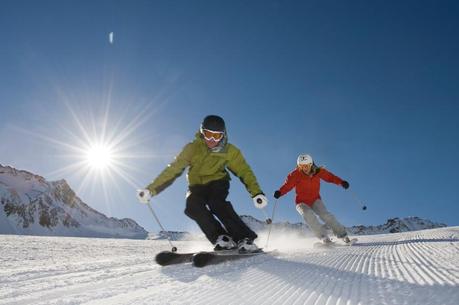 Winter is rapidly approaching, and for those that enjoy the beautiful scenery of snowy topped mountains and the cosy atmosphere of après ski bars, a perfect winter holiday awaits. However, winter holiday makers fall into two camps; the skiers and the snowboarders, and there is a divide between the two. Many a lively debate has been held about which is the most fun, the most exciting and which is easiest. Here are some comparisons between the two winter sports to help you select which adventure you would prefer.
Difficulty
Beginners tend to find skiing more enjoyable than snowboarding as the poles help to balance and steady you, allowing you to get around much easier. Those beginners that go straight to the snowboard will require enthusiasm and determination to get through the beginner stage, as there will be many falls on cold hard ice leaving you battered and bruised. Getting the hang of the technique required for first time snowboarders can be an endurance test and you will need some guidance from more experienced snowboarders before you can get around on your own. Beginners learning to ski first tend to return from the slopes in the early days having progressed significantly more than their snowboarding counterparts. Once snowboarders get the basics though, they tend to develop their skills much faster than skiers progress to more advanced levels.
Excitement
If you want speed, skiing is much faster than snowboarding. Because of the flexibility you have with skiing, you can go off piste; on to some near vertical slopes with trees in your path and experienced skiers will be able to easily negotiate the obstacles whilst traveling at very high speeds. If your excitement comes from performing tricks and jumps, then snowboarding is right for you.
Injuries
Both skiing and snowboarding can be dangerous activities and care should be taken when partaking in either. Be very aware of those around you. Also, take care with your technique and don't try anything that is beyond your skill level as this is what can lead to lack of control resulting in injury. Knee injuries are common amongst skiers and many new snowboarders damage their wrists. There are wrist guards available in the market today for your safety.
Price
Skiing is much more expensive than snowboarding due to the additional equipment you need to buy. Of course, all equipment can be hired so if you just want to try the sport to see whether or not it is for you, it is better to rent your equipment. You can get package holiday deals that include the cost of your ski and snowboard hire.
Generally speaking, people who prefer skiing are people who long for speed and velocity and those who love to see breathtaking views while moving around the slopes. Skiing is considered to be a winter leisure activity or a winter sport. Younger people prefer snowboarding because of the "coolness" of the sport plus the fact they can show off their tricks and their jumps. Try both skiing and snowboarding for yourself and experience the thrills to determine at which side of the argument you lie.
Rita Rova writes money saving travel articles for LoveMyVouchers.co.uk; the UK discount code website that lists the latest travel offers.