To most people North Africa would not be a place synonymous with winter skiing. Morocco, however, boasts Africa's highest ski resort with a few other smaller resorts dotted throughout the Middle and High Atlas Mountains. Winter is an off-peak tourist season in Morocco, so while American and European ski destinations are expensive escapes; Morocco is an affordable and off-the-beaten-path alternative. Morocco's ski season lasts from December to March (and sometimes into April), but conditions will vary greatly depending on snowfall and temperatures.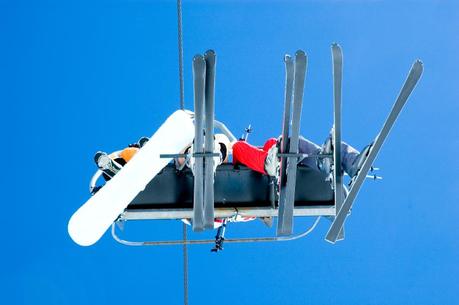 While most travelers planning out their Morocco holidays won't be able to predict snowfall; it's all a matter of luck since Moroccan resorts don't generate artificial snow. Ski conditions are therefore dependent solely on natural elements. Nor do grooming machines take care of the runs, so later in the season, it can be quite bumpy and packed in places. Ski lessons, rentals, chair lifts and run difficulty vary depending on the ski hill.
Located just 30 miles from Marrakesh, Oukaimeden is Morocco's largest and most well established ski resort. The resort sits at 2,600 meters above sea level and the chairlift rises to 3,248 meters. Jebel Attar is the highest peak and has five of its own quality runs. The longest is approximately three kilometers. For beginners, shorter lifts go up mid-way, just in case it proves too intimidating. Nearby are several hotels. A day pass for Oukaimeden is only $10 and rentals around the same price. Beware of "guides" on the slopes offering assistance for a fee. Quality instructors can be found at any of the rental areas.
Ifrane, which sits snuggly in the Middle Atlas, located just a one-hour drive from Fez and Meknes may make you feel as though you've just walked into Bavaria. This city was built during the French protectorate and resembles any Alpine village in Europe. Jebel Michlifen is a small ski area a few miles outside of town. It was built by the French in the 1950's and has remained largely unchanged. The runs are short and the chair lifts unreliable.  If you're nearby it's worth a trip to see the town and perhaps have a chance at skiing in Africa!
For the truly advanced skier, Tazaghart (located in the same range as Oukaimeden) is the mountain to conquer. There are few options available to get to the top aside from physically climbing up the slope. A small hut sits mostly uninhabited at 3,000 meters, but any other conveniences do not exist. This is a completely native hill and conditions are completely dependent on weather patterns. Mount Azurki, once considered the best skiing in the entire country, provides another option for the technically gifted. Trails are not for those without mountain skiing training.
One of the newest options for skiing in Morocco is heliskiing. Skiers are transported to the top of the mountain peak via helicopter and dropped off. In most scenarios the helicopter and/or a hired expert guide come along for safety reasons. This approach allows the adventurous skier to venture away from the crowds, experience Morocco's freshest powder, and revel in untouched terrain. A handful of tour operators handle such excursions and prices are steeper than the slopes you'll experience!
Whether you're a novice or professional, Morocco offers a rare chance for those who wish to ski in Africa. While the infrastructure does not compare to its European counterparts, the price, landscape, and thrill of it all makes it a worthwhile experience. Much is left unexplored in Morocco and untouched pistes await the truly adventurous.
Author Bio: Thomas Hollowell is an internationally based travel writer and world wanderer. He works with Journey Beyond Travel, an in-country tour operator in Morocco. You can read more about winter sports in Morocco on their travel blog.