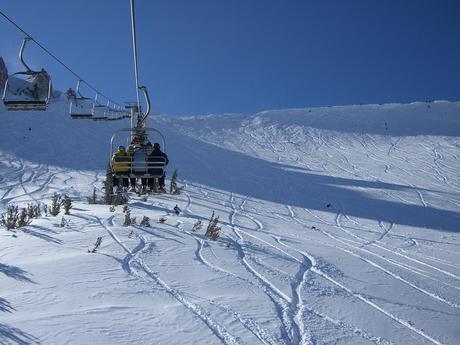 Hunter Sykes is a sustainability consultant with Coldstream Sustainability Group, a 20-year ski industry veteran and the director of the film: Resorting to Madness: Taking Back Our Mountain Communities.  He holds an MA in International Environmental Policy from the Monterey Institute of International Studies.
If you are a skier or boarder, have you ever thought about what kind of environmental impacts your activities have? The ski industry has long been associated with the outdoors and a healthy, clean and invigorating environment, but running a ski area takes a lot of power. Almost all lifts run on electric power and the compressors and pumps that enable ski areas to make snow are enormously energy intensive. Add to this the massive development of luxury lodging, on-mountain amenities, real estate and transportation, and many ski resorts can have the energy footprint of a town 4 times their size.
Ski areas first dealt with their energy footprint by buying renewable energy credits, often in an effort to market an area's green credibility. Ski industry giants such as Powdr Resorts (currently ranked 15th on the EPA's Green Power Purchasers list), Aspen Skiing Company and Vail Resorts purchased renewable energy credits to offset 100% of their energy usage, but many of these credits were for projects that have yet to be developed, so in essence, they were paying more to invest in the development of renewable energy –and market themselves as being environmentally friendly- without investing in energy efficient infrastructure in their operations. Over the past few years, many companies have discontinued these credit purchasing programs to focus on making direct investments in generating their own power, improving energy efficiency and, in the case of Vail Resorts, planting trees to offset their carbon footprint.
With today's soaring energy costs, increasingly unpredictable snowfall and temperature swings, and a growing concern for the environment among the skiing public, the ski industry has become a leader in embracing alternative energies and improving infrastructure efficiency. In the past decade, ski areas the world over have installed solar, wind, hydro and geothermal energy systems, invested in high efficiency snowmaking systems, upgraded or replaced heating and cooling systems, embraced the LEED certification process for new buildings, retrofitted lighting and other electrical systems, converted snowmobiles to less polluting 4 stroke models, increased use of bio-fuels for grooming and vehicle fleets and invested and lent financial support for mass transit to and from their resorts. The leader in the industry on these efforts is Aspen Skiing Company. Under the leadership of Auden Shendler, Aspen's Vice President of Sustainability, the company has built 5 solar arrays that produce a combined 169.2 kW of energy, installed a micro hydro system that utilizes existing snowmaking infrastructure to produce 115 kW of electricity during the spring runoff, is exploring the feasibility of installing wind turbines at Snowmass ski area and incorporated a geothermal heating/cooling system in one of their LEED certified buildings (of which they've built 2 and have plans for 2 more). They have also been proactive on retrofitting all facets of their operations with efficient technologies to reduce energy consumption. Aspen Skiing Company's corporate philosophy towards energy use and the environment even extends to support and investment in mass transit, "green" employee housing, waste reduction and recycling, utilizing locally grown and sourced products in their food service operations and support of local and national environment initiatives and legislation. As a result of these actions and investments, Aspen was the first ski resort company in the world to receive ISO 14001 certification.
While Aspen Skiing Company is the industry leader, the increasing demand for energy efficiency and renewable electricity generation has many ski areas developing alternative energy capabilities to reduce their operational costs and environmental footprint. Among the highlights of this trend are:
Jiminy Peak, Massachusetts' 1.5 MW wind turbine which provides up to 50% of their annual energy needs
Berkshire East, Massachusetts' 900 kW wind turbine which provides 100% of their annual energy needs
Grouse Mountain, British Columbia's 1.5 MW wind turbine that provides 25% of their seasonal energy needs
Whistler-Blackcomb, British Columbia's recent completion of a 33 GW hydro project that offsets all of their annual energy needs and then some
Surface lifts in Tenna, Switzerland and Westendorf, Austria that have integrated solar arrays to provide power to each lift and the local energy grid
Mt. Abrams, Maine's proposed project to build a 400,000 kWh solar plant to provide 100% of their annual energy needs
Kirkwood, California's proposal to install twenty 600 kW wind turbines to offset both ski area energy needs and those of homes and business in the valley
The increasing environmental concerns among the skiing community led directly to a new vision of how a ski area can operate: the Mountain Rider's Alliance, made up of industry veterans and passionate recreational skiers, aims to open and operate a ski area that, among other sustainable practices, will be a net producer of electricity -producing enough through a combination of renewable technologies- that will allow it to operate with no carbon footprint and sell the surplus to the local grid. While the Mountain Rider's Alliance hopes to be the leader in ski area sustainability, there is another organization that monitors and grades resorts to measure their environmental impacts and pressure ski areas to be more sustainable. The Ski Area Citizens' Coalition, a project of the non-profit group Colorado Wild, has been instrumental in bringing accountability to ski industry claims of environmental stewardship by grading resorts in the Western U.S on 16 criteria in 4 categories, including energy efficiency and the use of renewable energy. In part because of the work of the Ski Area Citizens' Coalition, the industry has invested heavily in improving their environmental records.
Few industries have so much to lose as a result of climate change, and few industries are as proactive in the efforts to combat greenhouse gas emissions as is the ski industry. If the momentum continues to swing towards alternative energies and better efficiency in other industries as it is among ski areas, there is hope that there will continue to be skiing into the future.  Now if they can just address the impacts of traveling to the slopes…
[Photos by author]