Cybernova 2016, the annual national level technical symposium, organized by Department of Computer Science Engineering, Sri Krishna College of Engineering and Technology, Coimbatore will be held on 17th March, 2016. Other than the cash prize of worth more than 1 million, Cybernova'16 brings 10+ internships for you. Prepare yourself to battle against the smartest computer geeks from various institutions around the country. It's an excellent platform to exhibit your talents, learn from the experience and most importantly to enjoy yourself during the process.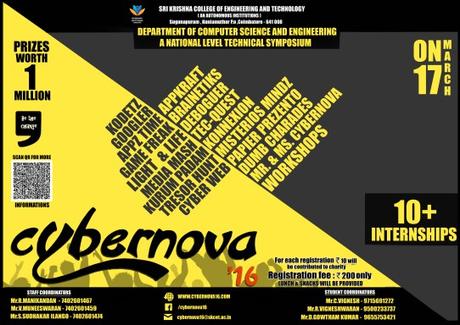 Numerous intriguing competitions and events will be organized as part of Cybernova - 2016. Have a look at them.
Visit this page to know the details of individual event and to register for the same.
So what are you waiting for? Get yourself registered for Cybernova'16 and get ready to meet the computer geeks from around the country.
Website: http://cybernova16.com/
Facebook: https://www.facebook.com/skcetcybernova/
Instagram: https://www.instagram.com/cybernova16/
SKCET - Computer Science Technical Symposium - Cybernova - 2016