A gap year is a rite of passage between high school and college. This experience has tremendous benefits for students making it highly recommended by prestigious schools such as MIT, Stanford, and Harvard. It is no wonder that counselors highly recommend college-bound students to take a gap year. It improves a students' success in college and life as you are going to discover below.
Higher GPAs in college
Undergraduate students who take a gap year before joining college are likely to score averagely 0.1 to 0.4 GPA better than expected. A gap year offers holistic mind development through hands-on exploration with experiential learning. It gives students time to reflect on who they are and the progress of their studies. A gap year is a necessary break from 13 years of rigorous studying. It is a special time without academic stress for a student to pursue their interests while developing or redeveloping intellectual curiosity.
Higher chances of graduating from college
Only about 59 percent of students who enroll in college finish the 4 years to graduate according to the US Department of Education. It might result from teens giving in to social pressure making them follow the traditional path of joining college straight from high school. This might work for some students but the biggest number is likely to drop out.
Taking gap year programs abroad is very helpful before joining college. Gap years are helpful in reversing the decline in college graduation rates. Taking a gap year increases students'' chances of graduating on time by 94 percent. It limits the chances of transferring universities since about 50 percent of students are less likely to transfer. A gap year fires up students to prepare themselves before beginning 4 years of nonstop academics.
Students mature before college
A gap year offers students tremendous personal growth making them arrive more mature at college. It makes them read to take on the oncoming adversity. Most students drop out of college because they lack skills outside of academics. Luckily, taking a gap year abroad gives students soft skills beyond academics including:
Time management
Becoming independent
Thinking outside the box
Confidence in making big decisions
Networking with peers and professors
A structured gap year program gives students the necessary skills and tools required for college success. Students who take a gap year have a higher motivation to join college. This is through the acquisition of adaptive behaviors including persistence, time management, and planning. Students who didn't take a gap year are less likely to have such skills. After taking a gap year, students arrive at college with soft skills that come in handy to help them understand learning in the real world better.
Taking up leadership positions in college
Students who take a gap year go to college with immense experience and benefit from it. This prepares them to take up leadership positions through college with better academic performance. A gap year makes students take control over their lives that come in handy through the 4 years in college. The gap ear experience makes students become independent giving them more control over their actions in college and life in general.
Preparation to become global citizens
Apart from becoming more active in college, students who take a gap year have higher chances of becoming more active on the local and global scene. About 72 percent of students who take a gap year are inspired to become local and global volunteers. The gap year prepares college-bound students to become responsible leaders and global citizens. This increases their chances of thriving in the interconnected world.
Encourages career satisfaction
Students who take a gap year are more likely to end up with productive and more satisfying careers. After getting a year of personal development and growth, students understand what they want to be in the future better. About 88 percent of students who take a gap year are more likely to become more employable according to a survey by Milkround.
After the gap year, students discover their passions and become more confident to increase the chances of pursuing them. The students are more likely to be happy with the career choices they make after graduating. Students develop a less selfish approach towards working with other people in the workplace. Since Emotional Intelligence (EQ) is becoming important in the workplace just like Intelligence Quotient (IQ), taking a gap year gives students invaluable lessons they can't get in the classroom.
Bottom line
Taking time off the traditional academic course gives students unprecedented time for discovering their real interests. Therefore, taking a gap year abroad encourages students to make more informed career choices. Additionally, a gap year abroad allows students to learn a new language, become bicultural, make new friends, and an amazing experience to discover what the world has to offer. All these will impact the students' life after college and in the workplace.
About the author Ashly William: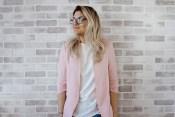 Ashly William is a freelance writer, with years of experience, creating content for varied online portals. Her content is published on many national and international publications. She has expertise in writing about Education and Art and Entertainment.
5 Reasons To Take A Gap Year According To Counselors