Wholemeal flour (not to be confused with whole-wheat flour) contains all of the wheat grain and is packed with fibre, protein, minerals and vitamins. Unlike regular white flour, nothing is lost during the processing of wholemeal flour and all the goodness is retained. We often choose brown wholemeal bread over white bread when we are dieting or trying to live a healthier lifestyle. And there is good reason to as wholemeal flour is a good source of calcium and iron. It doesn't keep as long as white flour, but I have found some yummy recipes to use it in which will ensure you won't have it sitting around for long...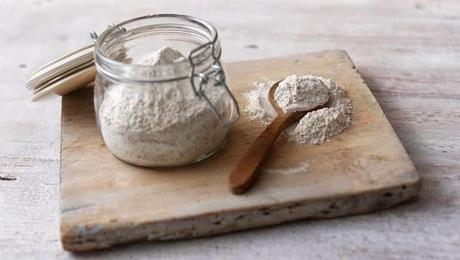 Image Source
The obvious one
Traditional Wholemeal Bread
Making home made bread can be really satisfying and this wholemeal bread recipe is simple, easy to follow and delicious!
The breakfast one
Wholemeal Apple Pancakes
Pancakes is one thing I definitely crave when I'm dieting as I love making them at weekends, this recipe takes away any guilt and I will be trying these out soon.
The versatile one
Staffordshire Oatcakes
I made these oatcakes using savoury fillings, but you can fill them with anything you like. They can be vegetarian and even vegan if you don't use cow's milk in the batter. And they don't contain butter or eggs. The ultimate versatile recipe!
The cake one
Toffee Apple Cake
This gorgeous warming recipe from Paul Hollywood would be perfect with custard, or creme fraiche.
The love it or hate it one
Cheese & Marmite Scones
If you love Marmite, like me, you will love these savoury scones!
The dinner time one
Wholemeal Pizza Base
There are a lot of pizza base recipes out there but it took me a while to find one with UK measurements. This sounds delicious, especially if you have a stuffed crust, and you can use whichever toppings you prefer.