Jason Aldean brought his Six String Circus Tour to Ontario this weekend. Hands down one of the best tours this spring with the likes of Big Machine recording artists Thomas Rhett & A Thousand Horses in tow.
With 3 sold out dates over the course of the weekend the boys were pumped to be North of the border. Starting in Oshawa on Thursday night to a jam packed General Motors Centre that's where we got a chance to witness the incredible performances. Things kicked off with Michael Hobby and the rest of A Thousand Horses taking the stage just after 7:30 for an absolutely KILLER opening set.
I had the chance to see ATH last summer at the Molson Amphitheatre when they opened for Darius Rucker and they blew me away then. This time around was no different and to be honest may have been an ever better set. With the venue more than half full ATH rocked the stage for a killer 30-35 min set playing songs off their debut album Southernality including their first #1 Hit SMOKE. Hobby (Lead Singer) has one of those really unique voices that has a great sound live. I can recall after seeing them live the 1st time that I though they sounded a lot like the hugely popular 90's southern rockers The Black Crowes. And oddly enough the band actually performed Hard To Handle (Black Crowes Cover) on this night and they nailed it. Seriously, being a big Crowes fan in the 90's it was just such an amazing cover. Another great song from the set was a song by the name of Drunk Dial which we caught a clip of during the set. ATH put on one killer performance and have to say may have been one of the best "Support Acts" I have seen in awhile. Would love to see a 70+ min set by this band sometime soon. Fingers crossed they come back to Canada for a smaller venue headlining tour.
Next up, and truly the whole reason I was there, Thomas Rhett. Now most of you that read our site know I am a HUGE Thomas Rhett fan. So this one might be a little bias. But when TR hit the stage I could tell I wasn't the only one excited for the Nashville born singer / songwriter to rock out in the 'Shawa. Over the years I have seen Thomas perform I would say a good 7 or 8 times and Oshawa was hands down my favorite set yet. Boots and Hearts last summer was pretty epic, but there was just something about how he had the GM Centre rockin'.
Performing his hits like Crash & Burn and his current single T-Shirt the crowd was lovin' every second of his performance. It was when TR slowed it down with his smash hit Die A Happy Man that the fans got to really sing along. Check out this clip so you can see what I am talking about.
We also had a chance to chat with Thomas before the show (interview HERE) and he mentioned how much he LOVED playing to the Canadian fans. Well on this night those Canadian fans showed how much they loved TR and he fed off that energy for one hell of a performance. Rhett could do no wrong in Oshawa. It was an absolute epic performance and would be worth the drive to Ottawa this summer to catch him at Ottawa's RBC Bluesfest in July.
Then it was time for Big Green Tractor hit maker Jason Aldean. Now I have seen Jason 3 or 4 times now and to be honest I found most of his shows boring and very one dimensional. NOT TONIGHT. Nope, this guy brought something else to the table that I have to say I didn't get to see in previous performances. He seemed that he was really into it. From his first song Just Gettin Started he had the sold out crowd pumped. The guy sitting next to me said to leaned over about half way through Aldeans set and said to me "This guy is rockin' it tonight". And that he was.
Aldean had a grocery list full of hits from Big Green Tractor, She's Country and Tattoos On This Town that he ploughed through. The one thing I have to say I love about going to a good country concert is the fact that people aren't shy to sing along and share the experience with all the other fans. And everyone was lovin' it tonight.
I would have to say my personal favourite from Aldean's set was when Thomas Rhett came out and joined Jason on his song 1994 a song in which Rhett co-wrote. You could see the fellas were having a blast up there and the capacity crowd was taking it all in. A close second was when Aldean slowed it down for an absolutely incredible performance of Fly Over State
Also want to give a shout out to DeeJay Silver for doing a great job with the music between sets. This guy puts on a clinic on the turntables with some killer mixes.
It was a hell of a night in the 'Shawa and we want to thank the GM Centre, Live Nation Ontario along with Sony Music Canada and Big Machine Canada for hosting us on such an incredible night. And don't forget Thomas is set to play Ottawa Blues Fest this summer along with the Calgary Stampede.
Corey Kelly / @CoreyKelly76
More Photos...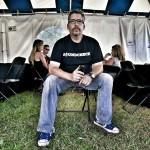 Born and raised in small ltown Ontario, Love me some Whisky & Country Music. Blogger, Photographer and Country Music Junkie.