I really should think carefully and plan when I'm going to blog to make sure that when I publish a post it doesn't coincide with specific meme's, such as 'Six on Saturday' hosted by The Propagator Blog. That is just what I have done – two posts in one day!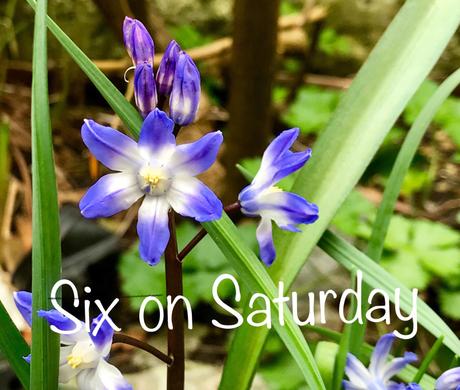 Nature has taken a bit of a battering this winter and is slow off the blocks. Not only is my heavy clay soil laying in water slow to drain, the snails are out in force and eating almost every young shoot in sight. There is life in the garden, apart from slimy critters and these are my Six on Saturday.
1. Ajuga 'Chocolate Chip' Planted last year as a very small plant, it has spread into a considerable sized clump and is going to look very pretty. Excellent ground cover!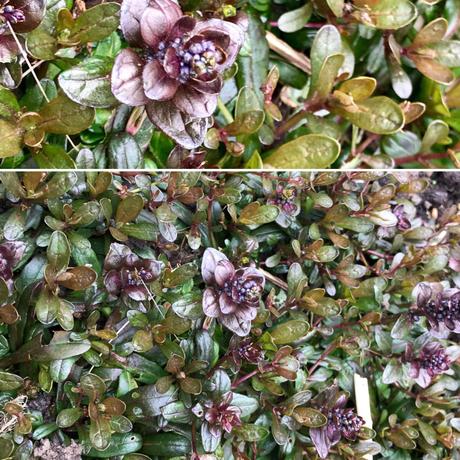 2. Ribes – variety unknown I cut back what had become a large shrub dramatically last year to the point I thought I wasn't going to see any flowers this year, but although it's looking somewhat thin, there are some very pretty flowers – phew! I'm sure it is a darker pink than years before so maybe it has done the plant some good.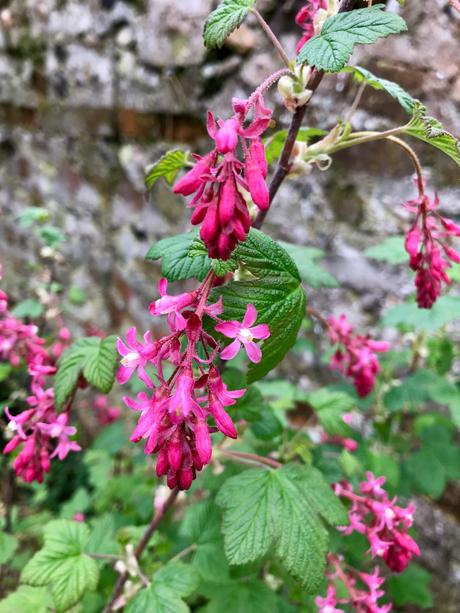 3. Peony
I am so in love with the peony as it throws out spring shoots, almost to the point I prefer the dark burgundy to the actual flowers. Despite its age, about 7/8 years old, it only ever has a couple of blooms and for the rest of the year is always a disappointment.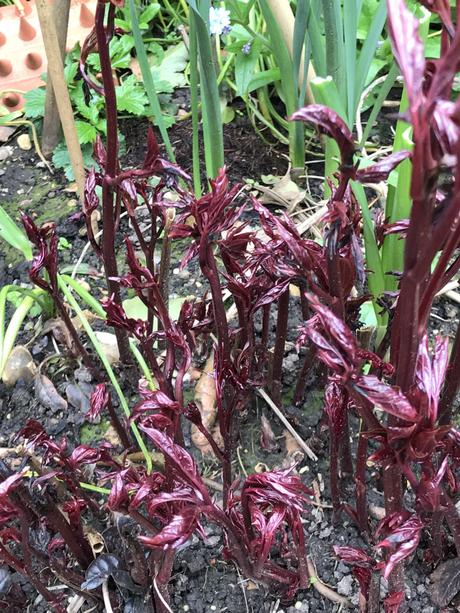 4. Sambucus Nigra(Elderflower) Like the peony shoots, the elderflower at this time of the year fascinates me. From the gnarled old bare winter branches appear very dark maroon tiny leaves that in no time become long ranging branches. A magnificent tree to have in a garden.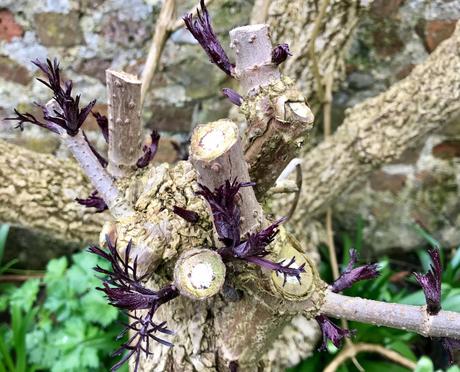 5. Primroses I spied these right at the back of one of my borders, hidden in amongst the wood pile and ivy where they are at their happiest. So very pretty and along with daffodils and tulips are an iconic spring flower.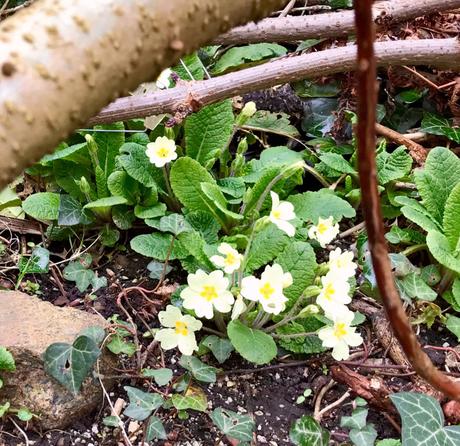 6. Chinodoxia (Glory of the Snow) Not sure why they have this name, mine are only just flowering and kept their heads well down during the snow. They are another delicate, delightful, spring flower. I've seen spectacular carpets of them at West Dean Gardens but mine are in containers nestled amongst the tulips and late narcissus all of which are about to flower and may well be ready for next week's Six on Saturday.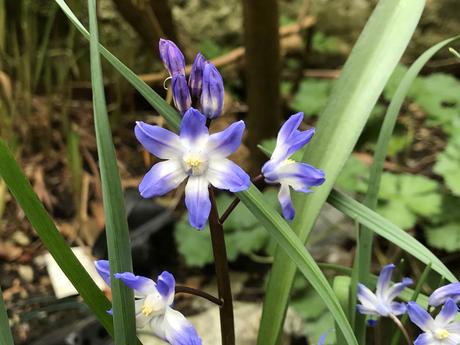 Please take a look at the other contributions on The Propagator Blog it's a great time of the year and a good yardstick as to how nature is behaving in other people's gardens.