The small block of apartments where I live was built 25 years ago on the site of a large old house in huge grounds. We have some beautiful trees that have probably been here before the original house was built. All three have Tree Preservation Orders (TPO) on them. They are magnificent, very old and very tall. It does cause a bit of an issue, jumping through TPO hoops and a great expense to keep them under control. The barks of old trees are just wonderfully patterned and deserve recognition. They are an artists delight.
1. Monterey Cyprus Cupressus macrocarpa
This is outside my apartment, and creates welcome shade between noon and mid afternoon at the height of the summer. Apart from giving me dreadful hay fever, it sheds needles all year around and saps all goodness from the ground, so trying to keep the grass healthy is a major issue. I love it though and often stand at my window admiring its shape. On one side of the trunk, where branches have been removed, it looks like a face, so gives the tree human qualities, like something out of a cartoon film.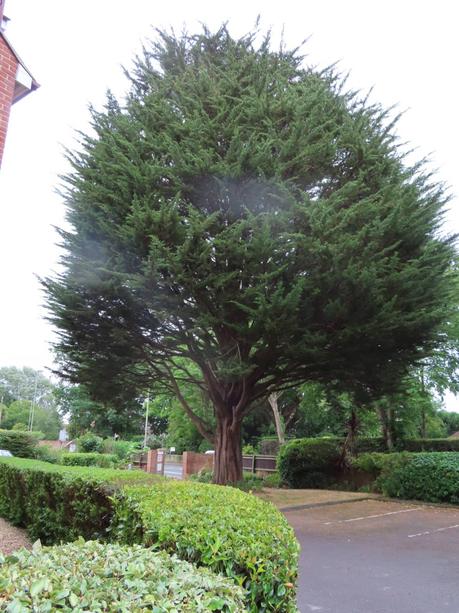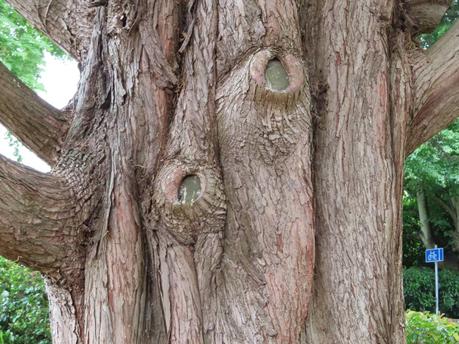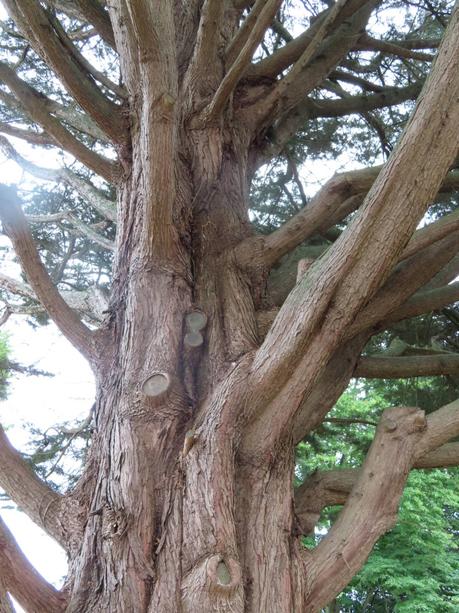 2. English Oak
I expect this tree if it could speak would have much history to tell. Its girth is enormous and the trunk reminds me of an elephant's skin. We have a family of squirrels up there no doubt devouring the acorns and when not doing that they are digging up our plants. The biggest problem with this tree is, because of its age, it is constantly shedding broken branches and twigs into the car park. Also you have to be careful not to be pelleted by falling acorns in the winter, unless the squirrels are bombarding us in revenge for all the anti squirrel deterrents we use around the pots.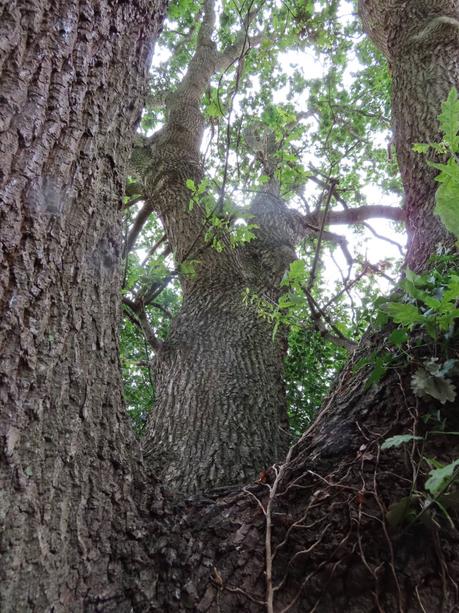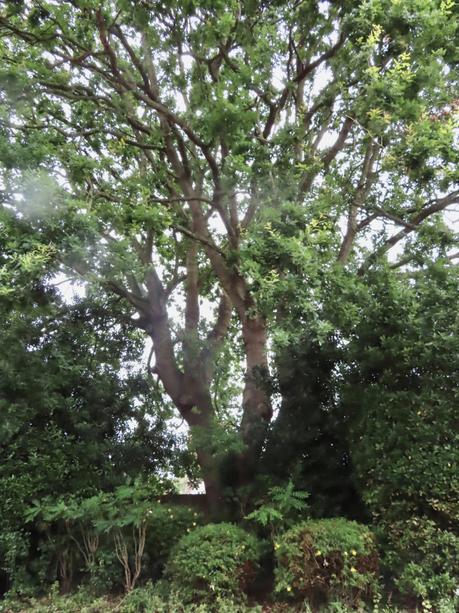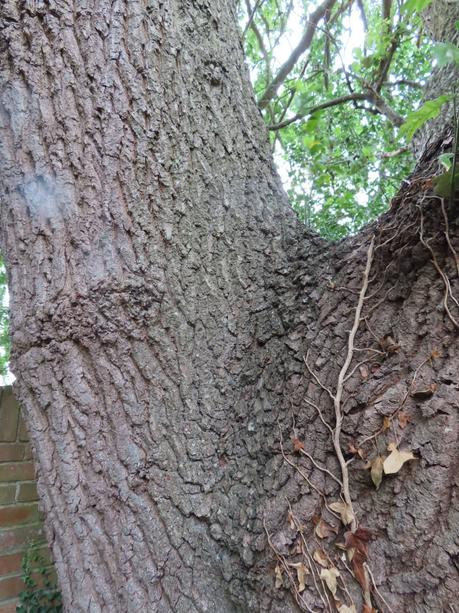 3. London Plane
Apparently the most common tree in London, but I haven't really noticed them before I moved here. This is at the rear of our building, so I only really see it when going to the bins. I was looking at it yesterday which gave me the idea to share it with you. The bark is phenomenally splendid and I couldn't begin to know how tall it is, save you get a crick in your neck looking up.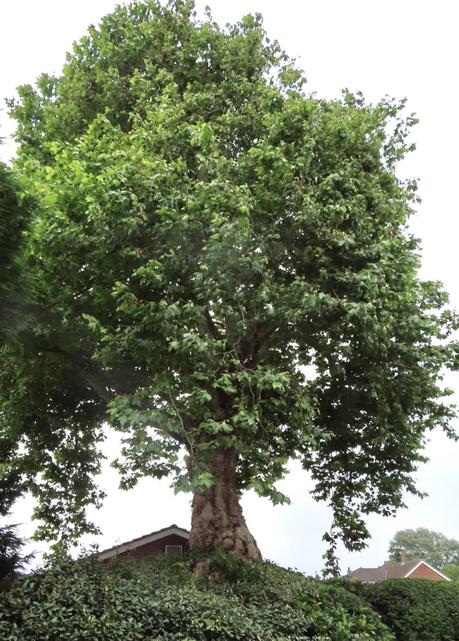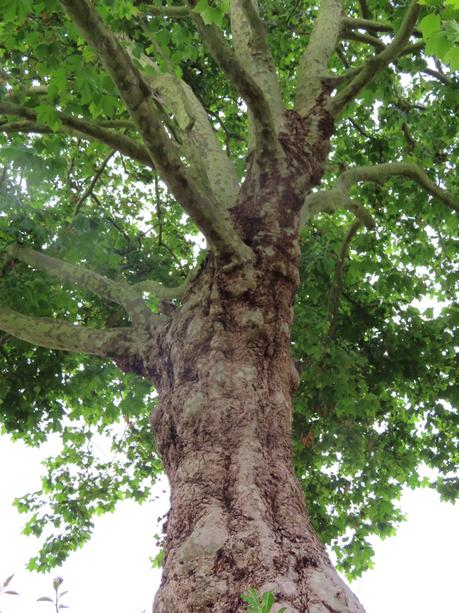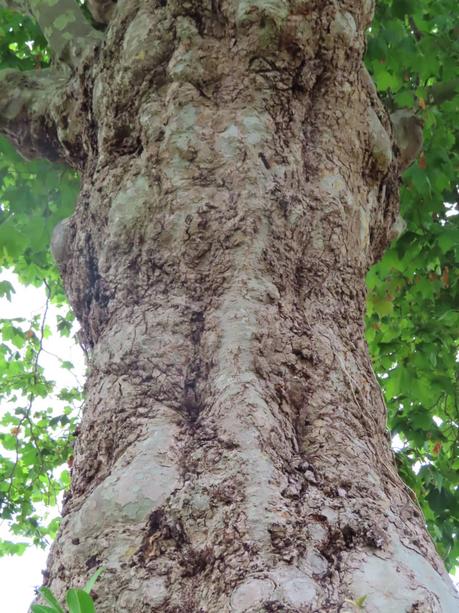 Now back down to the ground and more less breathtaking plants, which seem a bit flat after those majestic trees.
4. Cornflowers
At the base of the Monterey Cyprus we made a flowerbed and I scattered some old flower seeds not really know what would appear, if anything, to our delight we have the prettiest display of colourful cornflowers, ranging from very pale pink, to the darkest burgundy. I hope they will self seed and come back next year.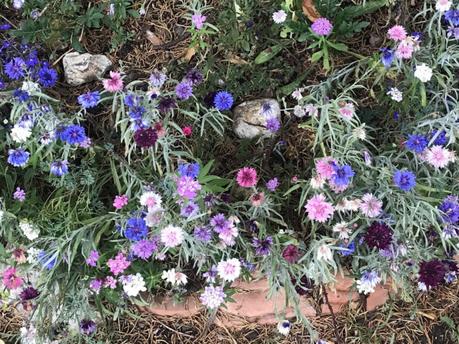 5. Hanging basket
I've shown this before in an earlier Six on Saturday when much smaller and explained that in past years my baskets have always been sophisticated with muted color combinations. I threw all caution to the wind this year, going for bright 'In Your Face' planting – petunias, lobelia, fuchsia and calibrachoa. We have had some strong winds lately and it's been a bit battered but after trimming off the broken stems, it is now forming an almost perfect ball.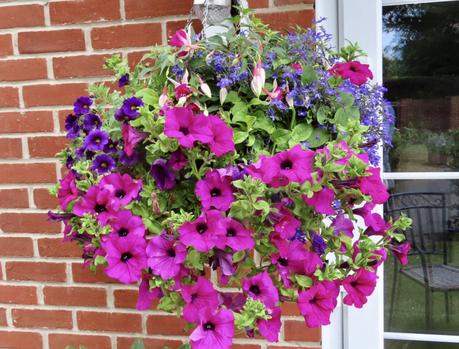 6. Patio Plants
Not having my own garden, I have brightened up the patio with lots of containers and a large selection of plants. My son in law thinks I have too many, but I say you can't have enough. Most of them are perennials and small shrubs, filled out with summer bedding plants. The Heuchera and petunia are in the same large container, with nasturtiums and a fuchsia. To the far left, you will notice a courgette, grown here rather than the allotment so I can pop outside and pick as required.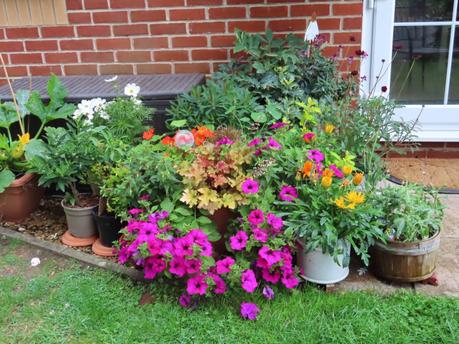 A bit of a contrasting Six on Saturday this week looking up and then looking down but life is like that! Please now visit The Propagator Blog who runs this weekly meme. He always has something interesting share, as well as lots of others who contribute to Six on Saturday.