SUBTITLE: What's on My Patio Today
It's that betwixt time when the summer container plants on the patio are in their last flush and garden centres are full of winter plants, not to mention the itch to get bulbs planted. I think very few of us have bare, empty containers sitting around over the winter months and the selection of autumn/winter grasses, violas, pansies and small hellebores is inspiring. I'm sure I spend more come October than I spend during the summer.
1. Patio Rose (name unknown)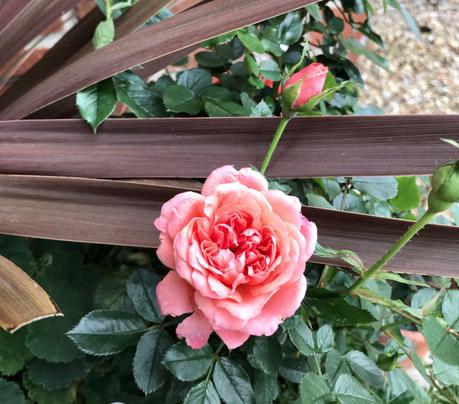 Such a pretty rose, which I have had for several years now and lost the label a long time ago. I pop it at the back up against the house wall for shelter during the winter months and add a layer of fresh compost in the spring.
2. Lilac trailing ivy geranium 'Teske'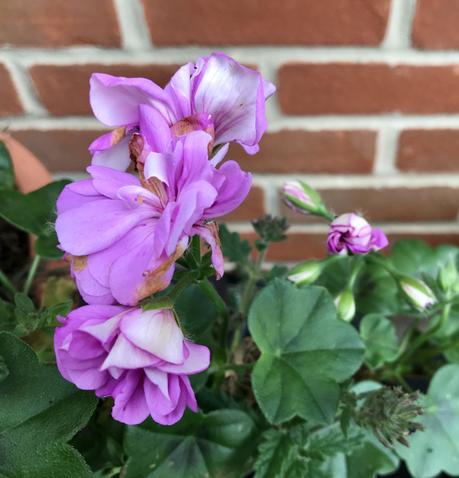 This very pretty ivy geranium has been excellent value, it was part of a large hanging basket I made at the local Hillier Garden Centre morning course earlier this year and wrote about in May A Workshop and Cream Tea and has flowered prolifically giving lots of color to the basket. I have taken the basket down and it is sitting in a large flower pot. As you can see it really is on its last legs now and I am squeezing every bit of color from it before I relegate it to the compost heap.
3. Winter basket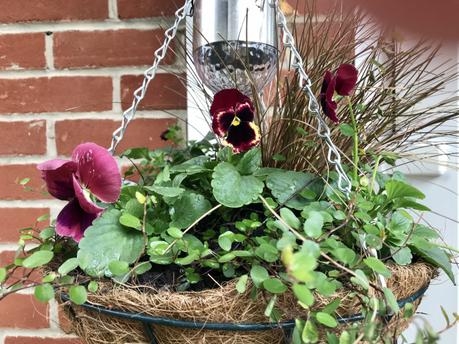 The summer basket has been replaced with Bronze Sedge grass, Muehlenbekia, and pansies. When I planted it up a few weeks ago it had the deepest of wine coloured pansies, sadly they died when I was away on holiday – originally only a week and then extended to a second week. Although the patio benefits from rain, the canopy over the patio doors means anything against the wall remains dry unless watered by hand. I found a hanging basket LED light which makes it look lovely in the evenings.
4. Winter Cherry (Solanum capsicastrum)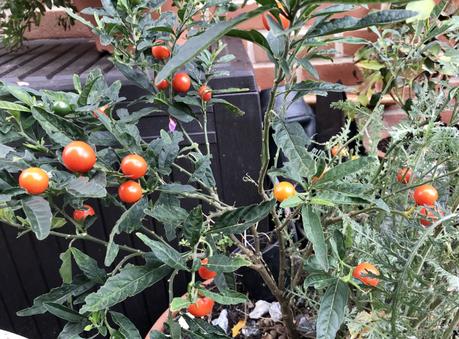 I planted this Winter Cherry in a large container last winter and left it over the summer, with a Geum and Achellia, both swamping it, so I forgot to do anything about pruning it. It is now twice the size and looking rather raggy. I have read that the stems need to be pruned to half their length late Winter, but think I might give it a bit of a 'tidy' soon. I am looking for some bright orange pansies to plant around the base.
5. Viola Love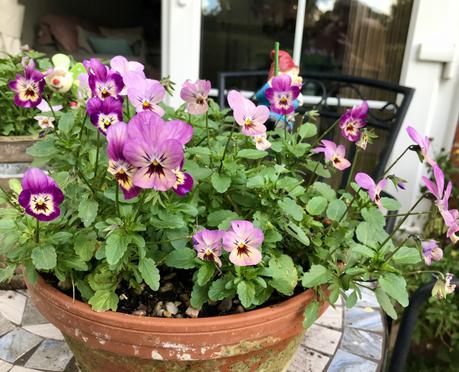 I love violas, their bright smiley faces are such a friendly welcome if you have them in pots by the door. I bought a tray of the same color to put in this shallow pot, which is also full of crocus bulbs. The keen-eyed of you will notice my pole dancing gnome at the back of the container.
6. There are tulips below!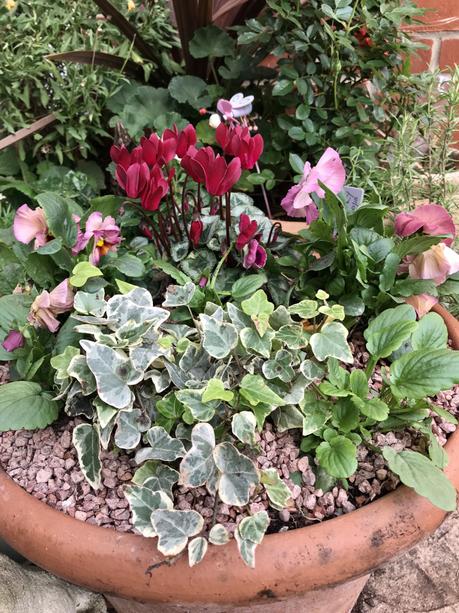 I have completed my first autumn/winter/spring container. It is filled with tulips bulbs called 'Rockery Mixed', a dwarf tulip of mixed colours. All my pots will be covered with gravel with the hope it will deter the squirrels, who love digging everything up. I have found a product called 'Hot Nuts' (really!) which is a chilli spray designed for bird feeders to keep squirrels away. My thinking is that it might work if I spray my pots with it. Chilli flakes worked well last year but I found some of them seeded themselves so I gave myself extra weeding.
I've not blogged for a few months and am returning into the Six on Saturday fold, hosted by The Propagator. Pop along to his blog and take a look at what is happening in the gardens of the many contributors.