It is difficult gardening weather at the moment, we have very little rain and it's warm with intermittent sunshine and quite a strong wind most days. This means the earth is drying out to a hard crust and my patio pots need to be watered twice a day. I am finding it very hard work without actually achieving anything and lots of my plants are quite disappointing this year.
1. Lily Rose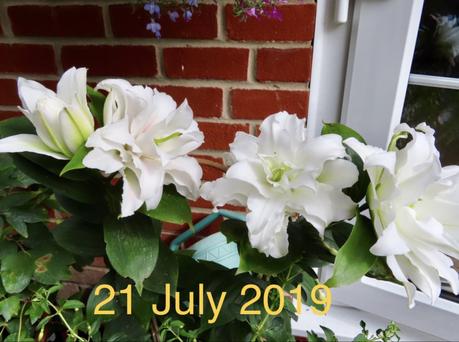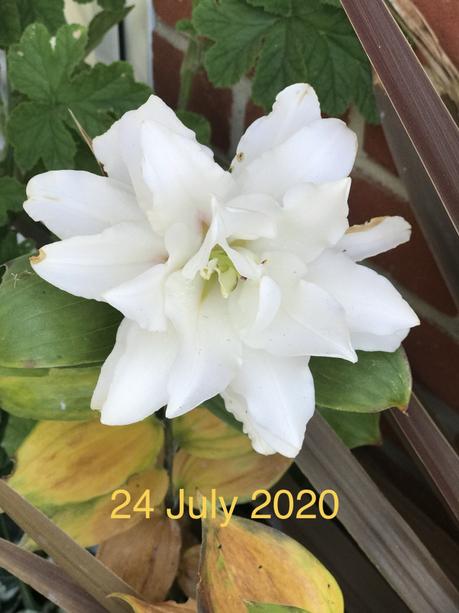 I have grown Lily Rose in a container on my patio for the last few years, this year I think it has run out out of juice. Despite regular watering the leaves are dying and only one ragiddy flower has bloomed, unlike the beautiful flowers I had last year. I suspect I will have to buy new bulbs for 2021.
2. Begonia 'Angelique'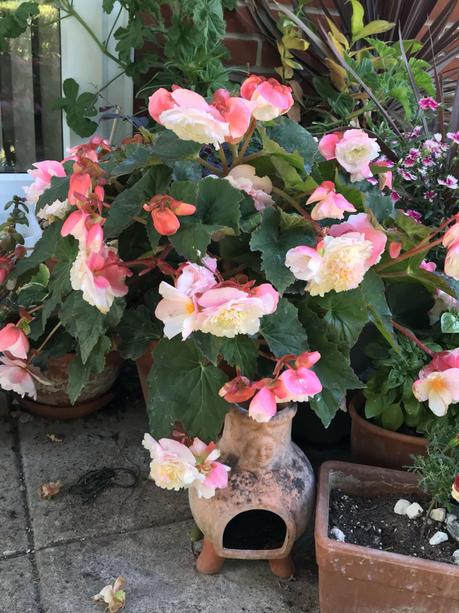 This container, contain two begonias, is absolutely stunning. Not everyone likes begonias, but these are so blousey and beautiful, they are in pride of place at the front of my patio. The little chiminea is in front of the begonia pot, this photo makes it look as though the begonias are growing out of it!
3. Sunflowers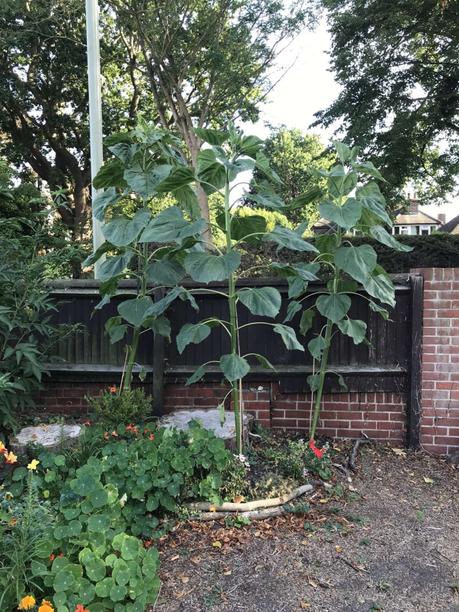 I can't find the seed packet so I'm not able to name the variety of these three. I planted them in the front border and they are now well over 6 foot. There are flowers beginning to appear at the top but they are still quite small and the lack of hours of sunshine is slowing down the development of flowers, which is annoying because I'm still waiting for giant yellow happy faces to appear.
4. Tomatoes 'Money Maker'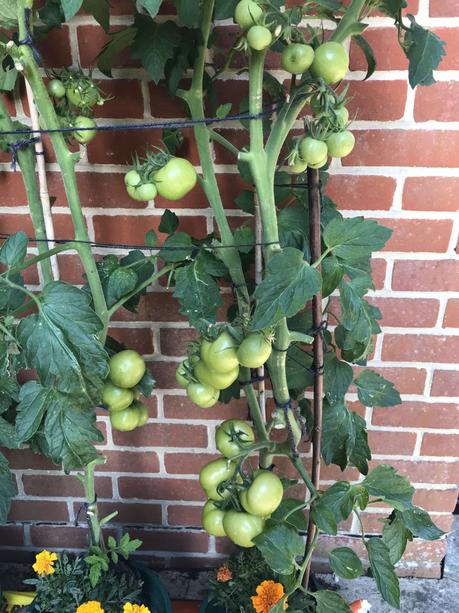 I am growing three tomato plants in a large growbag at the side of my patio. They are heavy with tomatoes but still not turning red. Again, like the sunflowers they are lacking long hours of sunshine. I've cut away the leaves to give them lots of light and check daily to see if there is any sign of ripening fruit.
5. Courgettes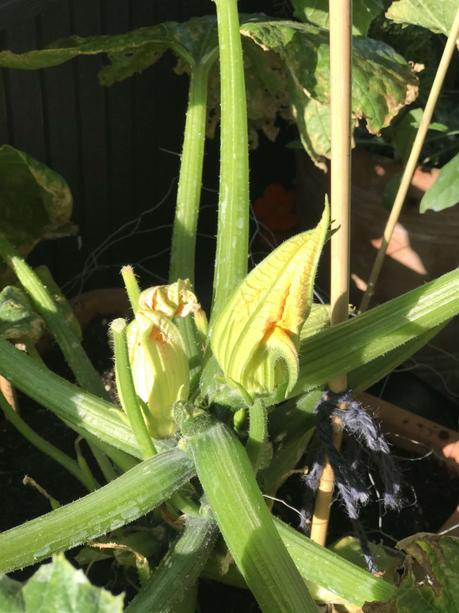 I've included my solitary courgette in earlier Six on Saturdays. To date I have only had half a dozen small courgettes but the male flowers seem to be more prevalent than the female flowers. Also the male flowers are dropping off the stems so probably not doing their pollinating job. Maybe this is why it's not as prolific as I had hoped it would be. Any ideas please?
6. Gladioli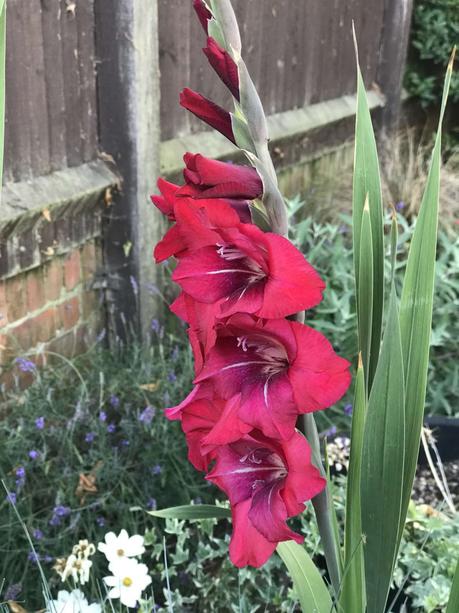 This gladioli is one of five I planted last year in a large container placed on a tree stump in the flower border in our communal garden. This is the first flower stem, others are just a little further behind. It is a fabulous dark red and looks stunning, far too nice to cut and being indoors, although the temptation is there.
Six on Saturday is a weekly meme hosted byThe Propagator. Lots of people contribute to it so please hop over to his blog and take a look at what is growing in his garden and other gardens around the country and even abroad.