Starting off with a comment about weather again! Despite the weather forecast man talking about higher temperatures for this time of year and decent spells of sunshine, that doesn't always apply when you live near the sea. We have had a few glorious days this week but Thursday and Friday have been overcast with a chill in the air and yesterday, Friday, being dull, dank and drizzly.
However, spring is definitely in the air and everything has come along leaps and bounds.
1. Crocuses (again)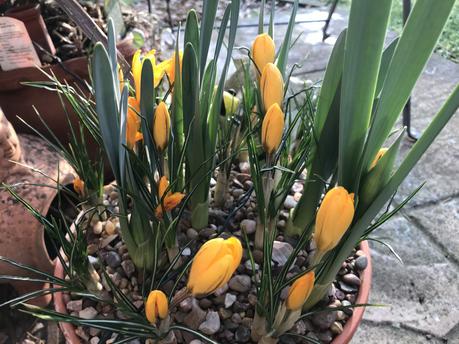 I was beginning to wonder if these crocuses would ever flower, the leaves poked through weeks and weeks ago. All of a sudden with the help of sunshine there is a mass of yellow – such a wonderful springtime color.
2. Sweet peas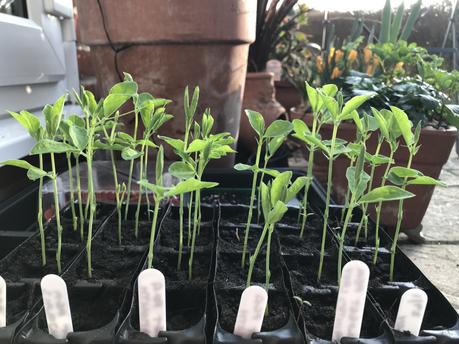 I don't sow sweet pea seeds in autumn. I don't soak them overnight. I don't chit them. These were sown into root trainers about 4-6 weeks ago. Whilst I had them in a propagator indoors until they sprouted, I then moved them outside on to my patio to give them good light. I cover them at night, and when we had a couple of below freezing nights I wrapped the propagator in bubble wrap. Not all the seeds came through, I put 3 seeds in each trainer, only 1 to 2 seeds germinated but I have about 30 plants so not bad. I do have some more on the go, sweet peas catch up very quickly.
3. Seeds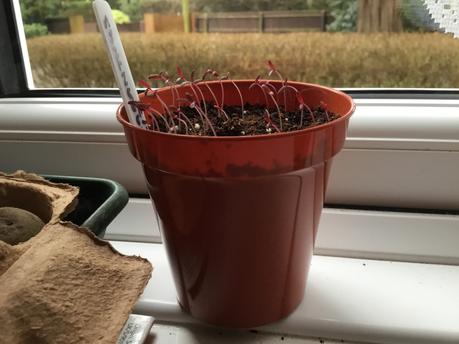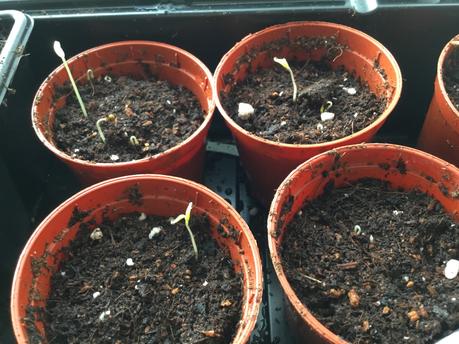 On the 16th, last Saturday, I had a seed sowing session. I am not a great fan of tomatoes and do question each year as to whether I should grow them, but I always grow some although not sure why. Perhaps it's because it's expected of you to have home grown tomatoes! I had a free packet of Tomato 'Maskotka', a cherry tomato ideal for baskets. Already they are sprouting.
The top photo is Amaranthus 'Velvet Curtains'. I only want 3 plants for the cottage garden area on the allotment and had forgotten how quickly they germinate. They appeared in 4 days! I have thinned them out a bit and put them outside undercover so they don't get too leggy. You can see from the photo they were on a windowsill and stretching towards the light.
4. Potatoes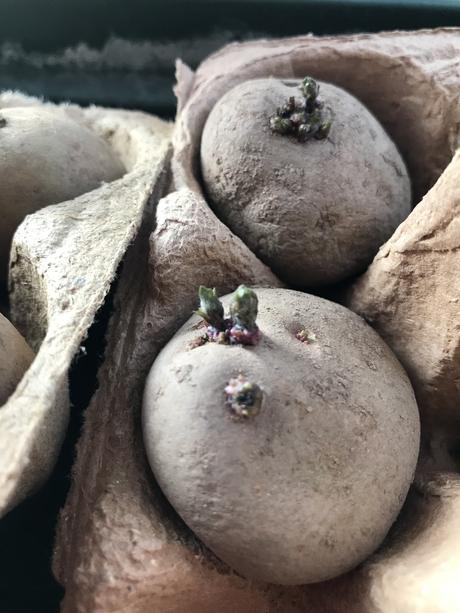 I have 4 varieties of potatoes, Cara, International Kidney, Maris Piper and Charlotte sitting in egg boxes on my bedroom windowsill. I inspect them daily watching with glee the shoots appear.
5. Rhubarb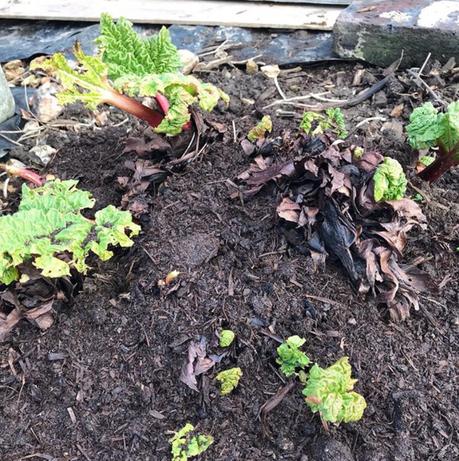 The rhubarb on my allotment is going great guns. As it's inherited I don't know what variety it is and the lady I took over wasn't sure either. She did say she thought it might be Champagne. I have no idea how you could find out what it is, but daresay a rhubarb expert would take one look and say "Ah, that is a….".
6. Making movies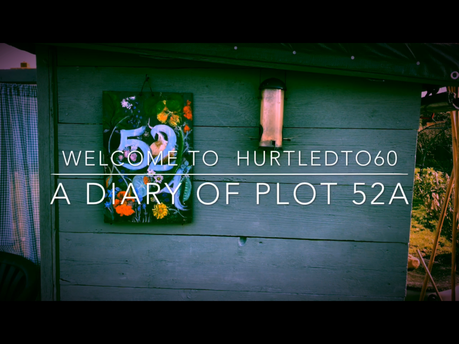 Since taking on the allotment, I have become an avid watcher of YouTube channels by other, more experienced, allotment holders. Whilst I have a coup,e of books I am a visual learner and found them most useful. Some of you might know I write a blog and I thought it would be fun to set up my own YouTube channel and call it 'A Diary of Plot 52a'. https://youtu.be/UJiF-dkRKng.
That has been a learning curve but fun, there is a lot more to go to hone it to be watchable. I have learned to hold my iPhone sideways so not to get black lines down the sides. I have learned how to make a little opening piece, trimming and fading. What I need to learn is to avoid wind. It is a very windy, open site and in the last video you can hardly hear what I'm saying, but it's fun and we are never too old to learn new things.
I'm off to a family ending today so just get cracking and will read all the other contributions to Six on Saturday tomorrow. Meanwhile you can hop over to The Propagator's blog and see what delights are there.