Fingers crossed we have had the last of the frost and very cold nights. Our poor plants have gone through a multitude of climate conditions in the last few months from hot sun, strong winds and then plummeting last week back into the coldest May in many years. Surprisingly they've made their way through and beginning to bring wonderful color to the garden, which should last through the summer.
Choosing a Six on Saturday is going to become a little harder now with so much going on in the garden.
We had three very large Leylandii removed in February from the front of our building which has opened up quite a bit of the grounds at the front and we are slowly making a shrub border.
1. New Shrub Border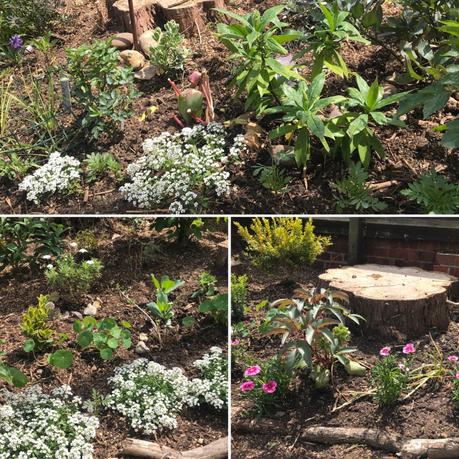 There was a lot of sawdust after the tree surgeon left which is breaking down into a great mulch, and the soil is really good with a far helping of worms, always good to see. At the edge of the bed we have used old branches from the oak tree in the car park behind. Every time we have a strong wind it sheds lots of dead wood, which is very useful for edging purposes but not popular with the car owners! It is filling up nicely, with donated plants from patio pots and other parts of the garden. This last week I planted nasturtiums, Cerinthe and French Marigolds, grown from seed and am looking forward to the orange and blue colours. There will be much more of this project as the year progresses.
2. Alstroemeria 'Indian Summer'
Last year I bought 3 Alstroemeria plug plants for my cottage garden on the allotment. They were not happy when they arrived and almost dead. Over the summer, despite a lot of care and attention, two plants finally gave up the ghost. Not wanting to lose them all, I brought the remaining plant home with me and nurtured it over the winter on my patio. In March I moved it to our new shrub border, it has taken to its new home, throwing up lots of new shoots and flowering – I love this plant and so pleased at least one has survived.
3, Camassia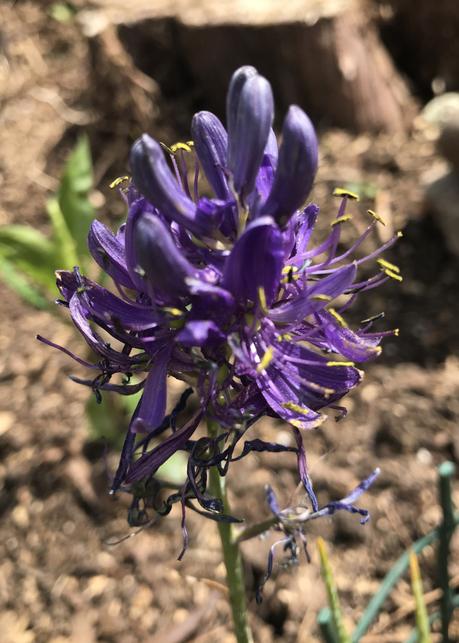 It was a little late to plant Camassia bulbs, but they have flowered which is lovely to see and I hope that this will establish them for future years. I first saw Camassia at West Dean, Chichester where they were growing like a blue sea in the orchard garden. I fell in love with them immediately.
4. Stock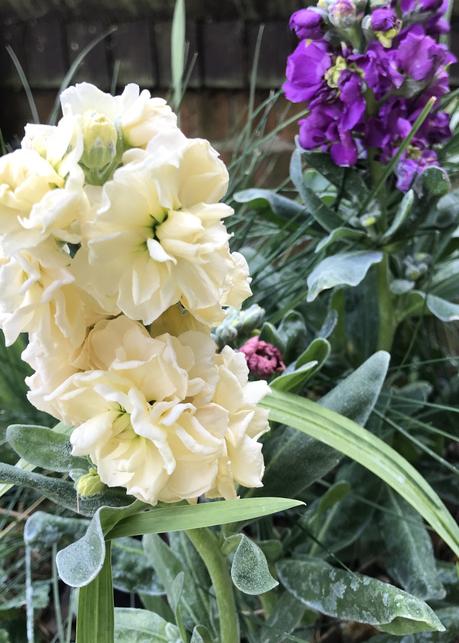 I placed an delivery order last month at our local garden center and to make up the minimum order cost I added a tray of stock. I planted them in pots on my patio and they are beautiful, the fragrance is marvelous. Although a good old fashioned plant, I have never grown them until this year, but will be changing that.
5. Geranium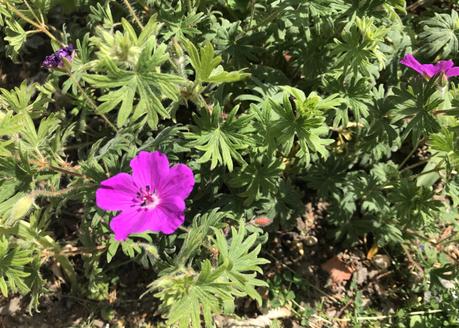 This pretty leaved geranium, is starting to be covered with small eye catching magenta flowers. It doesn't have a label, which I always find annoying, however I do vaguely remember planting a small cutting last year so I won't blame the squirrels for taking the label!
6. Tulip 'Angelique'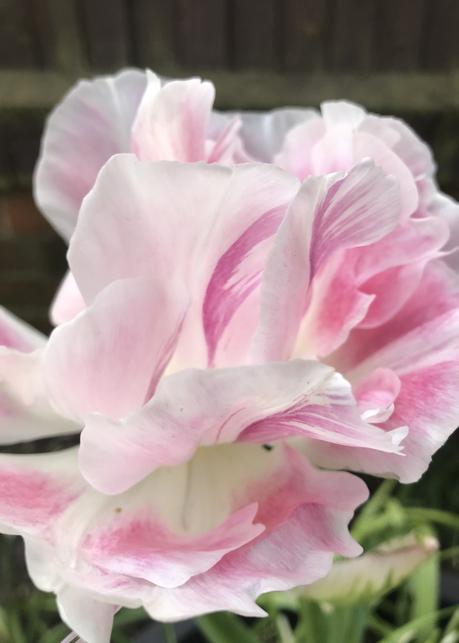 This is the last tulip standing. Some of my Angelique bulbs have been disappointing this year but this one is refusing to accept its time for tulips to be over. I was looking at it this morning and noticed it has extraordinary colouring with a dark pink stripe running through pale sugary pink and white, it really is outstanding and gorgeous.
Thank you The Propagator for hosting the weekly Six on Saturday. Please visit his blog and take a look at his garden along with very many contributors. You can also join in, it's great fun.