I've had friends and family visiting the last few weeks and haven't found the time to write anything on my blog, even Six on Saturday was shelved. This is my first quiet weekend for a while, and I'm having a much needed catch-up.
It's blowing a hooley outside but Emsworth appears to escape decent rain, and the wind is drying everything out very quickly. The allotment will need to be watered later today if we still don't have any rain.
My last Six on Saturday introduced the communal garden around our flats and our newly formed Residents Garden Group (Six on Saturday 20/07/2019). Here is an update.
When on a tight budget, many bargains can be found in the A&E section of the local garden centre, supermarkets and cuttings from existing plants. I am quite happy buying a small shrub or perennial for £3 rather than a larger bushy established one at £12 and this week I went to Morrisons supermarket to find some great deals. There is no need to buy expensive plants when just for a few pounds and a little nurturing there are some great additions to be had for the garden. A fellow gardener in the group has recently added a buddleia and another bought two little hardy fuchsias, also from Morrisons and below are my purchases.
1. Heuchera 'Melting Fire'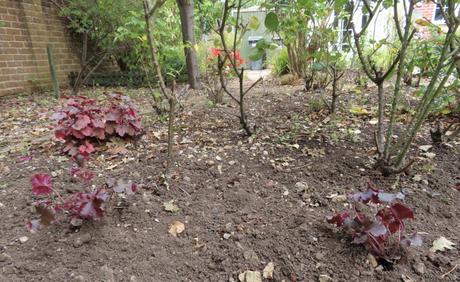 Above is the neglected rose garden. We have tidied up the roses and will feed them this weekend. Later in the year, they will be pruned properly. If you have any advice on how to rejuvenate old roses, please comment below.
The Heuchera were a fantastic bargain at two plants for £3. I have planted them near the established one and may go back to Morrisons to buy another couple to under plant the roses.
2. Weigela 'Bristol Ruby'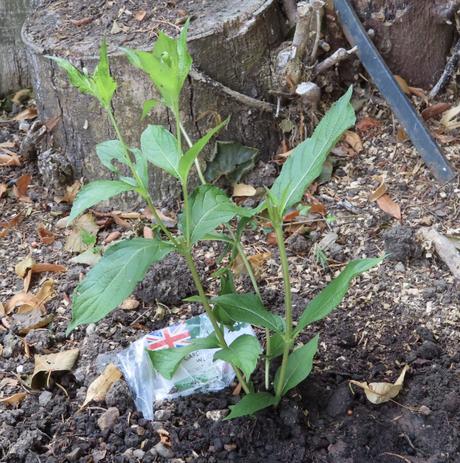 One of my favorite shrubs is a Weigela, you just can't go wrong with it. It has clusters ruby red tubular flowers loved by bees from May until June on branches with mid-green leaves. It'll take a while to establish and fill out, but for £3 you can't go wrong can you.
3. Escallonia 'Donard Seedling'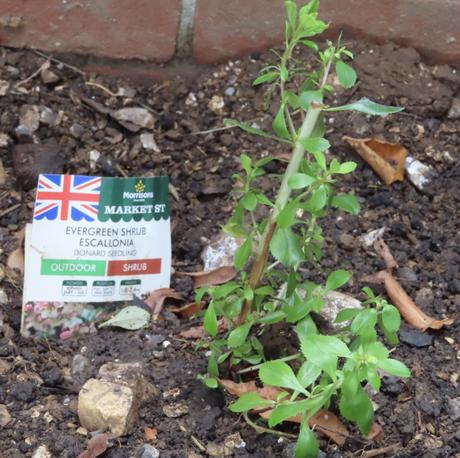 Another £3 shrub is Escallonia 'Donard Seedling'. It is an evergreen shrub with leathery, glossy dark green leaves and saucer-shaped blush-white flowers, opening in early summer from pink buds. We have planted it up against the entrance wall and it should grow to about 2 metres in height. Escallonia has the added advantage of being able to train against a wall.
4. Caryopteris 'Heavenly Blue'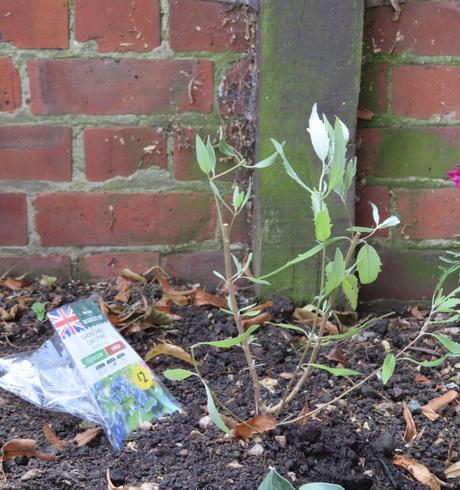 This Caryopteris shrub does look a little weedy but with a little tlc it will add color to the back of the border. 'Heavenly Blue' is a compact, upright shrub which will grow to about a meter high. It has grey-green leaves and clusters of small dark blue flowers in late summer and early autumn. As you can see it was only £2!!
5. Camellia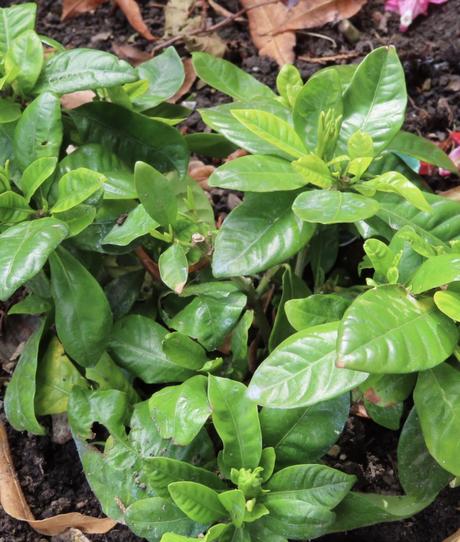 A neighbor found this little Camellia in a pot by the bin shed. It was an indoor plant, turfed it out after it had finished flowering. I dug a large hole, filled it with ericaceous soil and fed it accordingly. We are so pleased to see that it has buds on it. I have read how to care for it and not to feed it after July and wrap it in fleece over the winter.
6. The front border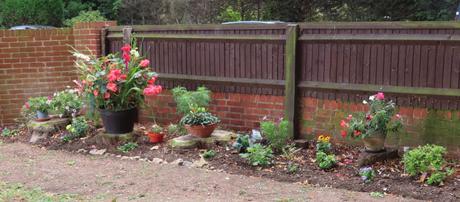 The border is progressing well with annuals filling the gaps between the new shrubs, perennials and pots on the tree stumps. The begonia and gladioli container is looking fantastic and admired by all passers-by. My thoughts now are turning to what to replace them with in the winter. I don't want an empty tub once they are over but have set the bar high for myself to find something equally eye-catching. Any suggestions?
Thank you for reading my Six on Saturday. Please visit The Propagator Blog and peek over the fence at other gardens this weekend.